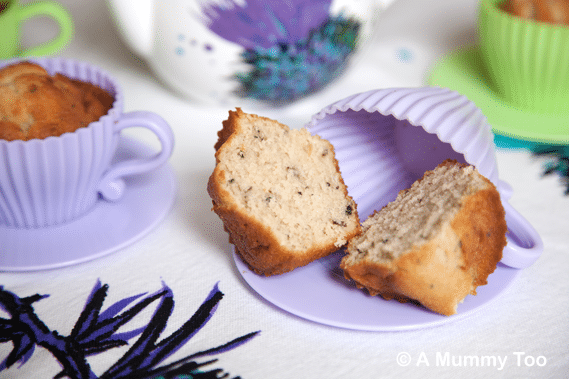 Heehee, cake in cups. How silly – JD, 5
I'm delighted with these delicious Earl Grey teacup cupcakes. They have a super light, spongy crumb, with a subtle flavour of vanilla and milky Earl Grey. 
I was actually surprised by just how well these turned out. I'd never used tea leaves in cake batter and wondered if they would be gritty or bitter, but they weren't at all. In fact, because they're steeped in milk first, they're sweet, soft and just a little chewy in the baked cakes – just yummy!
You could make these cakes in normal muffin cases, but we recently splashed out on these silicone teacup cake cases from Lakeland (£4.99 for 4), which rather adds to the effect, I think. The kids and I filled the teapot with milk and had a little tea party.
Here's the recipe – it makes 10-12…
Ingredients
175g unsalted butter
200g caster sugar
200g self raising flour
3 medium free range eggs
125ml whole milk
1 tsp vanilla essence
1 tsp baking powder
1  good quality Earl Grey teabag (we used a We Are Tea Earl Grey Supreme teabag)
You'll also need:
Silicone teacup cake cases, or
12 muffin cases and a muffin tray
Instructions
Preheat the oven to 180C (160C fan assisted)
Heat the milk in a mug in the microwave until it's hand hot
Open the tea bag and tip into the milk, stir and set aside
Cube and warm the butter, then warm in the microwave in 5-10 second blasts until it's all very soft and just starting to melt
Beat together the butter and sugar until fluffy
Beat in the eggs, then stir in the flour and baking powder
When the milk is room temp, tip it into the batter, along with all the tea leaves
Divide the batter evenly between the cases (I only had 4 so cooked them in batches, filling to about 1cm from the top
Bake for 30 minutes, then transfer to a wire rack to cool completely
Disclosure: we were sent a selection of We Are Tea teabags for review. The thistle motif teapot and tablecloth is from Scott Inness. No payment was received. All posts are 100% honest.