We humans have been including grains in our diets for a very long time – perhaps 100,000 years or more in some parts of the world – and grain stores have been found dating back at least 11,000 years. So from the oat fields of Britain to the rice crops of the East to corn and millet fields in Africa, it's safe to say grain is big.
Newer to our civilisation, is the processing of grain, and while in some cases it can improve the flavour and texture of a dish, it can take away a lot of nutrients too.
Take the humble wheat kernel.
Approximately 15-20% of the kernel is made up of the germ, bran and brush which will all be removed from standard white flour, but it's those areas that also contain a significant amount of nutrients – take a look at the table below to see what's left after refinement.
---
| | |
| --- | --- |
| Nutrient | Left after refining |
| Calcium | 44% |
| Carbohydrates | 105% |
| Copper | 38% |
| Fiber | 22% |
| Folate (B9) | 59% |
| Food energy | 107% |
| Iron | 30% |
| Magnesium | 16% |
| Manganese | 18% |
| Niacin (B3) | 20% |
| Pantothenic Acid (B5) | 43% |
| Phosphorus | 31% |
| Potassium | 26% |
| Protein | 75% |
| Pyridoxine (B6) | 13% |
| Riboflavin (B2) | 19% |
| Selenium | 48% |
| Sodium | 40% |
| Thiamin (B1) | 27% |
| Vitamin E | 5% |
| Zinc | 24% |
---
Surprising, right? It's for this reason a lot of foods are going back to the old ways, choosing not to refine their grains and keeping all that goodness intact.
To inspire you on your wholegrain journey, here are 10 tips to help you get a little bit more wholegrain into every day.
1. Include a wholegrain portion with every meal
Adding more wholegrain to your diet isn't just easy, but a great way of exploring new takes on a dish you know your family already loves.
Try serving boiled bulgur wheat with your chicken instead of boiled potatoes, or boiling up a portion of brown rice instead of white rice to enjoy with your curry.
2. Swap processed grains for wholegrains in your favourite recipes
Do you normally coat your chicken fillets with breadcrumbs? Try coating in blitzed oats instead – both the flavour and the crunch is fantastic. And hearty soups will taste even heartier with wholegrains in it.
3. Don't be fooled by the term 'brown'
Brown bread could be wholegrain but it could be made with white flour and made brown due to added colouring or an ingredient such as molasses.
Your best safeguard against 'brown' is to read the ingredient list to see what's really in there – the key word to look our for is 'whole' but it's a good idea to brush up on which terms in your country are legally protected as with those, you can be sure you're getting what you want.
4. Opt for naturally wholegrain grains
If you're not sure what counts as wholegrain, here's a handy list. Minor cereals and pseudocereals are a good alternative to replace gluten cereals as well as a rich source of interesting new flavours.
| | | |
| --- | --- | --- |
| Cereals | Minor cereals | Pseudocereals |
| Wheat (spelt, durum) | Millets | Amaranth |
| Rice (brown/black/red) | Sorghum | Buckwheat |
| Barley (not pearl) | Teff | Quinoa |
| Maize | Triticale | Wild rice |
| Rye | Canary grass | |
| Oats | Job's tears | |
See what you can find in your local supermarket or healthfood store.
5. Choose naturally wholegrain rich foods when eating out
From the Levantine tabbouleh that contains plenty of delicious bulgur wheat, to barley soup, there are hundreds of dishes you can order in restaraunts that are naturally full of wholegrains.
6. Invest in a wholegrain cookbook
Plenty of items you'll see in the supermarket that could be made with whole grain, simply aren't. The easiest way to remedy that? Make your own!
If you're looking to really make wholegrain the norm then 'The Whole Grain Promise: More Than 100 Recipes to Jumpstart a Healthier Diet' is a fantastic resource for explaining the different grains available, along with a broad range of wholegrain recipes that are easy to prepare.
7. Look for 100%
If something says it has wholegrain in it, that might not be the whole story – it could be a tiny fraction of the overall grain contents.
Be on the look out for products that contain 100% wholegrain.
8. Add extra wholegrains to breakfast
From millet in your porridge to oats on your avocado toast, breakfast is a great time to introduce extra wholegrain to your diet.
If you're unsure, you can start with a little and before you know it you'll be missing the taste and texture when it's not there.
9. Snacks
Healthy (or home made!) popcorn, whole grain crackers and wholegrain energy bars are all readily available from service stations to supermarkets and with all the added goodness of wholegrain, they're not just tasty but will keep you on the go for longer.
10. Opt for wholegrain when shopping
You only need to remember to swap out your usual in the supermarket for it to pay off for weeks or months, so next time you're hovering over some white pasta why not go for wholemeal pasta instead?
You might also fancy giving Onken Plain Grain a try. It's a great tasting yogurt that comes packed with five different wholegrains: barley, oats, wheat, rye and rice. The distinctive flavours combine with the creamy yogurt to make a really delicious extra that adds a lot to the texture as well as taste.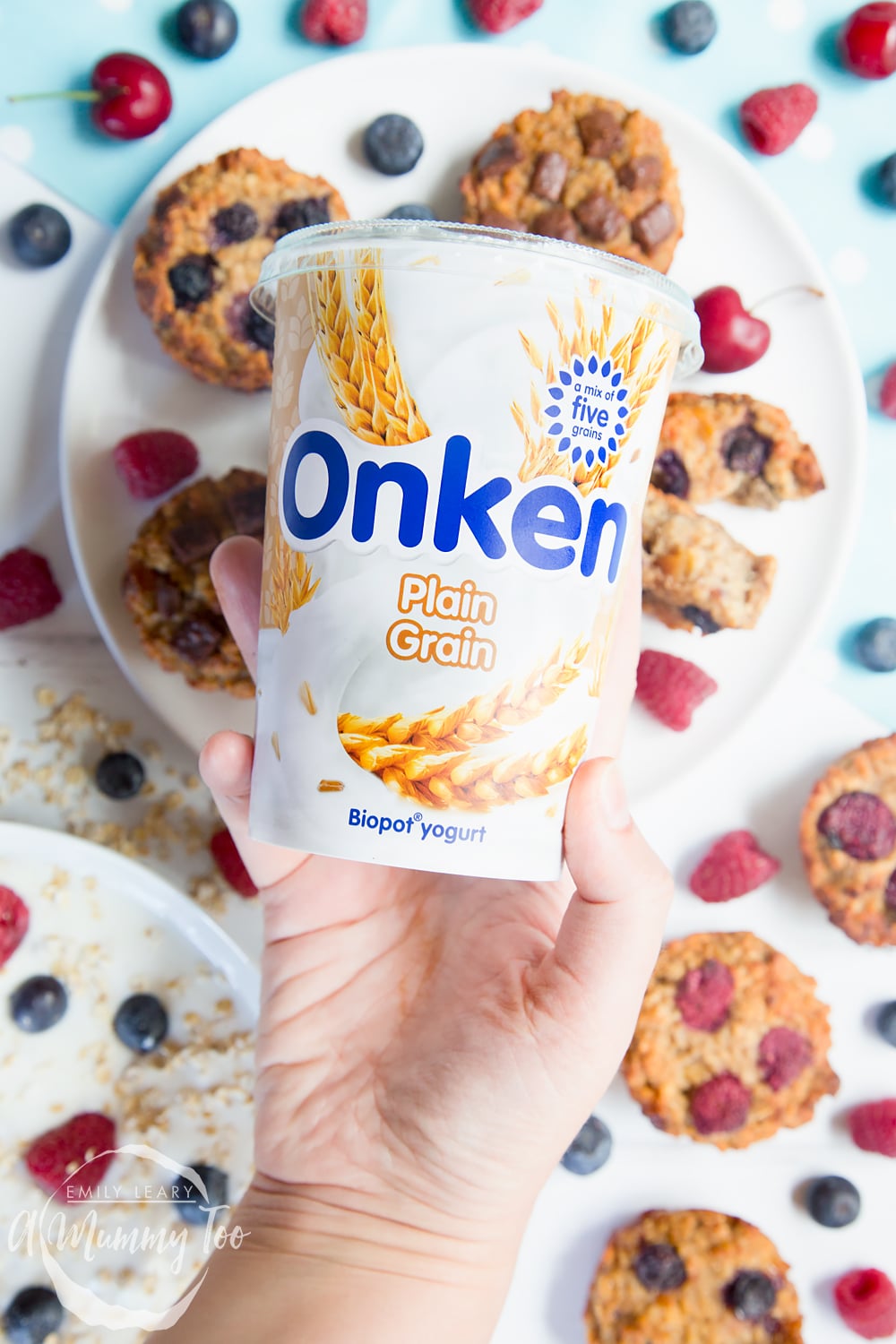 It's lovely on its own, or jazzed up with fruit and honey in the morning or after dinner, but I've also found it fantastic for cooking too – I've used it before in everything from a delicious breakfast froyo to wonderfully chewy fruit loaf, breakfast coleslaw and even breakfast muffins.
Enjoy!
This is a commissioned post for Onken.