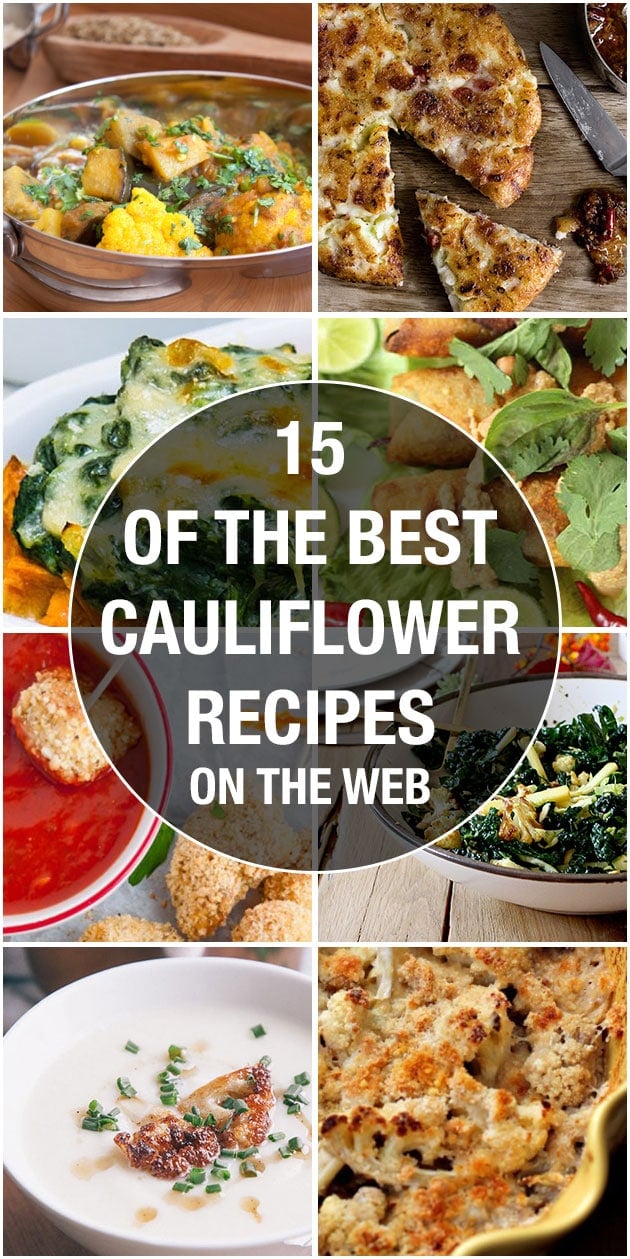 Cauliflower, staple of school dinners and heavy meals at your great-aunts, sure, but if you haven't mashed it, curried it, baked it or whizzed it into a rice alternative, you may well have been overlooking the true virtues of this versatile veg.
Here are 15 delicious cauliflower recipes to change all that.
Garlic mashed cauliflower
Oh, so creamy but oh, not carby! This isn't just cauliflower, of course, it's cauliflower with oodles of roasted garlic, butter and coconut milk.
Get the recipe from Yaya Recommended
Mixed Vegetable Masala
Coriander, chilli and garlic bring the spice in this easy to make masala while cauliflower, aubergine and potato bring depth. This is a bowlful of healthy comfort food you're not going to want to share.
Get the recipe from A Mummy Too
Spicy Whole Roasted Cauliflower with Coconut
There's no chopping florets with this dish, you just spread the whole darn cauliflower head with a marinade of garlic, ginger, curry spices and coconut milk and then roast it in one piece. The result? Oh, it's good.
Get the recipe from Green Evi
Chargrilled Romanesque Cauliflower Salad
Healthy eating never looked so good. This beautiful Romanesque cauliflower is steamed and then chargrilled for a crisp, caramel-like texture before being tossed in a sherry and honey vinaigrette and served up with raisins, red onion and almonds. Is it lunchtime yet?
Get the recipe from Smarter Fitter
Cauliflower Pakoda
Why on earth would you by stodgy 'party food' offerings from the supermarket when you can make cauliflower fritters this good at home? These little morsels are boiled with turmeric, coated with a spicy chickpea flour batter and deep fried to golden brown perfection.
Get the recipe from Tomato Blues
Creamy Cauliflower Soup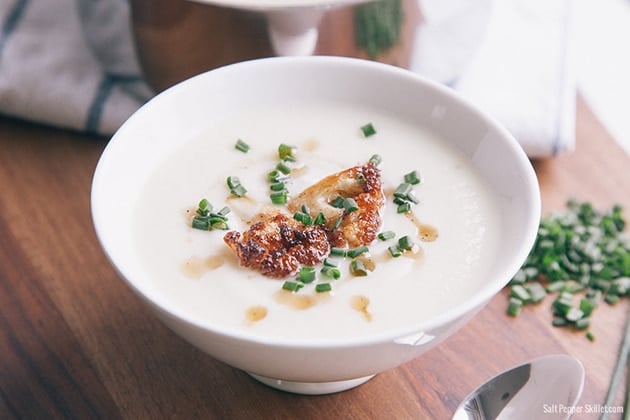 A simple mix of cauliflower, butter, leeks and onion make up this snow white supper, topped with temptingly golden florets that have been pan fried in butter. Oh, the temptation.
Get the recipe from Salt Pepper Skillet
Vegan 'Parmesan' Cauliflower Bites
Cruelty free doesn't have to mean taste free! The texture-perfect bites are made with a garlic and Sriracha coating and herby crumb, baked to perfection and served with warm marinara for dipping.
Get the recipe from Cruelty Free Family
Cauliflower Gratin with Smoked Mozzarella and Walnut Sides
You think gratin, you think potato, but you're missing a trick, my friend. This cauliflower gratin with smoked mozzarella and walnuts is creamy and crunchy with a chilli kick.
Get the recipe from Soni's Food
Sweet Potato and Spinach Bake with a Creamy Cauliflower Sauce
A baked side dish this beautiful could steal the show at dinner. It's spinach and sweet potato, and topped with a creamy bechamel-style sauce made with cauliflower and gruyère cheese.
Get the recipe from Superfood Recipes
Cauliflower Rice Cake
Shrimps, cantonese dried sausages and cauliflower florets make up the warm flavours in this cauliflower rice cake, served with a spicy shrimp and shitake mushroom sauce. Stunning.
Get the recipe from Lady and Pups
Kale and Cauliflower Salad
This simple salad is incredibly tempting and takes moments to put together. The shredded kale, raw shaved sprouts and pickled apples are dressed in honey, apple cider vinegar and tamari. My mouth is watering.
Get the recipe from Eat Purely. Live Purely
Paleo Cauliflower Bread Loaf
If you want low carb and paleo friendly, then this is the recipe for you. There's a whole medium cauliflower in this attractive loaf, flavoured with turmeric, basil, parmesan and rosemary pan fried red onions.
Get the recipe from Lau Sunday Cooks
Thai Cauliflower Sweet Potato Flautas
Lemongrass, cauliflower, sweet potato and Thai spices, wrapped in flour tortillas, deep fried until golden brown and served with a spicy peanut sauce. Every day should be flautas day.
Get the recipe from The Kitchen Paper
Savoury Cauliflower and Courgette Cake
Cauliflower, courgette, oats, gruyère and mascarpone come together in this incredibly attractive savoury cake that would stand up equally well on its own with salad, or as the hero of a meat-free roast dinner. I'll be serving it up this Sunday.
Get the recipe from Multiculti Kitchen
Vegan Cauliflower Mac N Cheese
This dish looks like a super decadent cheesy pasta, but it's actually packed with goodness. If you haven't tried making creamy sauce with cauliflower yet, this flavourful vegan mac n cheese is the place to start.
Get the recipe from Vegan Insanity
Get cooking!
All images are used with permission from the owners.