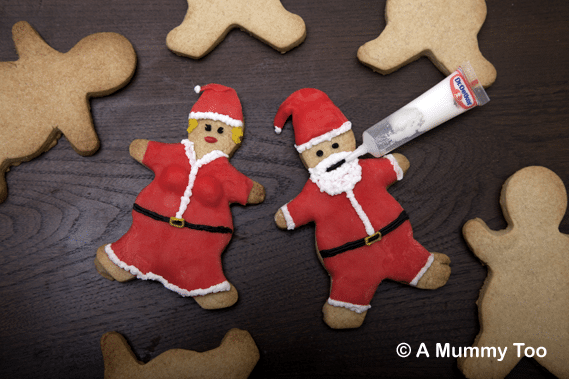 I would describe them as…biscuity  – JD, 5
This was our Saturday activity this weekend: making Father Christmas and his wife. Actually we made 12 of them!
The biscuits are essentially shortbread, flavoured with lemon and mixed spice – very tasty and very Christmasy.
Here's what to do to make a dozen Father Christmas biscuits.
Ingredients
540g flour
150g caster sugar
300g unsalted butter, chilled
1 tsp lemon extrac
1 tsp mixed spice
2.5 tbsp water
Gingerbread man cutter
Red moulding icing
Icing pens
Instructions
Put the flour, sugar and mixed spice in a large bowl and stir well
Cube the butter and add to the bowl
Rub the mix through until you get an even crumb
Cut in the lemon extract and a tbsp of water with a round knife
Add more water (up to 2.5 tbsp total) if needed until you can work the mix into a very short dough
Turn the dough out on to a floured surface
Roll the dough to 1/2 inch thick and cut out your men
Bake a non-stick stray at 180C (160C fan assisted) for 20 mins until just colouring at the edges
Cool completely on a wire rack
Roll or press a little red icing out very thin (it works best if you have cold hands)
Use the gingerbread cutter again to get the outline you need,
Trimming the arms and legs back to get the shape you want, then press the 'clothes' on to the biscuit
Draw on the trim and beard with a white icing pen making small circles
Finish by adding any other detail you like, such as eyes, mouth and even a hat made from an offcut
Silly, fun, easy :)
If you prefer a really buttery biscuit, you can use about 50g of extra butter in the mix instead of needing water at the end, but I find the dough easier to work with using the method above, and you get a crispy, less greasy biscuit at the end of it.