Mmm, good, nice, mmm – Miss J, 18 months
I like this recipe for many reasons. It's tasty. It's filling. And it only needs two pans to make. Oh, and it's vegan, although the kids had theirs with cheese on top.
Here's what to do – serves 4-6.
Ingredients
500g dried spaghetti
1 tbsp olive oil
4 cloves of garlic
250g baby spinach
1 courgette
1 handful of fresh basil
8 cherry tomatoes
4 tbsp of vegan margarine
Salt and pepper to taste
Instructions
Put the oil, crushed/finely chopped garlic and finely diced courgette in a large frying pan and warm over a medium heat
Meanwhile, put the pasta on to cook in large saucepan with plenty of boiling water
Add the spinach and chopped tomatoes to the frying pan and heat until the spinach is wilted
By this time, the pasta should have been cooking for about 8 minutes
Lift the pasta out of the water and into the frying pan, then transfer about 2 cups of the starch water across too
Add the margarine, bring up to a simmer, stirring occasionally for 2-4 more minutes (add another cup of liquid or two if needed while cooking)
When the pasta is cooked and the liquid has gone, stir in the fresh basil, season to taste and serve
Finishing the pasta in the pan means it creates a lovely, buttery, garlicy sauce and soaks up every last bit of the vegetable goodness. I got the idea from an episode of New Zealand Master Chef, where they made a chilli seafood pasta this way.
Let me know if you try it :)
Add your #recipeoftheweek
Do you have a recipe to share? Here's the place you can do it! Pick one from the past week, or any time at all. Meaty, vegan, fatty, low-calorie – all recipes are welcome, just as long as you haven't linked them up to #recipeoftheweek before.
You share the goods, then I generally go round reading, commenting, Stumbling, Pinning and drooling over everyone's entries. It's that simple. So just link up below and let's share the love.
Link up your post using the Linky tool below
Add the "Recipe of the Week" badge to your post so that readers can find other great recipes.
Take a little time to read and comment on each other's recipes.
Come back next Saturday and we'll do it all over again.
Enjoy!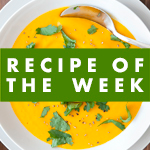 <div align="center"><a rel="nofollow" href="https://www.amummytoo.co.uk/2013/04/vegan-spinach-garlic-and-basil-butter-spaghetti" target="_blank"><img alt="Link up your recipe of the week" src="https://www.amummytoo.co.uk/wp-content/uploads/2013/01/recipe-of-the-week.png" /></a></div>