*gasp* let's melt some chocolate! - JD, 5
We love crafting with food - it's fun to do, pretty, and you get to eat the results. What could be better?!
Today I'm sharing four ideas for you to get crafty with food this Easter.
Cadbury's Creme Egg chocolate chicks
We love making these chicks at Easter and tend to get started as soon as Creme Eggs appear on the shelves. They're great fun to make with the kids and were featured in Prima Magazine this month!
Get the step-by-step to making these cute Creme Egg chocolate chicks.
Kinder egg chick in a wheaty chocolate nest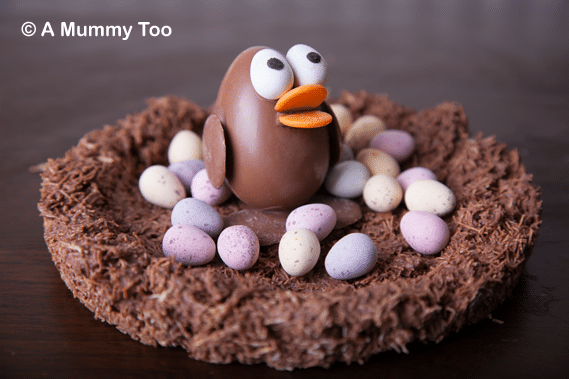 This craft could make a great centrepiece for your Easter get together and the best bit is that that whole thing is edible, so there's plenty to go round!
Get the step-by-step guide to making this Kinder chick and a wheaty chocolate nest.
Easter bunny sugar paste cake decoration
No tutorial for this one, sadly, but it was sent in by the lovely Little Rascal Reviews and I think you'll agree it's a fabulous idea for an Easter cake.
We'll definitely be giving it go - how cute is that bunny??
Make your own Easter egg
Lakeland kindly send us some egg moulds, a melting pot, spoon mould and chocolate this weekend, and we had a wonderful time brushing chocolate onto the moulds, layering it up and ultimately producing two perfect Easter eggs!
I'd thoroughly recommend trying it for yourself. There's a trick to getting the chocolate to layer up perfectly: let the chocolate cool and thicken a bit before you start brushing it on. As long as it's cooled a little and you do it in thin layers (we did 5), allowing it to fully set between each layer, and then leave it in the fridge for 20 mins, it should pop out perfectly!
Disclosure: we were sent the Lakeland items for review. No payment was received. All posts are 100% honest.