I may have to roll home – me (after many, many samples)
This Friday, I hopped on a train and spent the day at the BBC Good Food Show Winter at Birmingham NEC. It's a star-studded event, full of fresh produce, samples galore, masterclasses, appliance demonstrations and plenty to see and do.
Here's my pick of 40 must-see stalls to visit while you're there. It's open at the NEC until Sunday 1st December.
The Great British Bake Off
There are amazing live cookery demonstrations happening throughout the day at the Good Food Show. I was excited to see Jo Pratt, as well as GBBO 2013 winner, Frances Quinn…
And of course, Paul Hollywood!
M&S Christmas Theatre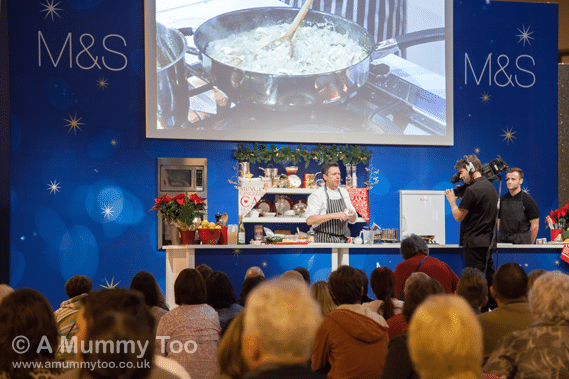 Lots more Christmas recipe masterclasses are free to be had in the M&S Christmas Theatre, with a selection of the country's best chefs, including Adam Palmer (pictured), Phil Vickery and James Nathan.
Good Food Magazine
If you're not already a subscriber to BBC Good Food Magazine, there's a great special offer on site, which includes a goodie bag to take away.
Brian Turner and Belling
Belling, makers of range cookers, ovens and hobs are at the show with cookery demonstrations from none other than Brian Turner CBE. As well as being an amazing chef, he took time to chat and have photos with visitors throughout the day. A real gent.
Irwin's Bakery
Some of the nicest Irish bread I've tasted in quite some time and it comes out of a packet! You need to try Irwin Bakery's Rankin Selection, especially the fruit soda bread. Paul Rankin was there, signing fliers and chatting with visitors – another down to earth legend it's worth making an effort to go and see.
Joeys
Also check out Joeys, another Irwin's brand, which makes coconut covered madeira cake bites so soft, light and moist, you won't believe they're from a packet.
Genius
If you're coeliac or wheat intolerant, you'll know how tough it is to find good quality, gluten free bread. Genius has nailed it, and the team at the show are giving out free toast. Win.
Rigas Enterprises Garlic Graters
Rigas Enterprises Garlic Graters are attractive pottery plates that serve as quick and effective graters for garlic, ginger and the like. At £8, I think they'd make a great gift for a foodie friend.
The Kids Cooking Company
Bright, kid-friendly baking sets can be found for under £20 – just head over to the The Kids Cooking Company.
ChufaMix
A hand blender companion with a built in filter system, the Chufamix allows you to make milk from nuts, seeds and cereals with ease. Great for those with dairy intolerances and tasty too.
Magimix
Possibly the most comprehensive blender system on the market, the Magimix Cuisine 5200XL is on sale at the Good Food Show for £350 including just about every attachment you'll ever need. I stood and stroked it for a while before dragging myself away.
Shana
Shana sell genuinely delicious and authentic Paratha breads, either frozen or vacuum packed and ready to heat and serve. If you're at the show, try the sugar and cinnamon sprinkled samples – just divine. Shana also make pre-stuffed roti. Great quality food available in ASDA, Sainsbury's and Tesco.
Russell Hobbs
One of the friendliest stalls at the show and another den of temptation for gadget lovers, the Russell Hobbs team are there with special offers on a range of items, including these rather lovely salt and pepper electric mills.
Vitamix
I already own a (review) Vitamix and it really is an amazing machine. This isn't just a blender, it's one of the most powerful blenders you can own, bashing down ice in seconds and reducing whole fruit to fine a smoothie in seconds. An incredibly effective way to maximise the nutritional benefit of the food you eat.
Berries
These pretty, pre-cooked and pre-packed Christmas puds from Berries would make a great purchase if you're at the show and haven't quite got started with making your own.
The Pembrokeshire Beach Food Company
The Pembrokeshire Beach Food Company make sweet and savoury snacks with a difference – they all contain Laver, an edible seaweed, popular in Wales and boasting a high content of dietary minerals, particularly iodine and iron. Apparently, it also helps keep cakes moist. I tried a few samples and they were all delicious.
Cheese Mill
I don't know why I got so excited about a cheese grater, but this little gadget, that looks like a tiny waste paper bin, is a very speedy manual grater – you just put your cheese / egg / bread in the top, twist and out comes coarse or finely grated goodness. Look up LCC Show and TV Promotions if you want one for yourself.
Poachies
My poached eggs are always a disaster, spreading the width of the pan and coming out looking like an albino squid. Poachies are little single use paper pouches you can use to get perfect poached eggs every time. And because they're in bags, you can boil several at once without them all merging into one. Rather handy, I reckon.
Ruudz
Non-alcoholic beer with chilli and garlic in it. Hmm, I thought, that just sounds weird. In fact, Ruudz is very clever – the spices give that slightly bitter after kick the average pallet will have come to expect from alcohol, making this the ideal tipple to switch to if you're driving or just cutting back on your alcohol intake. If you're at the show, try a sample for yourself – I like the Blonde variety.
Velvet Chocolate Truffles
Not only can you buy high quality white, milk, and dark chocolate truffles from Velvet Chocolate, they're also offering indulgent hot chocolate and a chocolate caramel fountain at the show. If you're not going to make it down this weekend, you can also book them for events and celebrations. Really moreish – I wanted to stay there all day buying fudge pieces to dip in the fountain.
Pink's
Pink's pestos are made from vegetarian parmesan, which is a huge plus in my book and come in a wide variety of exceptionally delicious flavours including Watercress & Wasabi and Smoked Tomato. They also make chilli jellies that smell as good as they taste – no wonder Pink's boasts a host of foodie awards. A perfect purchase for the Christmas season.
Little Doone
If you want oil-free balsamic dressings in a range of sweet and spicy flavours, check out Little Doone from Ayreshire. I fell for the raspberry variety which is delicate and fruity. There are gift packs on sale at the show.
Nairn's Oatcakes
If you've never tried oatcakes, you're missing out. They are gorgeous spread with a little cream cheese, humous, pate or whatever you fancy and make a great change from the usual wheat based crackers. Nairn's Oatcakes are great quality, high in fibre and affordable, so do check them out.
Chew Some Good CharityGums
I didn't expect to see a chewing gum retailer at the Good Food Show, but this little business really caught my eye. The packaging is all designed by budding illustrators who submit their ideas. The best ones are printed onto the packs, with a bio for the artist on the back of each one, and all profits go to charity. Well worth getting involved with when the CharityGums website goes live.
Capricorn Somerset Goat's Cheese
If you like your goat's cheese creamy, mild with a long, mellow flavour, you simply have to try Capricorn Somerset Goat's Cheese. It's very, very good, and great for cooking with too.
Delamere Dairy
Delamere Dairy is also at the show with a great medium firm goat's cheese. Also try the smooth, soft, sweet honied goat's cheese – it's seriously good.
Gordon and Macphail
If you're partial to a drop of whisky, I think you'll love Gordon and Macphail Speyside Single Malt Scotch Whisky. The oak barrels used give it a spicy kick that is warming and moreish. Perfect for a Christmas tipple.
Catchpole Cellars
I enjoyed chatting with wine merchants Catchpole Cellars, who offer a personalised wine service with your own named contact. If you want to experiment with a range of wines outside of the supermarket experience, they seem like a good place to start.
Arden Amici
Arden Amici is at the show with some melt in the mouth panettoni. If you'd like some soft, flavoursome and fruity bread for the Christmas table, find them in Waitrose.
Soulful Onepot
Snack pots aren't a new concept, but Soulful does it very well. Do try their Onepot meals, which can be heated in the microwave at home or work. I sampled the Butternut, Lentil and Spinach Hotpot and the subtle blend of chilli, cumin and coconut makes for a really tasty, healthy meal. Available from Ocado, Wholefoods and various other stores.
Tiger Toastie Maker
I can't claim to believe the Tiger Toastie Maker is an essential kitchen item, but if you like making toasties and fancy an alternative to the space-hogging electric toastie maker, check out this product, which simply consists of a metal clamp and heat proof handles. squish your sandwich into it, trim off the excess and cook it on the hob. Job done.
FoodSaver
If you often find you food goes off at the bottom of the fridge before you eat it, or goes a bit dodgy when frozen, check out FoodSaver, a machine that vacuum packs foods in sealed bags and jars, meaning they last up to five times as long in the fridge, and can be frozen without the dreaded threat of freezer burn. Probably not a purchase for the occasional cook, but a potentially worthwhile investment for budding chefs and large families.
Sacla
Sacla are at the show demoing their new squeezy pestos, which are neat to use and keep in the fridge for up to 4 weeks. Sadly not vegetarian, but tasty and convenient all the same.
i-Chef
A seriously bargainous find at the show, I picked up five packs of i-Chef Sauces for £1 at the show. Add them to fish, meat, noodles and soups for a quick, Chinese-style flavours without the takeaway price tag (or the gallons of fat). Can't go wrong with that!
Khayri
Khayri offer a wide range of fine food products with the authentic taste from selected regions of the Mediterranean such as Greece, Morocco, Spain, and Turkey. There a succulent olives and a wide range of sweets and nuts on offer at the show. Irresistible.
Medfood London
Medfood London have also brought along a succulent range of Mediterranean delights. Try the baklava or stuffed vine leaves.
Devilishly Delicious
If you like the idea of having something in the cupboard that will allow you to take a quick shortcut to a pro-looking dessert, Devilishly Delicious have a set of clever solutions. Their desserts in a carton simply need heating then chilling to create panna cottas, creme brulee, pot au chocolat and more. They also make a range of coulis to give a perfect finish to your speedy desserts.
The All American Milk Shake Whisk
It looks like one of those silly gimmicks, I know, but The All American Milk Shake Whisk really does turn cold milk into froth so thick it can stand being turned upside down in the glass within a matter of seconds. You just put it in the milk and push the handle up and down, causing the whisk to spin rapidly. No batteries required and perfect for cappuccinos and hot chocolates. You could use it to whisk egg whites too. Nifty, eh?
Fudge Kitchen
I've written before about Fudge Kitchen and their fabulous range of fudge, drinking fudge and fudge making kits. I nipped over to their stall and tried their chocolate fudge for the first time. Oh my. Buy some. Just buy some.
Nova Slice and Dice
And finally, I really like the Nova Slice and Dice, which allows you to put carrot, onion, tomato or whatever you fancy onto the blades, whack down the lid and get perfectly diced food. It also makes chips and julienned veg. Sadly, my card had taken a beating by that point in the day, so this tempting gadget stayed on the shelf.
I'll definitely be heading back to the NEC when the BBC Food Show returns for its Summer run 12th-15th June 2014. Will you?
Disclosure: I attended the Good Food Show on a press pass. No payment was received for this post. All posts are 100% honest.