Let's be honest: busy family life can make it tricky to get plenty of fruit and vegetables into your diet.
Fresh fruit and vegetables have a short shelf life, which often means we don't have them to hand when we want them, or we have to buy more than we need and then waste some. Children can be tough customers when it comes to fruit and vegetables too. Add in the fact that a typical family day is pretty hectic, and it's no wonder we find it hard to eat healthily.
What we need is a quick, convenient and tasty way to get extra fruit and vegetables into our daily meals. Enter the smoothie: a quick, simple way to get extra vitamins and minerals into your diet by serving up fruit, veg, nuts and more...in a glass!
And using frozen fruit and vegetables makes these smoothies so easy, and super cost-effective, as you only use what you need and the rest stays nice and fresh in the freezer until next time. No dashing to the shop for fresh produce, no wasted food going limp and soggy in the fridge.
Three great products from Iceland that I always have in the freezer for smoothies these days are Freshly Frozen Whole Leaf Spinach (it comes in little frozen blocks that are perfect for dropping into the blender), sweet and juicy Frozen Raspberries, and beautifully tasty yet tart Frozen Mixed Berries.
And because Iceland frozen fruit and vegetables are harvested and frozen when fully ripe, they're pretty much at the peak of their nutritional value too, no matter when you use them.
So, let's get started. Here are five core smoothie recipes I reckon should be in every smoothie drinker's repertoire.
They're all quick to make, easy to enjoy on the go and really tasty, as well as being packed with healthy ingredients. Each one includes super-convenient frozen fruit or vegetables combined with fresh produce, all from the Iceland range, so you can stock up your kitchen for smoothie action in one easy shopping trip.
There's only one method for all of these smoothie recipes: put the ingredients in your blender, blitz, then enjoy! Give them a try and see for yourself...
The classic green smoothie
A green smoothie is the perfect option for breakfast - the meal that sets us up for the day. Before you spend the morning rushing around, it's important to pack in some nutrients and energy.
Green smoothies are great because they sneak some leafy green magnesium-rich veg into your mornings, but don't worry! Once blended with the sweet banana, you can't taste the spinach. And because you don't want a sugar spike that brings you down with a bump, we're going to add in oatmeal, which releases energy slowly and steadily throughout the morning.
You'll need:
1 banana
1 block of frozen spinach
1/2 cup of milk (dairy or alternative)
Small handful of oats
Tip: You can add any combination of green veg and fruit into your smoothies and it's pretty much sure to be delicious, but be warned. If you add red berries, your smoothie will turn brown - still yummy, but not so pretty!
The mid-morning smoothie
If I haven't managed to fit a breakfast smoothie into my day, this one tends to be the one I opt for by 10.30am.
We all know that familiar mid-morning craving for snacks, don't we? And I'm just as guilty as the next person of starting to raid the cupboard for biscuits around that time, unless I have a healthy alternative on hand.
Why do we lose our willpower around then? It's caused as our bodies start to run low on fuel, our blood sugar starts to fall, and our stomachs start to feel empty. Put the chocolate bar down! This tasty smoothie contains protein-rich yoghurt to keep you feeling full until your next meal.
You'll need:
2 generous spoonfuls of natural yoghurt (or soy yoghurt)
1 banana
Small handful of frozen berries
1/3 glass of milk
Tip: If you choose to add extra mixed berries, great, but be sure to drink your lovely thick smoothie without leaving it to sit too long. Otherwise, the pectin in the blueberries will cause the smoothie to thicken and you might find it's more of a mousse than a drink!
The cold buster smoothie
When your head is full of cold and you feel like hiding under your desk with a duvet, this smoothie will help blow the cobwebs away with a deliciously zingy hit of orange and ginger.
What's more, ginger is thought to reduce inflammation, so as well as delivering a hit of healthy vitamins, this smoothie may help you breathe a little easier.
You'll need:
A thumbnail sized piece of fresh ginger
1 satsuma, peeled
1 tsp honey
Handful of frozen berries
1/2 cup of orange juice
Tip: Apple is delicious is this recipe too, and you don't need to peel or chop the apple first, just throw it in whole, seeds and all, and your blender will do the rest.
The black forest gâteau smoothie
This smoothie is for when the cake cravings set in and you feel like a treat. It's a creamy combination of chocolate and berries, but unbeknownst to your tastebuds there's lots of goodness going on in this glass.
The berries are packed with antioxidants and dietary fibre, and one banana contains about 25% of your recommended dose of vitamin B6, which is important for maintaining your metabolism and healthy immunity.
You'll need:
1 tsp cocoa powder
1 bananas
Small handful of frozen berries
1/2 cup milk (dairy or almond)
1 tsp coconut oil
1 tsp maple syrup
Tip: Looking to ramp up this treat? Add extra cocoa powder and a dash more maple syrup for a really indulgent smoothie.
The fill-me-up smoothie bowl
Smoothies aren't just for drinking! You can mix up the eating experience with a smoothie bowl, a thicker smoothie, eaten with a spoon. It's a really satisfying way to eat a smoothie at any time of day.
You'll need:
1 banana
1 large handful of frozen berries
Small handful of unsalted cashews
4 generous tbsp of yoghurt
Tip: Sure, you can eat a smoothie bowl pure with just swirl of yoghurt, but why not top with a healthy hit of all your favourite seeds and fruits for a whole new texture experience. Try my vegan fruit and nut smoothie bowl!
Bonus tip!
Any seasoned smoothie slurper will tell you that smoothies are best ice cold, and also that ice helps to crush up any stubborn bits of seed or pulp as they whizz around in the blender. So, keep that ice tray filled up, and chuck a few cubes into every smoothie.
You could also enjoy these smoothie recipes as frozen smoothie ice lollies - perfect for the warmer months.
As you make these smoothie recipes regularly and your tastebuds become increasingly accustomed to the more savoury elements in your smoothies, you can start upping the veg ratio, reducing the sweetness and creating new, even healthier recipes you love.
At that point, you have graduated from smoothie school, my friends. Enjoy and don't forget to check out Iceland's great range of frozen and fresh fruit and vegetables for lots more inspiration.
Which of these smoothie recipes will you try first?
This is a commissioned post for Iceland.
More smoothies and drinks recipes to try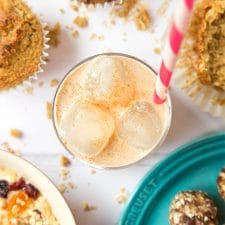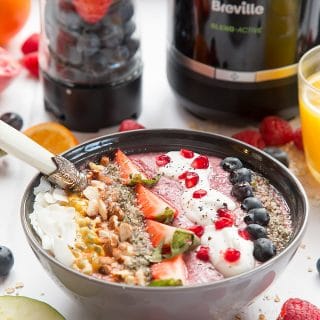 Strawberry and banana smoothie ice lollies
These delicious smoothies contain only natural ingredients – no refined sugar, no flavourings or preservatives, just fruit, milk and vanilla. They can be whizzed up in seconds, frozen over night and have a deliciously creamy texture so even kids who don't like bits will enjoy them.
Get the recipe
Easy Oreo milkshake recipe
With the sun out, the kids want ice-cold drinks, so we treated ourselves to this super tasty, super quick to make, utterly delicious (but definitely not for an everyday) treat: Oreo milkshakes!
Get the recipe