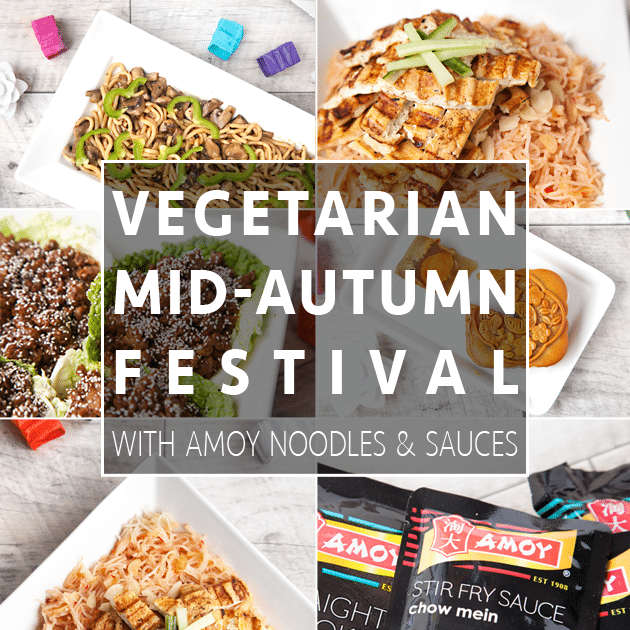 13th September marks this year's Mid-Autumn Festival, a Chinese celebration where all the family get together to eat and celebrate the harvest season.
To mark the occasion, and to help inspire you to have a feast of your own, I've used a selection of Amoy products to create a range of recipe ideas.
Each recipe is easy to prepare in a matter of minutes and all are vegetarian or vegan – who said meat-free is boring?!
Sweet chilli noodles with griddled tofu strips (vegan)
In this dish, toasted almonds add warmth to the sweet chilli rice noodles topped with griddled slices of tofu that has marinaded in dark soy sauce.
Here's how to make it.
Ingredients
2 tbsp dark soy sauce
395g (14 oz) tofu
2 tbsp almonds
1 two-pack of Amoy Straight To Wok Thread Noodles (300g/10.6 oz)
1 sachet of Amoy Sweet Thai Chilli Stir Fry Sauce (120g/4.2 oz)
A few slivers of cucumber
Instructions
Drain and pat the the tofu block dry with paper towels, then slice into four levels, as if you're cutting layers of a cake
Place the layers in a bowl with the soy sauce and leave to soak for 10 minutes
Transfer to a very hot griddle pan (or I used my electric grill) and cook until charred a little on both sides
Transfer to a board to rest
Toast the almonds in a dry pan over a medium heat until, shaking constantly until they just begin to colour
Add the sauce and noodles and stir for 2-3 minutes, then transfer to a large bowl
Slice the tofu into strips against the griddle marks and then pile on top of the noodles
Finish with a pinch of sliced cucumber
Here's your sweet chilli noodles recipe again in a printable format.
Mushroom chow mein (vegan)
This dish uses udon noodles for a slight twist on the typical mushrooms chow mien, while fresh green peppers add a little crunch.
Here's how to make it.
Ingredients
1 tbsp groundnut oil
400g (14.1 oz) closed-cup mushrooms
1 Amoy Chow Mein Stir Fry Sauce (120g/4.2 oz)
1 two-pack of Amoy Udon Thick Noodles (300g/10.6 oz)
1/2 a green pepper
Instructions
Heat the oil in a non-stick pan over a high heat
Wipe the mushrooms and then slice into quarters before adding to the pan
Fry for a minute or two until soft and darkened, then add the sauce and noodles
Fry for a further 3 minutes, stirring regularly
Transfer to a dish to serve and top with thin slices of the green pepper
Here's that tasty mushroom chow mein recipe again for you to print at home.
Sweet and sour mince and cabbage parcels (vegetarian)
These cabbage parcels, filled with juicy sweet and sour vegetarian mince and topped crunchy chia seeds are as fun as they are tasty – perfect party food.
Ingredients
4 large cabbage leaves
1 tbsp groundnut oil
300g (10.6 oz) vegetarian mince
1 sachet of Amoy Tangy Sweet & Sour Stir Fry Sauce (120g/4.2 oz)
1 rounded tsp chia seeds
Instructions
Wash the cabbage leaves, trim the stems and arrange in a bowl
Heat the oil in a non-stick pan over a high heat
Add the vegetarian mince and fry until soft, then add the soy sauce and stir until absorbed
Add the sauce and cooked for a further 2-3 minutes, then spoon into the cabbage leaves
Sprinkle with the chia seeds to serve
Here's the recipe for these cabbage parcels again in a printable format.
Traditional Mooncake (vegetarian)
The Mid-Autumn festival is timed to align with the full moon – a symbol of peace, prosperity and family reunion – so it's traditional to eat mooncake, a sweet lotus paste with one or two yolks suspended in it, wrapped in a sweet pastry with an intricate design on the top.  This pie has an unusual taste if you're used to the rich desserts we tend to have in the UK and is traditionally eaten in small wedges accompanied by Chinese tea.
I didn't actually make this one, but you can pick them up quite easily online for around £5-10. If you're vegetarian, just double check that vegetable fat has been used.
I hope that you're feeling inspired to enjoy a feast to mark the Mid-Autumn Festival. It's a fun way to enjoy a delicious meal with the family, and makes for a great opportunity to discuss other cultures with your little ones.
Which of these recipes are you tempted to try first?
This post was commissioned by Amoy. For more recipe ideas from Amoy try these meals in a minute.