Some adverts are forgotten as soon as they leave our screens, but others remain clear in our minds over a decade later. One such example of the latter is the 2007 ad for the ŠKODA Fabia, which saw a team of talented chefs build a full-scale model of the car out of cake, decorated with biscuits and candy. It even had an engine filled with golden syrup and jelly headlights.
To celebrate the release of the brand new ŠKODA Fabia, this month the car manufacturer has teamed up with professional baker and 2016 Great British Bake Off winner Candice Brown to re-imagine a delicious, small-scale replica of the iconic Fabia cake.
The original cake which starred in the hit 2007 TV ad was nearly four metres long and one-and-a-half metres high, Candice has released the recipe for a small-scale version which means aspiring bakers can make it at home.
As a huge baking fan, I was delighted to be invited down to the Good Housekeeping Cookery School to see the cake in person, meet with Candice and have a go at making the cake for myself.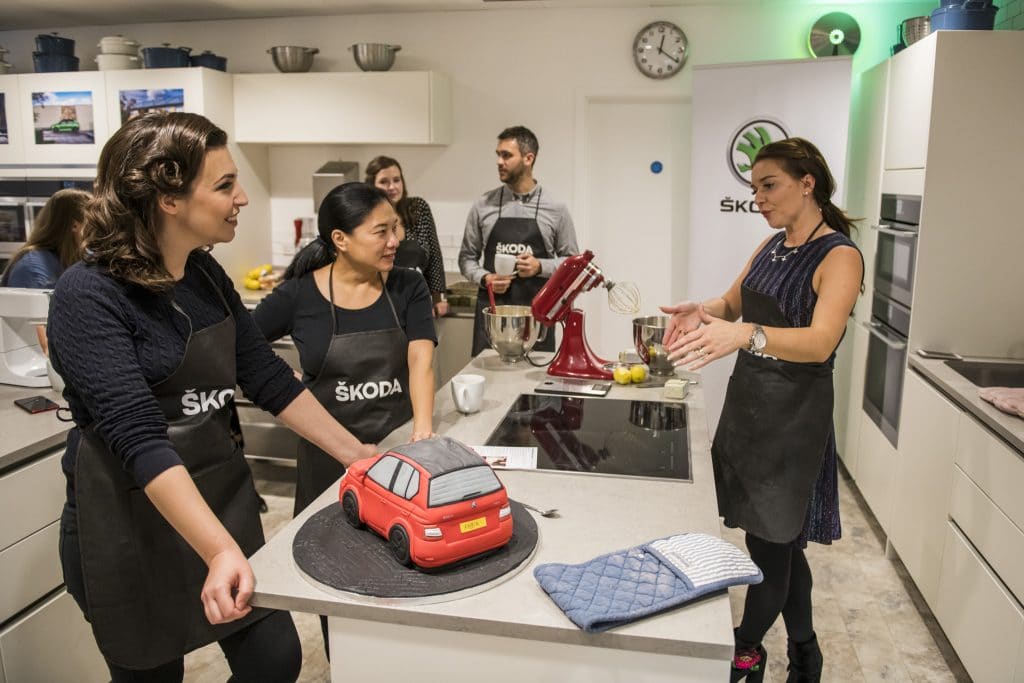 Candice drew inspiration from the new sporty ŠKODA Fabia Monte Carlo that launched in September, and there are lots of little details that I just love.
The car's 'interior' is made from six layers of fluffy lemon sponge, sandwiched together with a mouth-watering citrus-infused buttercream, before being carved to form the shape of the car. For the 'exterior', Candice used fondant icing to sculpt the newly designed LED headlights, wheels, windscreen wipers, front grille and the detail of the ŠKODA badge to create a perfect imitation of the car.
So, with a quick lesson from Candice, it was time to get baking, and boy did we have fun!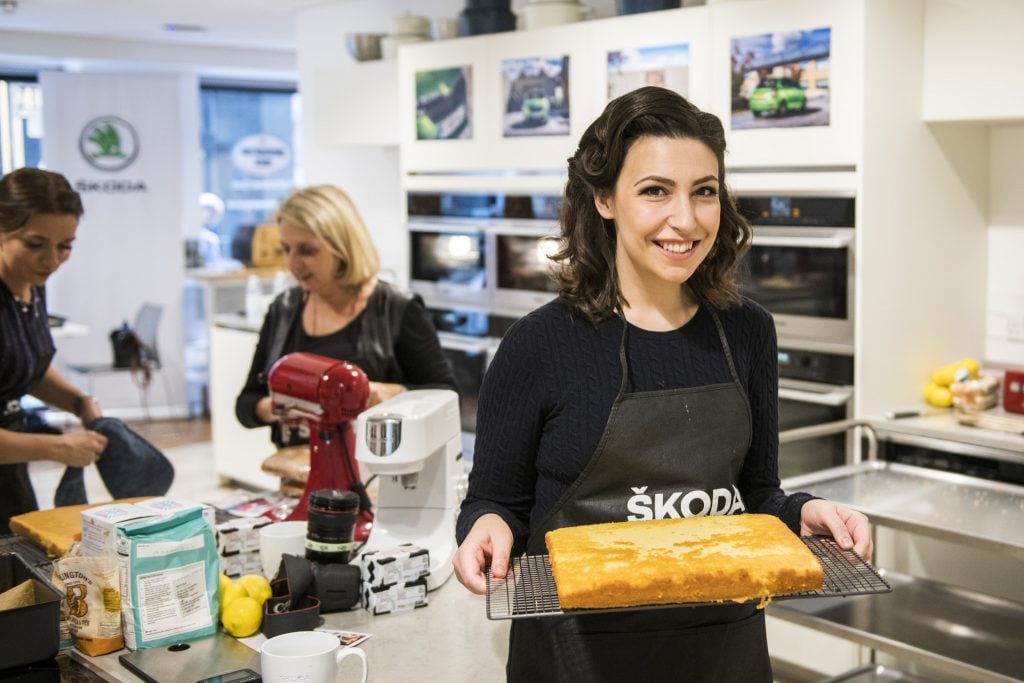 None of us managed to quite finish within the allotted time, and everyone was covered in icing sugar.
When I got home, I ordered some extra fondant and finished the job - it's a little out of proportion, but not bad for a first attempt!
What do you think?
The new ŠKODA Fabia is available in UK dealerships and is available from £12,840 OTR. And don't worry, the real Fabia isn't made of cake!
If you'd like to make the ŠKODA Fabia for yourself, the full recipe is below. More info at www.skoda.co.uk/FabiaCake
The ŠKODA Fabia cake
To celebrate the release of the brand new ŠKODA Fabia, this month the car manufacturer has teamed up with professional baker and 2016 Great British Bake Off winner Candice Brown to re-imagine a delicious, small-scale replica of the iconic Fabia cake.
Ingredients
To make a six tiered cake
670

g

(

1.48

lb

)

self-raising flour

670

g

(

1.48

lb

)

unsalted butter

670

g

(

1.48

lb

)

golden caster sugar

6

tsp

baking powder

12

large eggs

4

lemons

grated zest

2

lemons

juice
For the lemon buttercream
600

g

(

1.32

lb

)

icing sugar

sifted

300

g

(

10.58

oz

)

unsalted butter

softened

1

lemon

juice and zest
Decoration
2.5

kg

(

5.51

lb

)

fondant icing

plus extra colours for decoration
Instructions
Making the cake
Preheat the oven to 160°C fan (180°C/350°F/Gas Mark 4). Grease and line six 25cm cake tins.

Sift the flour into a large bowl and add the butter, sugar, baking powder, eggs, lemon zest and juice. Mix together until smooth, fluffy and combined.

Divide the mixture evenly between the six cake tins.

Bake for about 20 minutes or until the sponges are risen and golden.

Remove from the oven and turn out the sponges on to a wire rack to cool

While your cake is cooling make your lemon buttercream.

Combine the sifted icing sugar with the butter and add the juice and zest of one lemon.

Mix together until smooth and creamy.
Decorating the cake
Sandwich each layer of sponge with your buttercream to create six layers.

Carve the cake to create a rectangle. Looking at the top of the cake find the middle point and start to carve down in a curve to roughly the third layer to create the windscreen and bonnet shape of your car.

Cover the cake with the remaining buttercream.

Roll out the fondant icing in the colour of your choice.

Drape the fondant over the cake and smooth down.

Using different coloured fondant carve out the shape of the windows, headlights, front grille, tyres and ŠKODA badge and stick to the cake using a dab of water.

Add your finishing touches. Share your bake using #FABIACake.
Nutrition
Calories:
1240
kcal
|
Carbohydrates:
213
g
|
Protein:
7
g
|
Fat:
42
g
|
Saturated Fat:
25
g
|
Cholesterol:
202
mg
|
Sodium:
48
mg
|
Potassium:
235
mg
|
Sugar:
185
g
|
Vitamin A:
1355
IU
|
Calcium:
98
mg
|
Iron:
1
mg
* Note: nutritional information is estimated, based on publicly available data. Nutrient values may vary from those published. Information on this website should not be taken as medical advice. Cuisines identify the primary region of inspiration for a dish.
Tried this recipe?
Snap a pic and tag @amummytoo on Instagram, Twitter or Facebook. I can't wait to see your posts!
This is a commissioned post for ŠKODA.
More creative cake recipes to try
Why not explore my cakes and bakes section for more baking ideas? Here are some of my favourites.
Sweet shop cake
Isn't this candy shop cake super fun?! Well, the good news is, it's as tasty as it looks! And the really good news? It's quick and easy to make!
Get the recipe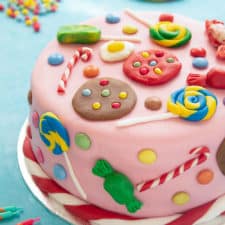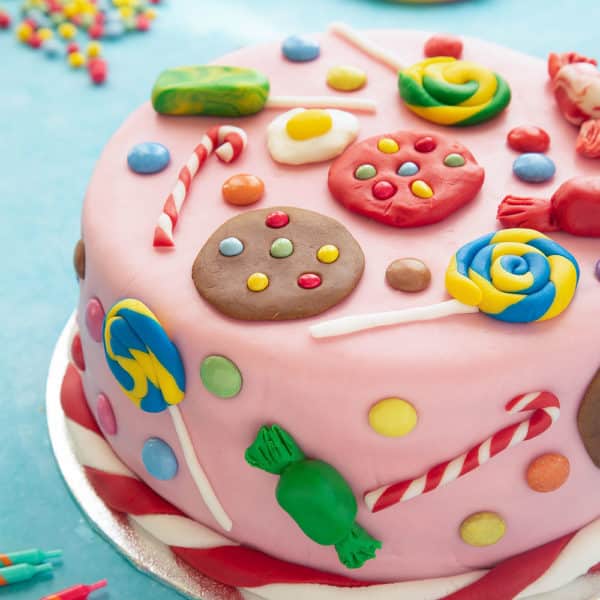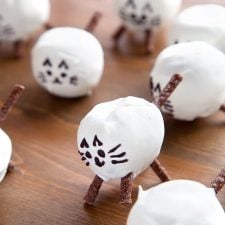 Panda cake recipe
We've got a few events coming up where it would be nice to take a cake along, so we've been experimenting with different novelty patterns, and this panda is one of our favourites. It's simply a vanilla sponge, covered with white icing, with the black icing providing the features.
Get the recipe
Sailing boat cake
This super cute sailing boat cake is delicious and just perfect for a birthday celebration. It has a rich, buttery sponge, a jam filling, and a sugar paste boat sailing on a sugar paste ocean.
Get the recipe
Get Your Kids to Eat Anything
My debut cookbook, Get Your Kids To Eat Anything is available now from all good bookshops!
It's so much more than a cookbook, it's a 5-Phase programme designed to take you through a meaningful, simple and sustainable journey to end fussy eating.


Since its release in March 2019, Get Your Kids To Eat Anything has been changing mealtimes in households across the country and has become an Amazon #1 best-seller.