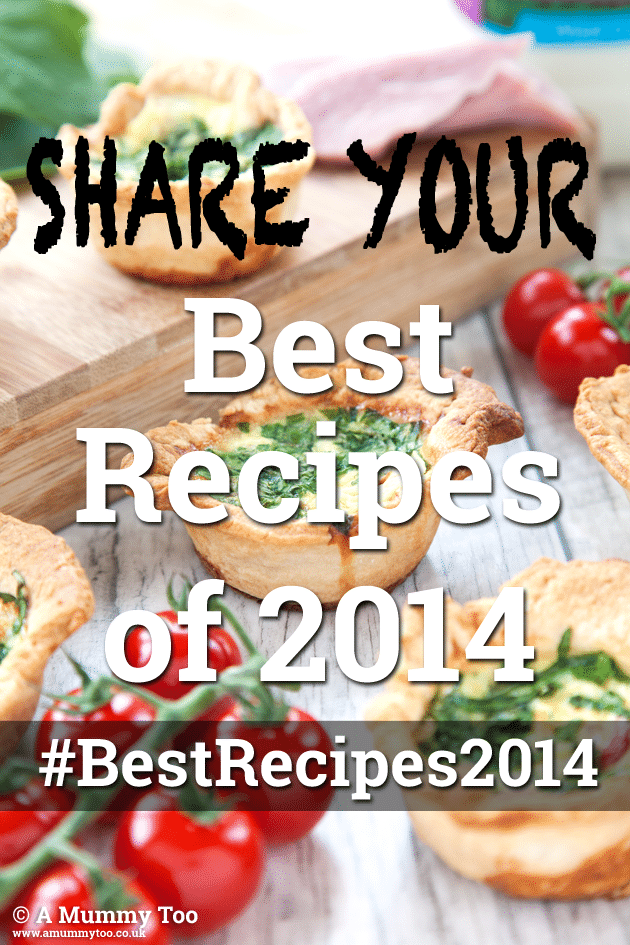 It's that time again, yep, it's #recipeoftheweek. This is THE place to link up your recipe posts for lots of tweet, comment and Pinterest love.
At the bottom of this post is the latest 'linky' – use it to add any recipe posts you would like to share. They don't have to follow a particular theme – absolutely all recipes are welcome :)
EXCEPT, this week it's a bit different. It's #BestRecipe2014! What does that mean? Well, until the end of the year, use this linky to link up your recipe posts from any part of 2014. Your favourites and your best, please. You can add up to 5 per blog.
Let's celebrate the recipe posts we're most proud of. Everyone is welcome and I'll do my best to tweet them all.
On 1st Jan, I'll post a massive round up of all the entries with images and links for readers to get the full recipe. Exciting!
If you're new round here, read on to learn about how it works:
Link up! THERE IS NO THEME – ALL WELCOME
Link up any of your recipe posts using the linky below – click the blue button that says 'Add your link'. All recipes are welcome, old or new, no theme.
Usually I ask that you don't re-add posts you've added before, but as this is a 2014 round-up, feel free!
Add the special "Best Recipes of 2014" badge to your post (replacing the Recipe of the Week badge for the remainder of this year only) so that readers can find other great recipes. The code you'll need is in grey at the bottom of this post.
Join me in taking time to read, comment, Stumble and/or Pin some of the other entries, if you like them. I try really hard to read, tweet & pin the entries each week – it's a great way to discover amazing new recipes and blogs
On Saturday 3rd Jan, we'll go back to the usual weekly #recipeoftheweek format but for now, let's celebrate all the incredible recipe content posted in 2014.
You have until midnight to add your best posts. GO!
[html]<div align="center"><a href="https://www.amummytoo.co.uk/2014/12/bestrecipes2014/" target="_blank"><img class="alignnone" src="https://www.amummytoo.co.uk/wp-content/uploads/2014/12/bestrecipes2014.png" alt="Link up your recipe of the week" width="150" height="150" /></a></div>[/html]