Do you ever pull gone off food from the fridge and chuck it straight into the bin? I'm pretty sure the answer will be yes - we all do it, don't we? It doesn't seem like much day to day, but if you added it all up, the amount thrown away over time could be staggering.
Have a look at the image below and take a guess at how long it takes the average British household to waste that much food...
Ready to be shocked?
It takes just ONE MONTH.
That's right, every single month, the average UK household throws away an incredible £60 of food. And the above image really brings home just how much that is. It's a LOT!
While tipping half a can of beans into the bin might seem minor, over time, it adds up to roughly £700 a year of food going straight from the supermarket shelves, into your home and then into the bin.
This is what a year's worth of food waste looks like.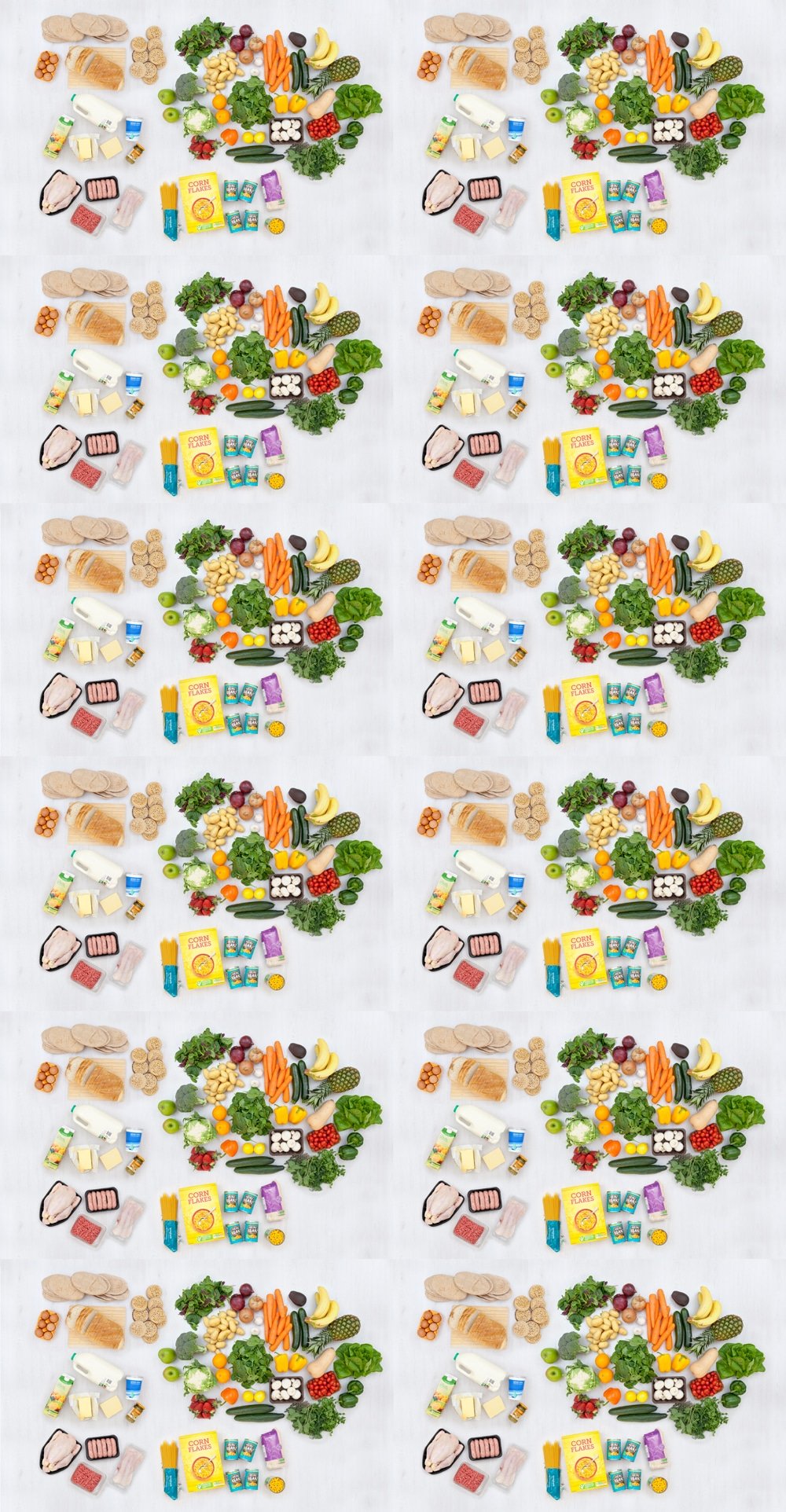 A half can of beans you pop in the fridge, forget to use, then pop in the bin. The mince that goes a little grey and puts you off. The cornflakes that go stale in the back of the cupboard. The veg that goes mushy.
Looking at the above graphic, it's suddenly easier to understand how 7 million tonnes of food ends up in UK landfills every year, with over 4 million tonnes of it made up of food that could have been eaten.
And it's not just hitting our collective pockets hard, but our environment too. If we all managed to reduce our food waste down to zero it would have the same environmental impact as taking one in four cars off the road!
That's why I'm passionate about the latest initiative from Love Food Hate Waste, which is calling on households across the UK to give up food waste for 40 days.
Could you #GiveUpBinningFood?
So from 1st March 2017 to 13 April 2017, I'm going to join Love Food Hate Waste in trying something I think will be a real but important challenge: to create zero household food waste for an entire 40 days.
From half a pack of crumpets to a sprig of mint, I'm aiming for zero wastage in our household, and I'd love for you to join in too.
To make it easier for us all, Love Food Hate Waste will be giving out daily tips and advice throughout the challenge, focusing on a different area each week to help you crack food waste.
The video below should give you a sense of what the challenge involves, and hopefully whet your appetite to try it for yourself.
Ready to #GiveUpBinningFood? Here's some more detail on how and why a few simple techniques learned during the challenge can make such a big impact. Have a read through and you'll be off on your way to 40 days (and beyond) of reducing the money you spend and the impact you have on the planet.
Week 1: meal planning
Tips to help you avoid buying too much food to begin with.
By simply listing what you and your family plan to eat that week, and then spending a few minutes working out how much food you'll need, you can immediately make a huge dent in the amount of food you waste.
Meal planning can save you hundreds of pounds a year, allow you to make fewer trips to the supermarket, and even help you maintain a healthy lifestyle with wiser food choices, fewer impulse buys and standardised food portions.
So check out what you already have in the cupboards and fridge, then make a list of what you intend to cook all week before making a shopping list and heading to the supermarket.
If you struggle to remember what you already have in once you start shopping, take a picture of what's in your fridge, freezer and cupboards before you leave. It will help you to check anything you've forgotten and avoid doubling up.
In week 1, why not create a 'meal plan' blackboard for your kitchen wall to help you to plan out your week before you go shopping. This is a great approach as it keeps the plan in a prominent place so that it won't be forgotten.
Week 2: storage
Tips to store food for longer and maximise freshness.
Storing food correctly doesn't just mean you get longer to use it, it also helps you to maximise the taste and freshness of your produce as soon as you get it home. Canned goods are easily popped in the cupboard, but not all foods are so obviously preserved, so learning the best places to put things can be invaluable.
Popping herbs into water, for example, will keep them fresher for much longer than if they languish in plastic in the fridge.
Week 3: fridge focus
Tips to help you get the best out of your fridge.
Knowing what food you should and shouldn't put in your fridge is a great start to cutting down on waste, but you might not know that what goes where in the fridge helps prolong food freshness too. Condiments should be near the fridge door where it's warmer, and meat and dairy at the back where it's colder.
Check the seals on your refrigerator door by putting a sticky note or piece of paper in between them and pulling on it while the fridge is closed. If there's no resistance, your fridge probably needs new seals.
Lastly, adopt the 'use by' supermarket trick. Ever noticed supermarkets always move the items with the soonest 'use by' date to the front? Twice a week, rotate your fridge so the first items you see are the ones going out of date the soonest.
Week 4: portioning
Tips to reduce the food we scrape from plate to bin.
How many times this month have you eaten a meal you just can't finish? How many times have your kids left something on the plate?
Learning the recommended portion sizes of different foods can be a big help in reducing food waste. If you have trouble visualising your meals and the amount of people you're cooking for, Love Food Hate Waste will be offering up lots of standard portion sizes and weights for you to refer to.
But if weighing and measuring isn't your thing, the psychological trick of using smaller plates has been shown to help people cut down on portion sizes. Food from the pan can usually be chilled and reused, so it's always better to go for seconds rather than load up your plate only to throw it away. Everyone will soon get used to the idea of only taking what they need.
Week 5: food labels
Tips to understand how labels help you avoid food waste.
Food labelling is a fantastic tool to keep us safe, but it's not always obvious what the differences are, and that could mean you're throwing away perfectly safe food that still tastes great.
When it comes to dates on packaging, could you explain the difference between 'Use by' and 'Best before'?
'Use by' is the important one. It's about food safety, and the one you should always heed.
However, 'Best before' is about food quality and should be seen more as a suggestion. Here, you can trust your judgment and senses (sight, smell, taste) to decide if food is still safe to eat.
We all have a bit of an 'if it's in the jar and in the fridge it'll last forever' mentality, only to find that half opened jar of pesto or jam didn't have quite as much time as we thought and has developed a furry top.
This is because some foods have a 'once opened, use within' count down, which means they only start to deteriorate after you open the lid and must be consumed within a certain time frame. To combat this kind of waste, check the instructions and then label the jar prominently as soon as you open it so that you can see when it is close to being out of date.
If you know what to prioritise and use up the soonest, then a huge part of the food waste battle has already been won.
Week 6: leftovers
Tips for storing and reheating leftovers.
Leftovers are amazing, whether eaten the next day for lunch or dinner, or frozen for reheating and enjoying weeks later.
If you're getting serious about avoiding food waste, it's worth investing in some fridge and freezer safe storage containers, as well as some labels and freezer paper so that you can store everything properly, portion everything up to your liking and not wonder what the brown container at the back of the fridge is, or how long it's been there.
While an amazing meal makes for amazing leftovers, don't just think of it as extra whole meals - lot of times, leftovers come in the form of that half a pepper you don't need for today's salad, but don't fancy once it's sat in the fridge.
Storing half-used items hygienically and near the front of the fridge will help you to see them less as an inconvenience and more as ready to use ingredients, crying out to feature in your next meal.
Feeling inspired? These tips are just the beginning.
Follow Love Food Hate Waste on Twitter for lots more tips, ideas, and suggestions in the weeks to come.
Don't forget to sign up HERE, then share this post with your family and friends. Chat about the challenge in the school playground. Get the kids involved in a meal planning session today.
Let's get all try our best to #giveupbinningfood. And remember, it's not about beating ourselves up if we do end up wasting something, it's about never giving up at trying our best.
Let's go!
This is a commissioned post in partnership with Love Food Hate Waste