In recent weeks, I've been discovering a new foodie gem on the net: Grokker. It's a website that plays home to a range of high quality instructional videos in niche areas including Cooking, Yoga, and Fitness.
At the beginning of December, Grokker launched their Food Blogger Challenge hosted by Loyd Grossman, where eleven food bloggers are working to display their culinary talents through cookery videos to be crowned Grokker's Food Blogger of the Year, 2014 and win a day of food photography with David Loftus and a brand new DSLR.
The recipes published so far as part of the challenge are of an exceptionally high quality. The Grokker platform allows you to watch videos, favourite them, save them to a 'watch later' list, and even post pictures of your own efforts in the 'I did this' section under each video. If you spot a video you like, don't forget to hit the heart icon, because each contestant's chance of getting through to the next round will depend on the number of loves they receive.
I opted to make a delicious chicken involtini, following the recipe submitted by Grokker's Food Blogger Challenge contestant, Sage Russell. It's an original twist on an Italian classic, with a herbed mascarpone and prosciutto stuffing, lemony sauce and garlic-rich fresh green beans.
Here are the results:
I strayed from the recipe a little when I found that I had accidentally bought skinless chicken thighs, which meant I couldn't stuff the herbed mascarpone under the skin. Not wanting to anything to go to waste, I simply put all of the mascarpone inside the thigh with the prosciutto, rolled it up and it still worked beautifully, I think, giving a succulent, flavourful result.
Following the video on my smart phone as I cooked was easy - Sage has a great, relaxed video manner - and all the videos have the full recipe in text form underneath so I could pause and check back on the measurements. The only flaw was not being able to use my phone when my hands were handling the raw chicken but it was such a simple recipe that once I'd watched the video once through and weighed out my ingredients, that wasn't much on an issue.
If you fancy trying any of the dishes featured for yourself, there's not just delicious food to be had, you could also win some great photography prizes simply by uploading pictures of your finished dishes to the 'I did this' section.
If you try Grokker, let me know!
Print Recipe
Chicken Involtini
This delicious chicken is an original twist on an Italian classic, with a herbed mascarpone and prosciutto stuffing, lemony sauce and garlic-rich fresh green beans.
Ingredients
40

g

(

1.4

oz

)

mascarpone

1

tbsp

sage

finely chopped

1

tbsp

thyme

finely chopped

1

tbsp

rosemary

finely chopped

pinch

salt

1

lemon

juice and zest

2

eggs

separated

6

chicken thighs with skin

deboned

6

slices

prosciutto

can be substituted with any thin ham

2

cups

(

7.8

oz

)

green beans

2

cloves

garlic

2

tbsp

olive oil

2

tbsp

parsley

chopped, for garnish
Instructions
Pre-heat an oven to 360°F (180°C). Prepare the filling by mixing together the mascarpone, the sage, the thyme, the rosemary, the lemon zest and seasoning generously with salt.

Gently peel back one side of the skin of the chicken thighs, so that it forms a pocket into which the stuffing can be filled. Place about 1 tbsp of the filling into this pocket.

On the flesh side of the chicken, spread a further 1 tsp of the filling and then place 1 slice of prosciutto on top. Roll the chicken up, with the skin on the outside, and place into a shallow sided baking tray.

Place the chicken into the oven for 20 minutes, or until the chicken in cooked through and the skin is nice and crisp.

In a bowl mix together the egg yokes and the lemon juice. Once cooked, remove the chicken from the baking tray. To the juices remaining in the pan, add the egg yolk and lemon juice mixture, and mix thoroughly to create a sauce, which should be drizzled over the chicken.

To prepare the green beans, add the olive oil to a frying pan over a medium high heat, and pan fry the green bean and garlic cloves, until the beans are tender. Remove the garlic cloves and serve the green beans alongside the chicken. Garnish the chicken with some chopped parsley, and enjoy!
Notes
If you prefer skinless chicken, simply put all of the mascarpone inside the thigh with the prosciutto and roll.
Nutrition
Calories:
593
kcal
|
Carbohydrates:
9
g
|
Protein:
34
g
|
Fat:
47
g
|
Saturated Fat:
14
g
|
Cholesterol:
266
mg
|
Sodium:
253
mg
|
Potassium:
577
mg
|
Fiber:
3
g
|
Sugar:
3
g
|
Vitamin A:
1038
IU
|
Vitamin C:
27
mg
|
Calcium:
96
mg
|
Iron:
3
mg
* Note: nutritional information is estimated, based on publicly available data. Nutrient values may vary from those published. Information on this website should not be taken as medical advice. Cuisines identify the primary region of inspiration for a dish.
Tried this recipe?
Snap a pic and tag @amummytoo on Instagram, Twitter or Facebook. I can't wait to see your posts!
Disclosure: this is a sponsored post for Grokker
More chicken recipes to try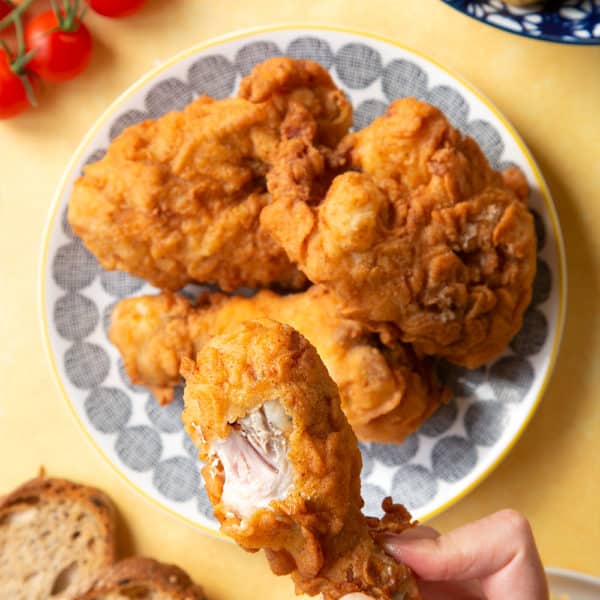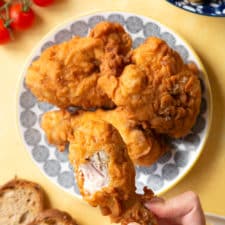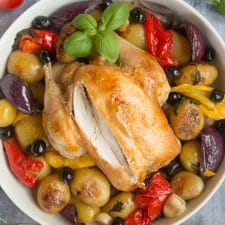 Garlic and herb baked chicken with parsnip fries
Super healthy chicken with a crunchy herb topping, served with parsnip fries and seasoned with cumin for a flavour packed dish that's simple to prepare.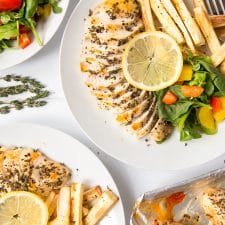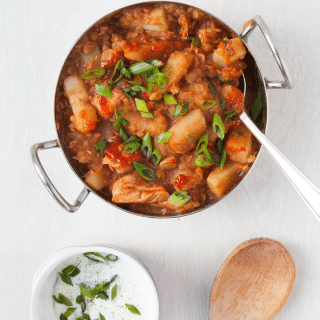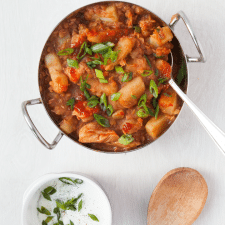 Get Your Kids to Eat Anything
My debut cookbook, Get Your Kids To Eat Anything is available now from all good bookshops!
It's so much more than a cookbook, it's a 5-Phase programme designed to take you through a meaningful, simple and sustainable journey to end fussy eating.


Since its release in March 2019, Get Your Kids To Eat Anything has been changing mealtimes in households across the country and has become an Amazon #1 best-seller.