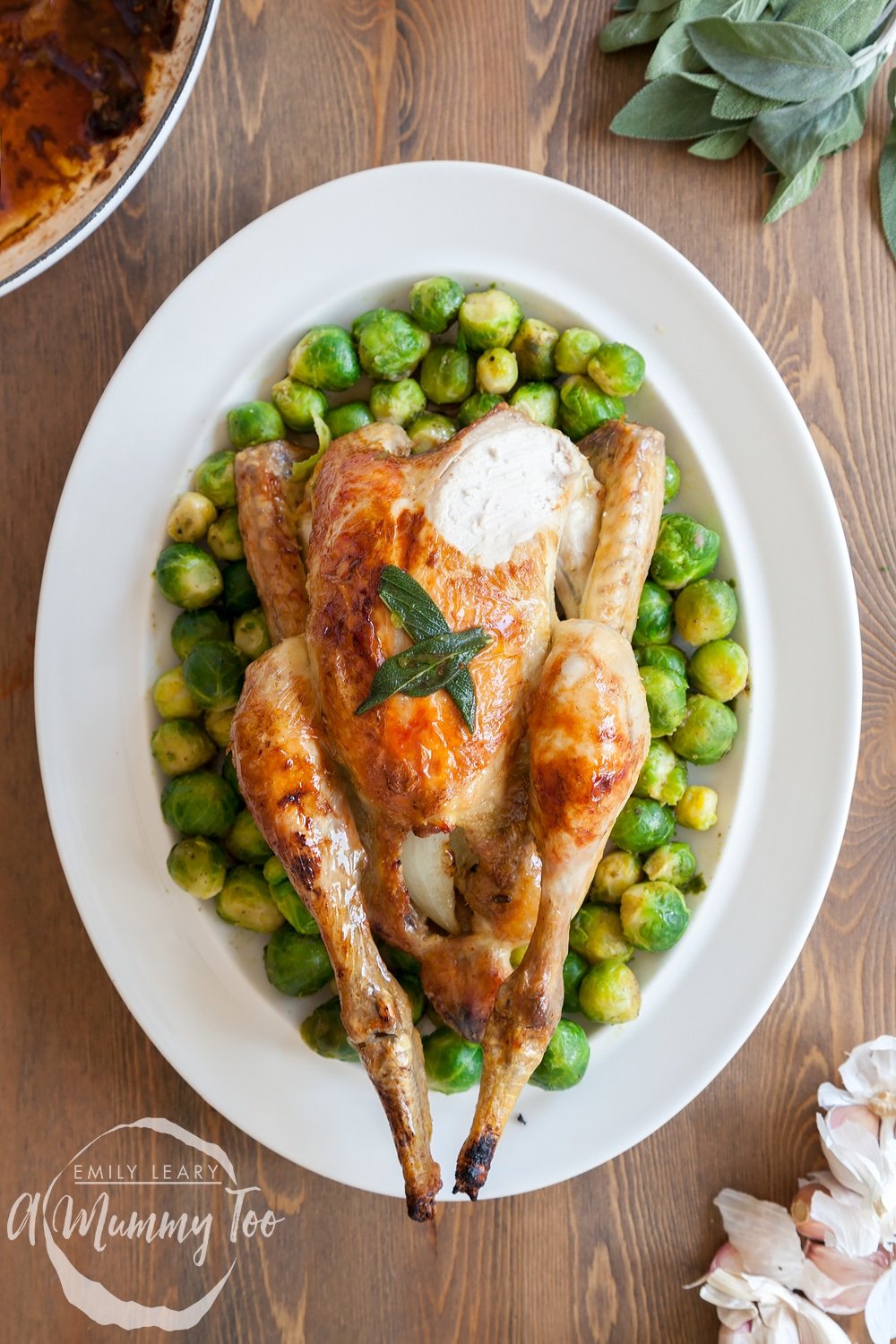 Eating together as a family is really important to me. No matter how busy life gets, having everyone sit down around the table to share food always brings us back together. It gives us time to catch up on each other's days, talk about plans for the week, and generally hang out.
We try to eat together as often as possible throughout the year, but at Christmas that shared dining becomes an absolute must. For me, Christmas meals are all about family time and good food, and Christmas lunch is the perfect opportunity to really celebrate both. If there's a groaning dining table, a messy kitchen, noisy games and lots of laughter, I feel like I've pretty much got it right.
And, of course, Christmas lunch is also all about traditions. Each family has their own unique way of 'doing' Christmas lunch, incorporating the traditions of previous generations, new family members, and changing social habits. My childhood memories of Christmas lunch involve an absolute houseful; I come from a big family and there was always lots of kids running around, a pretty flexible window of time for lunch to be served, and everyone pitching in with the washing up. My mum's honeyed roast parsnips were always the star of the show.
Since becoming a parent myself, I've definitely built some of those childhood traditions into the way I do Christmas lunch, while adding in a few of Mark's and trying out some totally new ones of our own. The menu itself has stayed pretty much the same over the years; we've always tried to encourage the kids to eat the same food as us, so we simply moved from pureed, to mashed-up, to chopped up, and finally to just the same as the grown-ups. I think Christmas lunch is hard enough without making a whole loads of different meals for every age group!
This year, I really want our Christmas lunch to be an indulgent feast, with all the trimmings and a great selection of vegetables. I am looking forward, too, to the inevitable mountain of leftovers that we'll use for lovely buffets and sandwiches in the following days.
By nature, a grand Christmas meal needs lots of organisation, and I'm a big believer in pre-prep. I want to spend as much of Christmas morning as possible with my family, watching the kids enjoying their presents and taking it easy after the inevitable pre-dawn start to the day. I learned a lot from watching my mum cook for a crowd, and cooking along with her and my siblings as we grew up, so I always do as much of the cooking and preparation as possible before the day.
Two or three weeks before the big day, I start to prep and freeze things. I made and froze cranberry sauce three weeks ago, and my sprouts are already trimmed, quartered and frozen - I plan to pan fry them on the day. Last week I sliced the parsnips into quarters lengthways, placed them on a foil tray, drizzled with oil and honey and froze, so they'll go straight into the oven on Christmas morning.
We'll all work together to prepare the other vegetables on Christmas Eve. The kids help out with the weighing and washing, which keeps them busy amidst the growing excitement. Prepared potatoes and carrots go into the fridge in pans of cold water, ready to go straight on to the hob the next day.
For the first time, we're eating a totally vegetarian Christmas lunch this year, so I have also prepared my favourite nut roast in advance - in fact I made two and while one is waiting in the freezer, we ate the test run three weeks ago!
All this preparation does require a bit of willpower in the run-up to the big day, of course, but when Mark and I are sitting there on Christmas morning with a glass of Bucks Fizz instead of peeling potatoes, we'll remember just why it was worth the effort.
Everyone has their favourite part of Christmas lunch, and for me it has to be dessert. If I didn't make our favourite chocolate roulade there would be trouble; it has become a real family tradition to have this airy yet rich treat on Christmas Day, before collapsing onto the floor for a good old family board game. I suspect my kids will carry that particular tradition on into their own versions of Christmas when they grow up.
Amidst all this lovely reminiscing about Christmas traditions, I'm also remembering my fair share of Christmas lunch disasters. There was the year that Miss J was a tiny baby and my sleep-deprived brain forgot to turn the oven on, the year everyone but me had a bug and I ended up eating pasta on my own, the year when Jay was in his 'finger food only' phase and took great delight in launching his Christmas dinner at the floor, and the year when I decided to leave the prep until Christmas morning, got totally into all the Christmas fun, and we didn't eat 'lunch' at 6pm. I bet we've all got a similar story to tell - it can't always be perfect, can it? And actually, those tales of disaster are the family stories we laugh about the most now.
Do you have any tips for the perfect family Christmas lunch?