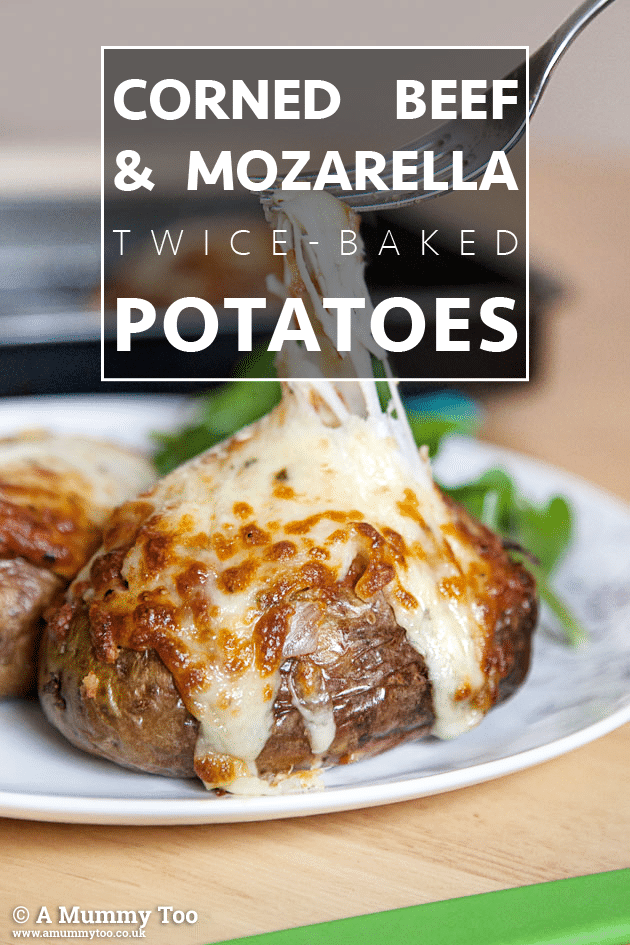 Today I have a very easy and deliciously filling recipe for you which uses baked potatoes, mozzarella and Princes corned beef as the key ingredients.
If you've only ever had corned beef in corned beef hash, this will be a bit of a revelation.
Here's a quick look to whet your appetite.
The recipe feed four as a light meal, or two very hungry people.
Prep time totals about 20 minutes and cooking time totals around 1 hour 40 minutes. Or if you bake the potatoes in advance, the whole thing will only take around 45 minutes to bring together.
Here the full recipe:
Ingredients
4 baking potatoes
5-6 tbsp olive oil
1 brown onion
170g-200g corned beef
2 tbsp chives
2 tsp paprika
salt and pepper
200g mozzarella
Instructions
Preheat the oven to 200C (180C fan).
For this recipe, you could use left over baked potatoes from the previous day and skip to step 3. If starting from scratch, wash and dry the potatoes, prick all over with a fork, then rub with 1-2 tbsp of the olive oil – this helps make them nice and crispy. Place directly onto the oven shelf for 75-90 minutes until dark and crispy, then leave to cool.
Meanwhile, dice the onion and fry in 1 tbsp of oil over a medium heat until translucent, then set aside to cool.
Slice off the top 1/2 inch of each potato (along a long side) and scoop out all of the flesh into a large bowl. Set the skins to one side.
Mash the potato with the fried onion, corned beef, chives, paprika, a pinch of salt and pepper and the 3 tbsp of olive oil until well combined.
Load the filling back into the potato skins, pressing down gently to get it all in.
Transfer the potatoes to a tray greased with olive oil and top each potato with mozzarella and a good sprinkling of pepper.
Bake for 15-20 minutes at the same oven temperature until the cheese bubbles. Serve with green salad.
Will you try it?
Grab a weekend break with Princes
A new promotion currently featured on 1.5 million packs of Princes 340g Corned Beef could give you the chance to win £1,000 towards a weekend break.
Just answer a simple question via www.winaweekendbreak.co.uk, to be in with the chance to win one of 20 weekend break prizes, as well as runner up prizes of Kindle Fire tablets, £20 supermarket vouchers and £1 off their next purchase of Princes Corned Beef.
This is a commissioned recipe for Princes.