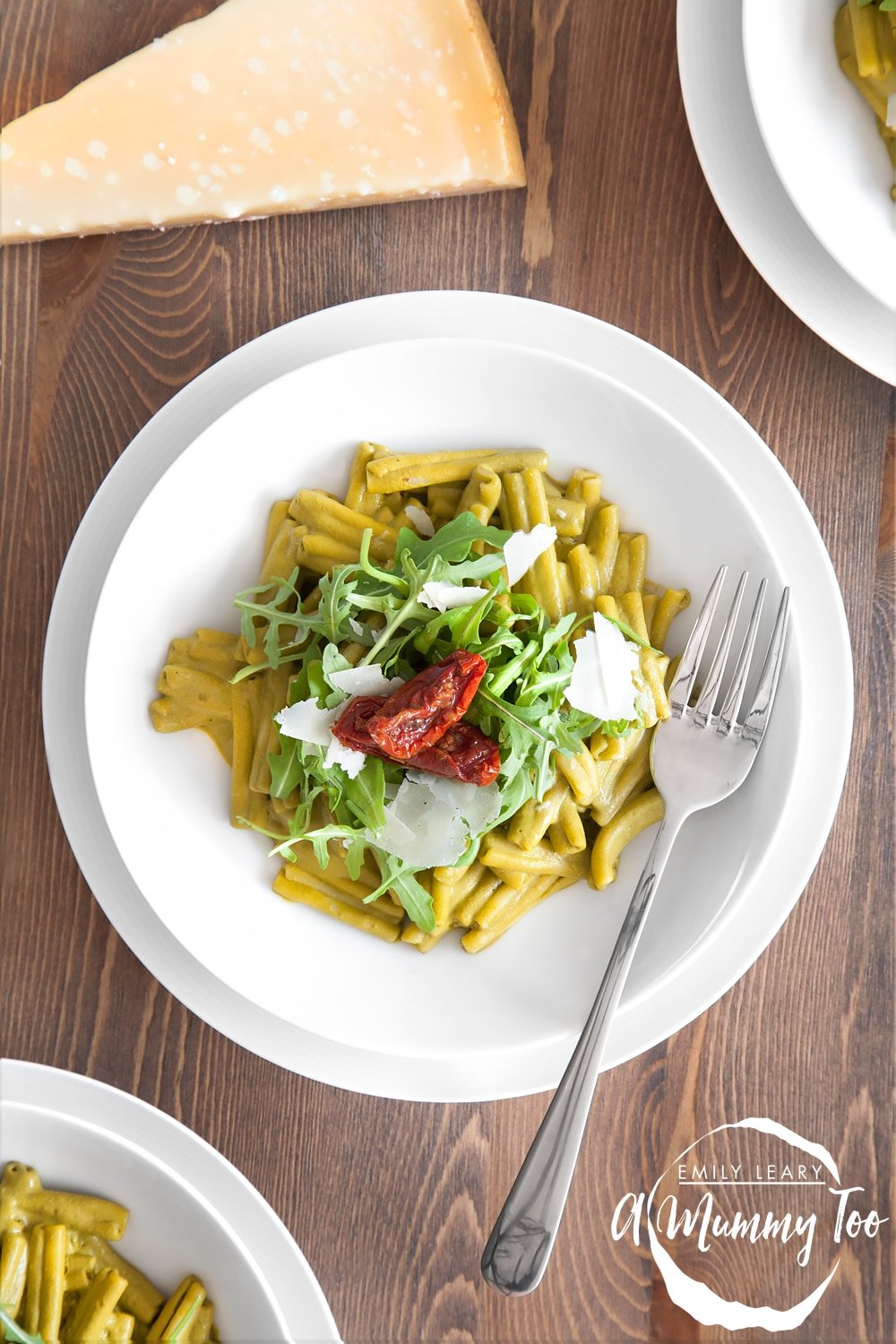 We try really hard to ensure the kids eat plenty of veg, but Miss J is so fussy with her food since being poorly, so we've been getting creative.
J loves pasta, so this weekend I whizzed some spinach leaves and a few veg up until smooth and mixed them with cream cheese (another of her favourite foods) hoping it would fool her into getting some of her five a day. It worked and she wolfed it down!
For the grown ups, I topped the pasta with rocket, sun-dried tomatoes and shavings of hard cheese. Gorgeous and not at all bland. The peppers add a slight vinegary zing and the tomatoes add sweetness.
Here's what to do…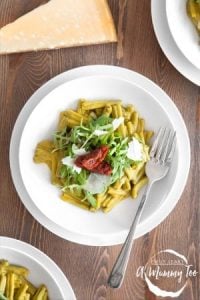 Print
Creamy spinach tomato and rocket pasta
Yield 4 -6
A creamy, fresh tasting spinach pasta, packed with hidden veg.
Ingredients
500g curled pasta such as strozzapretti, fussili or casarecce (pictured)
160g baby spinach
1 tsp garlic puree
65g drained sun-dried tomatoes (plus more to garnish)
2 drained whole roasted peppers in vinegar
280g light cream cheese
A few handfuls of rocket
A few shavings of Parmesan / Grana Padano / vegetarian hard cheese
Salt and black pepper to taste
Instructions
Put the pasta on to boil in plenty of water.
Wash the spinach, then put in a colander and pour over boiling water so it wilts.
Tip the drained spinach into blender and add the garlic, sun-dried tomatoes, peppers and cream cheese and whiz until smooth.
Drain the al dente pasta and return to the pan.
Pour the sauce over the pasta and stir until just warmed through.
Season to taste.
Serve the pasta onto plates, top each with a handful of rocket, a couple of sun-dried tomatoes and a few shavings of hard cheese
Top with a little black pepper to taste.
Courses Pasta meals
Enjoy!