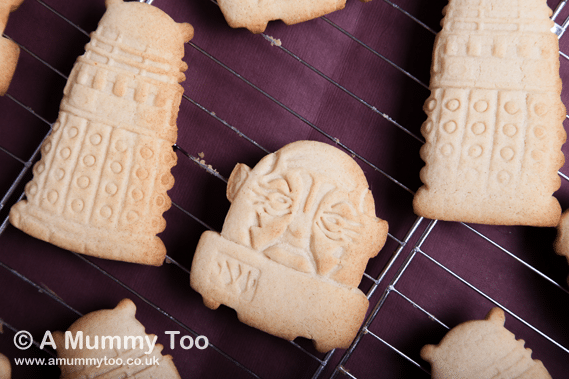 Extermi-bake! – JD, 5
This week we tested out the Dalek and Sontaran cookie cutters from Lakeland, that we picked up for just £4.99. The results are pretty effective, even without icing.
Here's the dough recipe we used – it seemed to hold the imprint really well and made 6 Sontarans and 8 Daleks. To give you a sense of size, the Daleks are 11cm tall.
Ingredients
110g slightly salted butter, softened
100g caster sugar
1 medium free range egg
270g plain flour
1/4 tsp bicarbonate of soda
1/4 tsp baking powder
1/4 tsp salt
1/4 tsp cinnamon
Instructions
Beat the butter, sugar and eggs until fully combined
Mix in the flour, baking powder, cinnamon, salt and bicarbonate of soda until fully combined
Cover the bowl with cling film (saran wrap) and chill for 15 minutes
Preheat the oven to 180C fan assisted
On a lightly floured surface, roll out to about 50-70mm thick and cut out the cookie shapes
Grease and lightly flour a baking sheet
Place the cookies on the baking sheet, 1 inch apart and bake for 6-7 minutes, until just beginning to brown
Cool on wire rack
You could, of course, decorate these little Daleks and Sontarans with icing once cool, but I rather like them plain.
We had a go at pushing sugar pearls into one cookie before baking and it's quite a cute effect, although he's a little crumblier than the others around the detail…
What do you think?