Whether you've visited Tuscany or not, I bet the name conjures up the same iconic images in your head. Stunning countryside populated by tall cypress trees, Renaissance art, beautiful cities packed with history, hillside vineyards, and of course, fantastic food.
As a tourist destination, Tuscany has so much to offer. At 8,900 square miles it's big, making a road trip the perfect way to experience as much of it as possible.
Avis have done the hard work for you and planned a road trip route that takes in a variety of destinations, allowing you to really immerse yourself in this fabulous Italian region.
Food sits very much at the heart of Italian culture, and Tuscany is no exception. I've been lucky enough to visit and sample some of the region's amazing cuisine, feasting on beautifully-balanced dishes including handmade pasta, mouthwatering sauces, Italian-style street food, and stunning desserts. It was foodie heaven, and I came away with so much inspiration for my own cooking.
Here are the dishes that transport me back to Tuscany whenever I make them.
Pappa al Pomodoro (bread and tomato soup)
I first ate Pappa al Pomodoro in a farmhouse in Alberese, and it's been a favourite at home ever since. Tuscany is famed for its tomatoes; the combination of rich soils and the perfect microclimate produce the most amazing, flavour-packed fruit. No wonder then that tomatoes feature heavily in Tuscan cuisine, and this traditional dish is a fantastic example of using simple ingredients to create a magical taste experience.
As well as being utterly delicious, Pappa al Pomodoro is made with low-cost ingredients, and is the perfect way to use up stale bread. It takes about four hours to make, but much of this time is hands-off, as you allow the flavours to intensify. Trust me, it's absolutely worth the wait.
To make this wonderfully rich soup, you start with a simple vegetable broth and a soffritto, which is the base for many Tuscan dishes and is made from olive oil and chopped onion, carrot and celery. To the soffritto you add fresh basil, salt, garlic, a can of good quality chopped tomatoes and stale bread.
When the bread has absorbed the sauce you add the strained broth, cook for 30 minutes, then rest for 30 minutes. Repeat this cycle twice more, and you're ready to serve with a drizzle of olive oil. Gorgeous!
Get the full recipe here.
Simple and classic Linguine Cacio e Pepe
In Pisa, I discovered the beautiful simplicity of pasta dishes; just a few cleverly combined ingredients are all you need to create something truly memorable.
I cook this Lingine Cacio e Pepe when I feel like a change from a tomato-based sauce. In true Italian style, the pasta is just coated rather than drowned, and there are only five ingredients: olive oil, black pepper, linguine, salt and Pecorino cheese.
To make it, you simply cook your pasta until al dente, heat the pepper in the oil, then add in the drained pasta, some of the pasta water and the Pecorino, stir and serve. So simple, and so good.
Get the full recipe here.
Spaghetti all'agliata
Every time I cook this, it takes me straight back to the beautiful Italian sunset I experienced when eating it for the first time, at the Agriturismo Poggio al Tufo farmhouse in Tuscany.
Packed with flavour from the spicy chill and garlic tomato sauce, this dish tastes so very Italian.
Making it is a breeze; while your pasta is cooking, lightly fry chilli and garlic, add passata and heat until thickened, stir in the drained pasta, season to taste, and serve. Perfect for a quick weeknight meal or a lazy weekend lunch, this is a real crowd-pleaser.
Get the full recipe here.
Ricotta e spinaci al sugo (spinach and ricotta ravioli with tomato sauce)
I also ate this at the Agriturismo Poggio al Tufo farmhouse in Tuscany – yes, it was quite a meal! – and was struck by just how beautifully balanced it was.
Forget the ready-made, chilled spinach and ricotta pasta you find in the supermarket; this is something else entirely. Thick, firm ravioli stuffed with fresh ricotta cheese and spinach, served with a chunky tomato ragù sauce and topped with fresh basil and a sprinkling of parmesan; it's rustic Italian food at its best.
With homemade pasta, filling and sauce, it takes a little effort to make this dish, but you won't be disappointed.
Get the full recipe here.
One pot slow cooked beef ragù linguine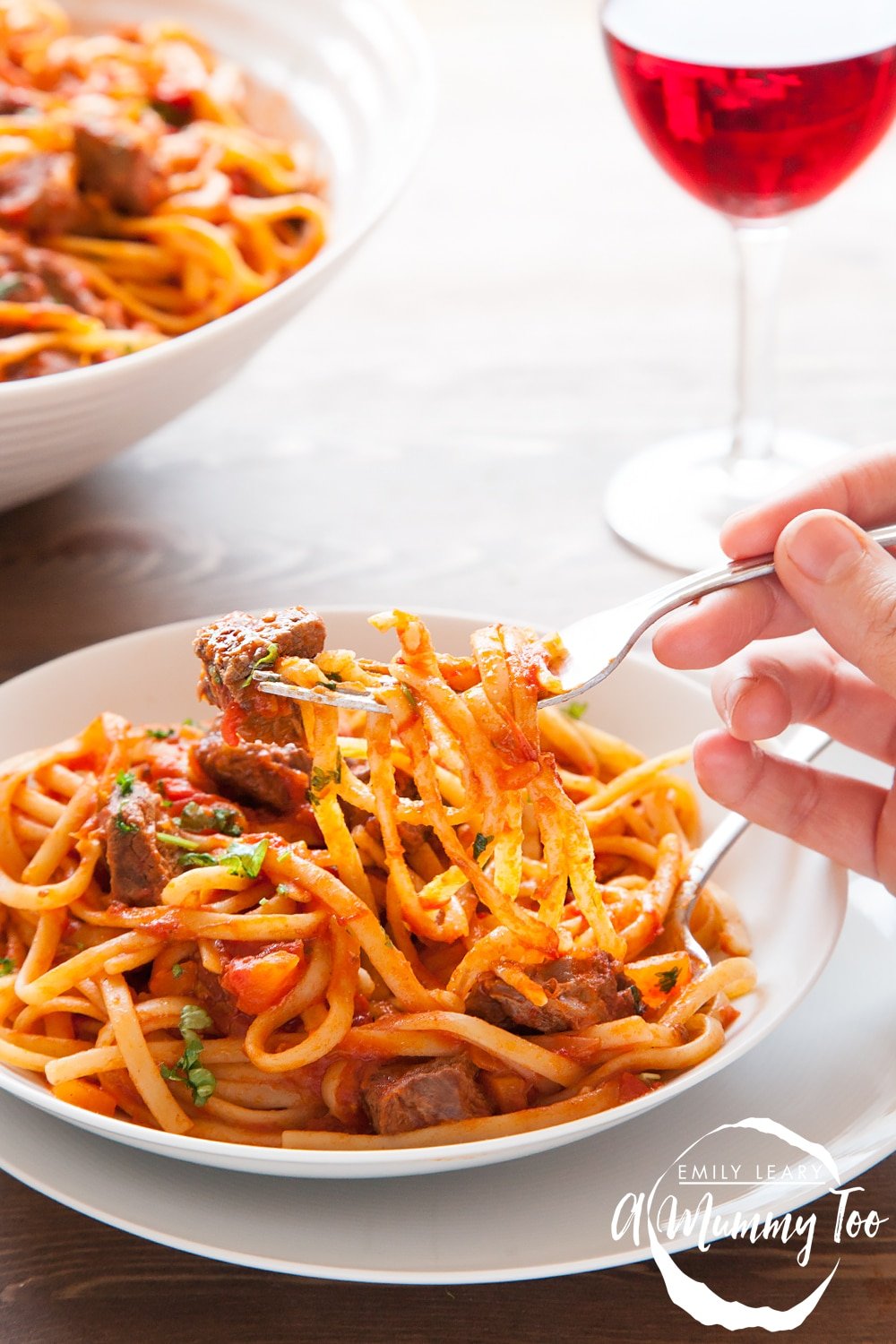 The classic beef ragù in this dish is typically Tuscan; simple and hearty, with a slow-cook method that intensifies the flavours and makes the meat beautifully tender.
To prepare it, you sear the meat, remove it from the pan to make a soffritto, then add the meat back in with tomatoes, stock and herbs and allow everything to slowly cook and reduce.
For the final stage, you just add the linguine to the pan and cook until al dente, then serve. It's easy, low-effort and affordable, making it the perfect weeknight family meal.
Find the full recipe here.
Do you have a dish that transports you back to Tuscany?
This is a commissioned post for Avis