The process of introducing your child to new flavours, textures and foods starts with weaning, of course, but it carries on long beyond those early days of purées and finger foods. 
At 4 and 8 years old, Jay and JD are still discovering new foods, and learning about what their palates prefer. Sometimes, this means an aversion to the unfamiliar, but often, it's a real enthusiasm to discover new flavours. 
When you think about it, this urge to explore new food experiences is something that carries on throughout our lives; we don't reach a particular age where we stop trying new foods, do we?!
I think those early years of exploring our tastebuds play a key role in developing a healthy relationship with food, so when my kids were smaller, I did my best to encourage them to discover new tastes and textures as a normal part of mealtimes, and still do today.
Moving on from weaning
When JD was a baby, I assumed that once weaning was 'done', it would be plain sailing from there. Wrong! When it came to introducing new flavours and textures, the growing independence that accompanied toddlerhood brought a whole new series of challenges.
For starters, toddlers make it very clear when they don't want to eat what's on their plate; we had a fair few days of highchair tantrums and flying broccoli!  And toddlers are masters in the art of loving a particular food one day, then hating it the next – usually when you've just cooked up a huge batch of it for the freezer.
At the toddler stage, JD wanted to do everything himself, and I found that he was much more likely to accept food if it was presented in a way that was hands-on for him.  So I cut his food into pieces he could manage independently, and gave him toddler-size cutlery. We also ate with him as often as possible, so that he could see us eating the same food with similar cutlery and feel very grown-up.
Miss J had her own way of asserting her toddler independence with food too.  Whenever she was under the weather she would refuse pretty much everything except mashed potato or very milky pasta, and this could go on for several days until we coaxed her back onto a more varied diet.
Of course, every toddler has certain foods that they will be fussy about eating, and continuing to serve them those foods can be tough.  I think it's important to keep presenting toddlers with a wide range of foods though; it's a big part of teaching them that healthy food isn't about only ever eating your absolute favourite things.
When it doesn't go to plan
I learned with JD that, for everyone's sake, it was important to keep my cool. Toddlers can pick up on your tension so easily, which in my experience tends to make them dig their heels in even more. When there was pasta all over the floor and things weren't going so well, the old mantra 'It's just a phase' really helped me to retain a sense of perspective. They're not babies forever.
You can also get creative with how you include problematic foods in your toddler's meals. For example, Miss J was rather suspicious of carrots, but I didn't want to rule them out of the family's meals for that reason alone, so I combined them with other flavours or textures to take the focus away from them.
I grated them into stews, whizzed them up in soups, disguised them in hidden veg macaroni cheese and gave her lightly steamed carrot sticks to dip into houmous.
Sometimes it worked, sometimes it didn't, but I was happy that we were being consistent and trying to keep things as balanced as possible.
I found that making food look fun also worked wonders in the toddler phase.  Turning a plate of fruit into a face, making a gravy lake in mashed potato, and cutting toast, cheese or veggies into fun shapes all hit the spot with my kids.  It doesn't have to be a work of art, it just has to grab their attention and make them keen to interact with their food.  
This spider plate made with rice cakes and fruit is a fab halloween example to try out with your little ones.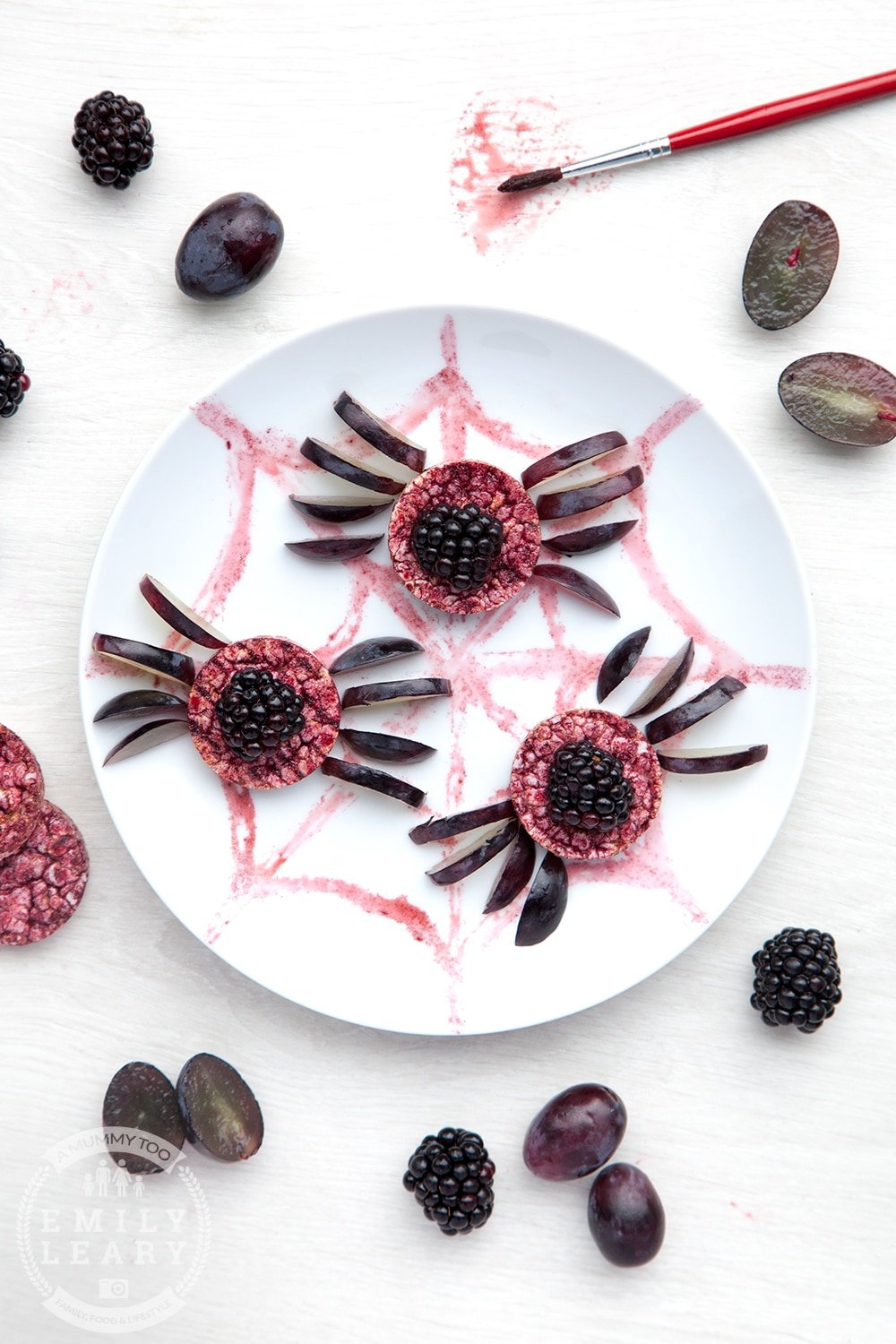 Here are three of my favourite ideas to help become little ones become familiar with new fruits and veg:
Cut a kiwi fruit into thick slices and stack them – see who can build the biggest tower.
On a rainy day, pop to the supermarket and spend time in the fruit and vegetables section, allowing your child to touch the produce, ask questions and point out their favourite colour.
At home, try growing some baby carrots or peas on the window sill or garden. Don't ask them to eat the foods but simply let them explore them. That way the pressure is off and they can relax and discover fruit and veg for themselves.
Feeding your toddler can be fun, challenging, messy and rewarding, all at the same time.  Ultimately, your own child's personality will dictate how you approach the process of introducing them to new flavours, textures and foods, but if you remember that, just like weaning, it's about encouraging a love of good, healthy food, you'll be on the right track.
What are your tips for encouraging your toddler's taste adventure?