As you may remember from my lovely chat with Becky I've been celebrating the launch of Twinings' new range of Superblends with a series of chats about what springs to my mind when I hear the phrase "Here For You". The chat are with three close friends who are wise, kind, affirming and inspiring and who make up an important part of my life.
The Superblends range has been specially created to make you feel great thanks to their expert blend of botanicals, natural fruit flavours and added vitamins and minerals – and of course they also taste fantastic, which is the main thing!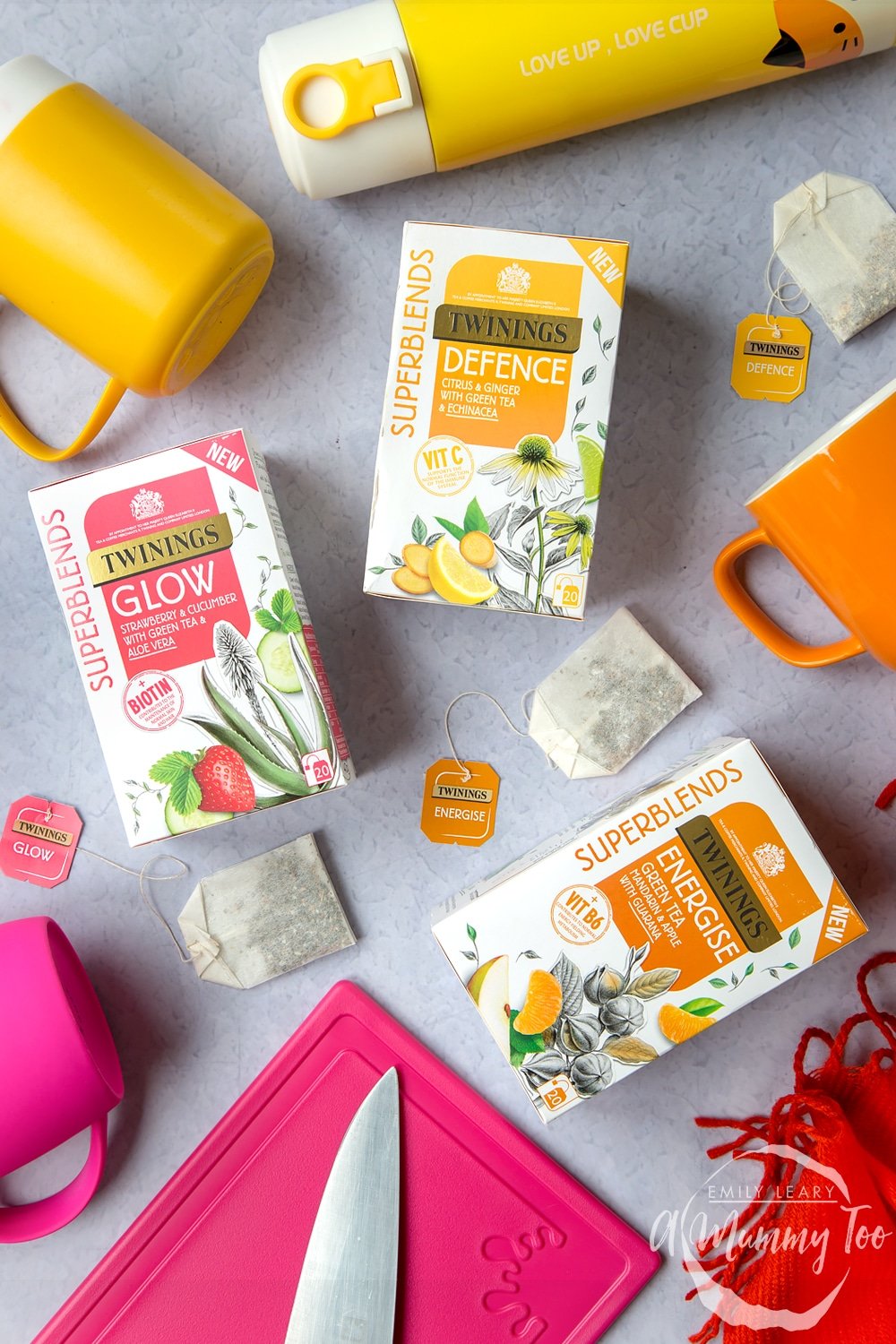 So with a cuppa in hand  I met up with my lovely friend Claire, who also lives in Nottingham, for my second chat. I felt the Energise theme was a fantastic fit for Claire – she's a close friend, someone I often work with professionally, and someone who manages to always get me feeling full of life and ready to go in minutes. Here's the video!
Read on for the full interview and for lots of great tips.
I'm here with my amazing friend Claire to talk about how she's an energizing influence on my life. Claire is one of the most positive, go getting people I know who inspires energy in those around her. Tell everyone a little about yourself.
I'm a busy working mum and wife. I do a lot of freelance work from home at my husband's business, and do a little makeup freelance work as well.
My girls are very energetic. I have a 10 year old and a 13 year old, so a typical teenager in the house now.
I have two dogs and I'm very outdoors-y; I like to be out and about walking. We have an allotment so I grow my own fruit and veg and generally I'm quite an energetic person, I think.
I find that energy quite infectious! How do you recognise when you're in a slump, and how do you boost yourself back up again?
I get a feeling inside of myself that I'm just feeling a little bit down, a little bit tired – say, if I've been indoors quite a lot and working freelance.
As you know, being self-employed means you can spend quite a lot of time on your own in the office. If you don't get that fresh air you start out just a little bit tired, you start eating more than you should, you get a little bit snappy – maybe with the kids and with the husband… and the dogs… then anybody else who dares to come near.
So I think just recognising that in myself and thinking perhaps I need to just get out and do something, maybe get some fresh air.
Getting out is a great one! And you told me recently how you've taken up Zumba.
I was going through a stage where I wasn't really doing very much in the way of exercise and I just started to feel a little bit, not depressed, but just a little bit down in myself and not quite right. So I thought, 'What else can I do to give myself some more some more energy? Alright, let's join the gym and take up some classes!'
My favourite is Zumba a couple of times a week, which is just brilliant and you get to dance around with different sorts of crazy dances – it really makes you feel better about yourself.
I've used excuses NOT to exercise in the past, but you've really convinced me that the more you exercise the more energetic you feel – and you're so right!
I was a little bit like that before, thinking, 'Oh God. I'll be shattered if I go to the gym for an hour. I won't want to do anything for the rest of the day. I've got to walk the dogs!'
But actually, it's not the case. The more you do the more you feel like doing. You know? You feel good about yourself. You feel like your endorphins are going and you just feel more energetic. It's true, you do want to do more.
You're so great at going outside your comfort zone. I know that a few months ago you couldn't ski at all and you've since been skiing.
The lessons at the local snow dome were interesting. It got a little bit catastrophic, but we still went skiing for a week! My husband and the kids wanted to do it more than I did, but I thought, 'Challenge yourself! Get out there!'
On the first day, I cried to the point that I thought, 'I'm going to go back to the hotel. I'm not going to do it', but I just pushed on. By the end of a couple of days I was skiing fairly confidently. I got my little certificate to say I had learned how to ski, and it was okay.
I can't say it was amazing and that I really loved it, but I did it, and I would do it again. Hopefully I'll be better next time. I was certainly terrified of it, and without a doubt I think that showed on the first day of skiing when I was crying my eyes out just to get my skis on. This wasn't even on the slopes. It was just getting my skis on!
I was terrified, so yeah, I think I like to push myself little bit.
You always lift me up, and are always chatting and laughing. What's your secret?
I think I just like to see other people happy. I think I recognise if people are feeling a little bit down, or a little bit tired. I think selfishly I also don't like to be around people that are being miserable or tired!
I like to try and cheer people up and I like to be in a happy work environment, so I do what I can to make everybody around me happy and get the day going.
And it works! Last question, who inspires you?

I think most of all my kids do. Both of them are very energetic, especially the younger one. They constantly want to be doing things, learning things, and going out.
Even if I want a lazy Sunday they're going to make me do something. They're going to make me get out and go somewhere.
So I try to take inspiration from them. They've got such a lust for life that I think it's amazing, I like to be like that. I like to be like my children.
So you're setting a great example for them and they're setting a great example for you.
Definitely!
---
A huge thanks to Claire for sharing how she keeps energised and pushing herself, and remember to look at the range of Superblends, there's some really tasty flavours.
Is there anyone who has been #HereForYou recently? Let me know in the comments section who the person in your life always gives you energy when you need it.
This is a commissioned post for Twinings.