Dry skin has been a part of my life for as long as I can remember, but that's all changed in the last few months since starting my skin care journey with AVEENO®.
As you may remember I started my journey longing for that just-out-of-the-shower-fresh feeling all day, rather than heading towards dry, rough skin within hours - especially around my cheeks, forehead, hands and legs.
The results after a few weeks of regular use of the AVEENO® Dermexa range has been fantastic and I've been been waxing lyrical to anyone who will listen because for me, it really is a game changer.
My skin feels supple, bouncy and strong all the time. The itchy sensations have gone, I'm getting my scale and flake-free legs out to enjoy the warm weather without even thinking about it, and I haven't had any spots on my face in weeks. I can honestly say, hand on heart, that I don't think my skin has ever been happier.
The new AVEENO® Dermexa range is specifically tailored to people who have very dry itchy skin and is suitable for use by the whole family, including people who may be prone to eczema. The products are are soap free, unscented and paraben free, and are even delicate enough to be used on the face.
As part of my daily skincare routine I've been using:
AVEENO® Dermexa Daily Emollient Body Wash - An efficacious body wash which gently cleanses without drying and soothes skin. It will leave skin feeling soft, comfortable and moisturised.
AVEENO® Dermexa Daily Emollient Cream - Clinically proven to moisturise and soothe, whilst helping reduce flare ups of very dry skin. In a clinical study, 90% of 22 children and babies from 6 months old experienced relief from itchy skin sensations (twice a day application for 12 weeks).
AVEENO® Dermexa Fast & Long-Lasting Balm - Intensely moisturising and is clinically proven to immediately soothe itchy feeling skin.
All the products have an RRP of £9.99, although the wash and cream are currently available for £7.99 on the Boots website. The balm is currently only available in pharmacies and will launch in Boots in September.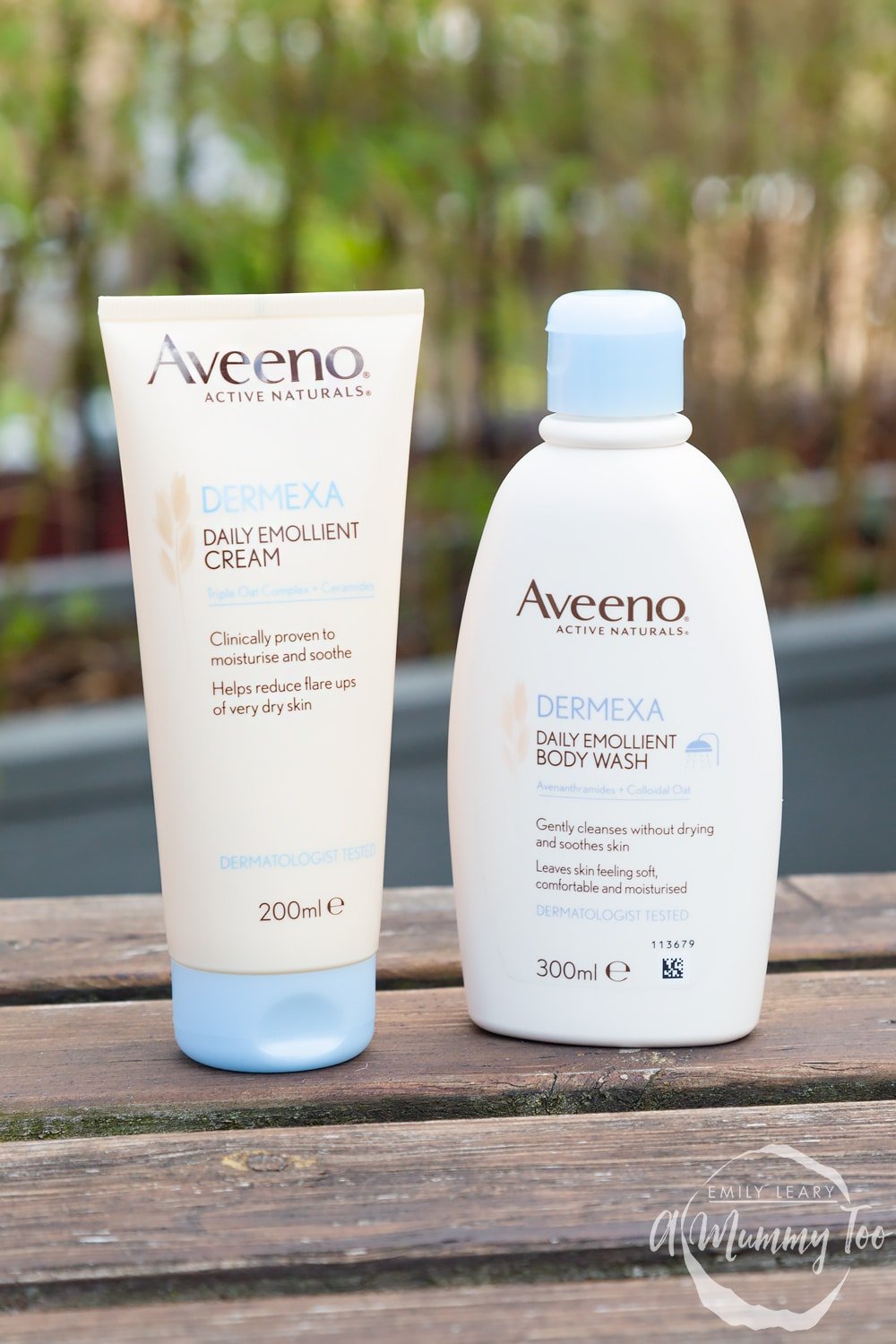 Incorporating the products into my life has been easy, and I have actually enjoyed using them - they're unscented, so no strong perfumes that I tend to associate with skin irritation. Instead, they have a lovely fresh, soft, slightly sweet, oaty scent.
The body wash is noticeably different from a standard wash during use. It feels creamy and when I rinse off, my skin feels clean but not stripped of its natural oils. The emollient cream smooths into my skin beautifully and I've found that I need very little to cover quite a large area, so I've been using it sparingly and making it last a long time.
AVEENO® Dermexa also manages to make my skin feel very well moisturised, yet not suffocated like some moisturisers can tend to do, and I've been using the cream all over without any irritation.
After years of dryness between my fingers and incredibly rough backs of hands, I've also been trialling using the body wash in place of my usual hand soap. I'm over the moon to tell you that the condition of my hands has improved beyond all expectations. They're softer, irritation free and my mum even noticed that they look younger! Isn't that amazing?
The AVEENO® Dermexa Fast & Long-Lasting Balm is fantastic for times when I've been washing up a lot or have been chopping a lot of acidic vegetables as it helps quickly restore my skin to a comfortable level of suppleness.
I feel really happy with my new skin. I know it's not actually 'new', but it feels that way - like slipping on a new outfit, my skin after a few weeks with AVEENO® Dermexa feels fresh, new and strong.
Am I going to keep using AVEENO® Dermexa? Of course! I'd be silly not to when I'm enjoying using the range so much.
What would you like to know about the products, how I'm using them and the results I'm getting?
Do comment here, or message me on Facebook, Instagram or Twitter if you have any thoughts, ideas or questions!
Search for the hashtags #SkinStories and #BalanceOfOats across social media to see how others are using the AVEENO® Dermexa range, join the conversation and share you own experiences.
This is a commissioned post for AVEENO® .