Well this is addictive! – me
Back at the beginning of the year, eBay UK got in touch and asked me if I'd like to be among the first to try out the new 'eBay Collections'.
eBay Collections allow you to create themed mood boards based on products you can buy on the site. It is a brilliant way to focus the mind on what you want to achieve with a room and it's also cost effective as you can add the best value items to your collections.
My first twelve eBay Collections as amummytoo focus on some of my personal passions. Here they are…
Travelling with young children
Everything you need to take the headache out of travelling with little ones.
Sunshine family kitchen
It's all to often grey in the UK, a bright white kitchen with a bold yellow accent could bring sunshine to any family kitchen. The kids would love it too!
Spotty family kitchen
From their first days of life, babies show a preference for contrast spots and stripes. Adults love them too, so here's ideas for the perfect spotty family kitchen.
Little chefs
Cooking with kids can be easy, educational and fun!
Little artist's studio
Kitting out a crafty room for kids – all the essentials for a budding artist.
Eco baby
If you want to reduce waste and be kinder to your baby's skin and the environment, these eco solutions could be a good place to start.
Dinosaur decor
For a child who's mad about dinosaurs, what could be better than a dino themed bedroom?
Easy weaning for baby
Essentials and clever solutions to make weaning your baby a breeze.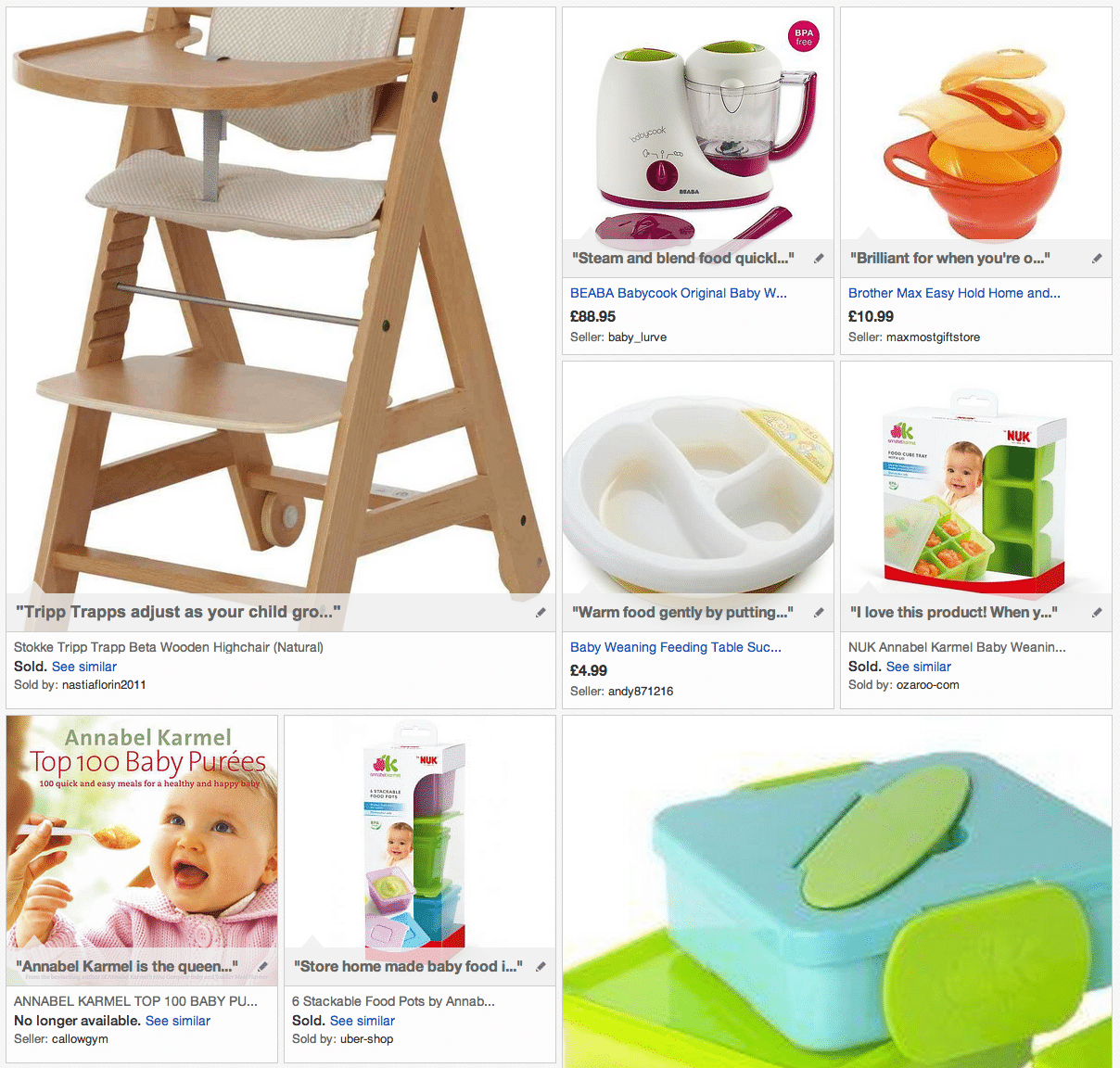 Bedtime in the jungle
Most kids love animals – this jungle themed bedroom would be great from toddler upwards.
Amongst the stars
A space themed children's bedroom, for kids who want to sleep amongst the stars.
Perfect playroom
Tidy and bright nursery, using block colour to create a clean, fun look and feel.
Rainbow days
Toddler clothes and toys with a rainbow theme.
As you can see, you can add your own notes against each item to remind yourself what you like about it or how you'd use it.
Why not head over to eBay, explore some of the trending collections and try creating some of your own?
Disclosure: this is a sponsored post