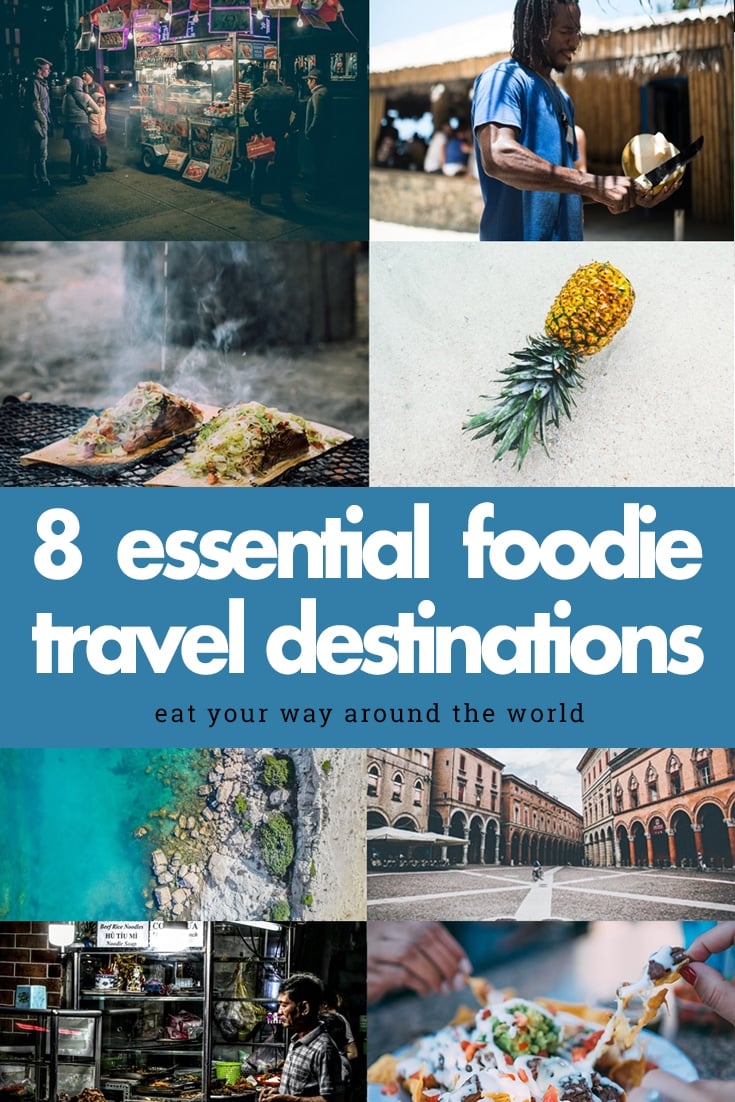 Sponsored post in partnership with American Express®
Are you the kind of person who likes to decide where your next holiday will be at the last minute? Or have you already got your travel plans sorted for the year ahead? Maybe you're super-organised and are already thinking about 2019?
Wherever you're planning to visit next, it's likely that the local cuisine is a pretty important factor in your decision-making process. For me, it's right up there as a top priority - there's not many better ways to experience a culture than with a culinary adventure!
If you're looking for your next travel destination and want to find somewhere that isn't just an amazing place to explore and have fun in, but has some of the best food in the world, read on for my pick of eight destinations to add to your shortlist.
Buenos Aires, Argentina
If I were to take a 14-hour flight to Argentina, eat a freshly made empanada then immediately fly back home, I wouldn't consider the trip a waste. Ok, that may be a slight exaggeration but seriously, for empanada lovers, this is the place to go. With tonnes of regional variations in fillings, from chicken and beef to onions and olives, you could eat a different empanada every day for weeks and be happy doing it.
Don't forget to also check out nachos, asado (some of the best barbecue you'll ever have), and Argentina's amazing range of pastries, which are especially delicious if you're a fan of Dulce de leche like I am - it's everywhere!
New York, New York
Aside from the fantastic array of contemporary cooking that you're surely going to find in a major city like New York, what I really love about the Big Apple is that practically every part of the world has their cuisine represented there.
With so many people from so many parts of the world settling in New York, you could have a traditional Chinese breakfast, a Georgian lunch and an Ethiopian dinner without even having to get a cab. So, if you want to travel the world of food inside a single city, New York has got to be a good bet.
Ho Chi Minh City, Vietnam
From noodle soups to wrap and rolls, there's so much food in Vietnam that's as fresh as it is delicious.
The history of Vietnam is a long and interesting one, and much of that is borne out in the cuisine. Look out for Bánh mì, a sandwich served on a French baguette (made partly with rice flour) served with meat or tofu and fresh cucumber, coriander, shredded radishes and pickled carrots - it's a must.
Honolulu, Hawaii
Once you land and begin to soak up the amazing Hawaiian sun, you'll probably be feeling right at home, so head out and enjoy some of the best fruit you've ever tasted, from coconuts and pineapples to dragon fruit and papaya.
For lunch, be sure to try a Poke bowl, which is similar to sashimi but with cubes rather than slices, accompanied by an amazing dressing. And on hungry days, be sure to wolf down some chicken long rice, a Chinese inspired dish of clear noodles in chicken soup.
Nicosia, Cyprus
I love meze, maybe more than any other dish. If I was on a desert island for the rest of my life and could only have one food, it would probably be meze. I suppose it might be cheating having something that comes with many bowls and plates of deliciousness, but in Cyprus it's often eaten as a meal in its own right – I feel I understand Cyprus.
Yet again it's one of those places that has been adapted and built on a fantastic mix of cooking styles from the surrounding areas. It's also blessed to be surrounded by the Mediterranean Sea, so the seafood is delicious too – there's even a fish meze.
Portland, Oregon
Pescatarian? Vegetarian? Vegan? On a specialist diet that can make it awkward to choose from the menu? Portland's got you covered. Portland is home to some of the best vegan takes on classics you can get anywhere, from barbecue and Italian, to vegan cheese shops.
New and interesting vegan food carts pop up in Portland so often that a new one probably opened while I was writing this. Grab a vegan breakfast, lunch and dinner with ease and you could be eating anything from classic American food, to world cuisine, to fusion dishes. Portland is likely to make anyone feel at home.
Bologna, Italy
There are many Italian cities that you could visit and be almost guaranteed to fall in love with their cuisine. However, I think Bologna is just that little bit special. Famous for Bolognese sauce, the rich meaty ragu, Bologna is heaven for anyone who loves their pasta, from tagliatelle to lasagne, and wants to find out what a truly perfect ragu really tastes like.
Situated in the heart of Italy, Bologna has an eatery for every Italian classic you'd like to try. From pizza and pastries, to gelato, you'll find somewhere doing these classics true Italian justice.
Ochos Rios, Jamaica
Jamaica is another destination where a phenomenal climate and diverse history has made for a cuisine as unique as it is delicious. It's easy to find something to love with so many flavours on offer. Make sure to try akee and saltfish, curry goat, breadfruit, and of course the patties.
Outside of the classics you'll find almost everywhere, the local treats you can discover are fantastic too, with plenty of independent cafes and restaurants serving new takes on classics or fusion cuisine.
Your next getaway
So that's my list of eight places to visit if you're looking for a travel experience that is truly delicious.
Have you been to anywhere on the list or somewhere nearby? What did you think? Or would you add a destination that you consider to be a foodie must?
---
Whether you are eating empanadas in Buenos Aires or curried goat in Jamaica, the range of American Express® Cards is packed with ways to get more from your spending; from offers at top restaurants and hotels, to Membership Rewards® that can be used to treat yourself to virtually anything or collecting frequent flyer miles to help you get on your next getaway sooner.
For more information on how to get the most from your travel, visit Why Amex.
American Express Services Europe Limited has its registered office at Belgrave House, 76 Buckingham Palace Road, London SW1W 9AX, United Kingdom. It is registered in England and Wales with Company Number: 1833139 and authorised and regulated by the Financial Conduct Authority.