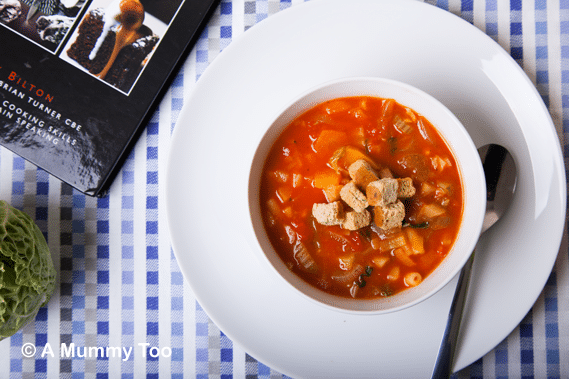 Oooh, something smells nice! – JD, 5
This week has been all about soup, having received a few cookbooks for review, each with a great choice of soupy recipes.
Today, I'm sharing a simple recipe from Bilton Basics by Timothy Bilton. Described as 'Everything you want to know about cooking but were afraid to ask…a vital guide for novices', the book promises to turn you into a better cook by helping you master the basics. Sounds good so far.
Now, the majority of the recipes are VERY meat and fish focussed, which means not much choice for veggies, but I did spot a rather appealing recipe for minestrone, so we went for it.
So, here's the Bilton recipe – the result was a big pot of exceptionally delicious, fresh, hearty soup with hardly any fat content and heaps of nutritional goodness. YUM! I've added my own notes in italics where I either guessed what to do or would do it differently next time. It's naturally vegan, too.
Ingredients
100g onion, peeled and chopped
100g carrots washed, peeled and chopped
100g celery, wash and chopped
100g celeriac, washed, peeled and chopped
100g butternut squash, washed, peeled and chopped
50g cabbage, washed and shredded (I used savoy)
1 clove garlic, crushed
1 can plum tomatoes (I used canned chopped tomatoes)
1 tsp tomato puree
100g haricot beans (I left these out)
500ml vegetable stock
Thyme, parsley (I used a couple of sprigs of each, finely chopped)
Drizzle olive oil (I used 2 tsp)
(150g macaroni – I guessed the quantity as there's no pasta listed in the ingredients in the book, but it is mentioned in the instructions)
(Pack of olive croutons)
Instructions
Warm the pan on the stove (I used a large pasta pan so that I'd have room for everything)
Drizzle in the olive oil
Add the carrot, celery, and leek (I went for 2mm thin discs/semi circles) and gently cook with colour for a couple of minutes
Add the celeriac and butternut squash and again cook without colour (I went for 1-2cm by 5m-1cm chunks. I think I needed to cook for much longer than a couple of minutes here, or cut my veggies smaller as everything was still quite raw, meaning I had to boil for simmer later – so I'd say at this stage, cook until everything is soft)
Add the garlic and stir in
Add the pasta (as mentioned above, there was no pasta in the ingredients, so we used normal macaroni) and tomato puree and chopped tomatoes
Add the vegetable stock and bring to the boil
Reduce the heat so that the soup is simmering
Add the cabbage and haricot beans
Bring back to the simmer, (the recipe seems to suggest it should be ready straight away, but my veggies and pasta needed 10 minutes, so I added an extra 30oml of water and simmered until cooked. If you chop the veggies smaller, fry for a little longer, and use finer pasta, it might not need so long)
Correct the seasoning, add the thyme and chopped parsley and serve
We then topped ours with a scattering of croutons – the soup in the book's pic has croutons – they made a perfect accompaniment
I'd recommend trying this recipe as it really was yummy and simple and quick to make (once all the peeling and chopping was out the way). I hope this write up doesn't seem critical as it is fair to say that the finished result was excellent. I'll also be trying out some of the meaty recipes when cooking for my family and will keep you posted on the results.
Disclosure: we were send Bilton Basics free of charge for review. No payment was received for this post. All posts are 100% honest.