Easter is the perfect time to get stuck into some craft with the kids. The long weekend makes it much easier to find time to get creative together, and the added bonus is lots of homemade decorations to give your Easter home a really personal touch. These Easter craft ideas are the perfect place to find inspiration for the season.
To help inspire your Easter crafting, here's my selection of easy, child-friendly ideas that the whole family can have a go at. There's something for everyone here - for all ages and abilities, and to suit different craft styles too. Enjoy!
This is a really simple and fun crafting activity for kids. You can bring out their creative side by recycling egg cartons, choosing paint colours, and decorating with beaks, eyes and feathers. For older children or to change things up you could add in patterns too, encouraging children to decorate their egg carton chicks with waves, stripes or circles. When you're all finished with your crafts you could try creating these chocolate chicks too!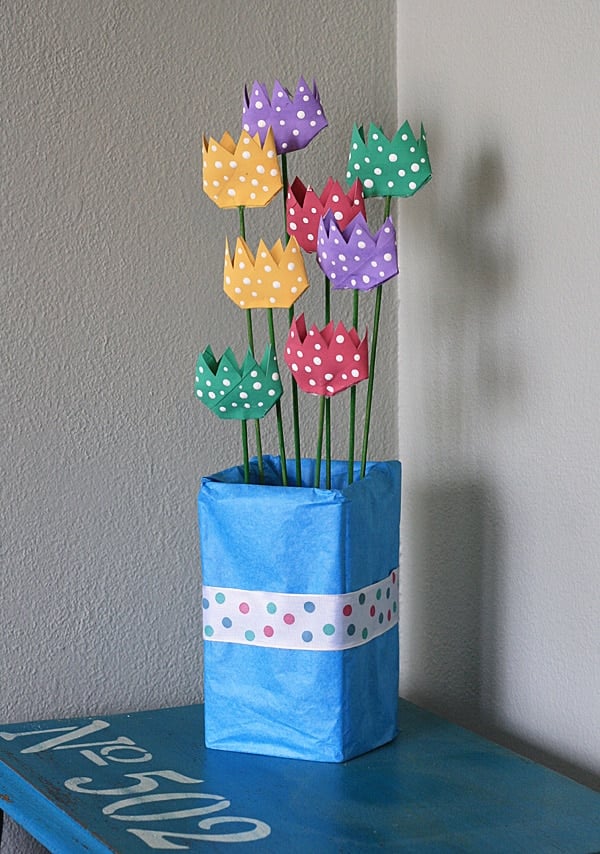 Another cardboard craft, this time creating these beautiful tulips. The great thing about this Easter craft is that you could make the tulips and then adapt it to create roses, sunflowers and other types of flower. It's something that works all year round too, and makes a lovely table decoration for Easter.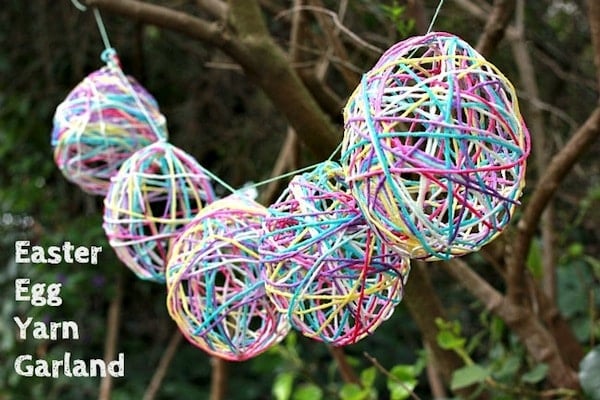 Doesn't this Easter egg yarn garland look wonderful? Create your own indoor (or outdoor) decoration with this easy to follow tutorial. Make the craft your own by encouraging your child/children to choose their own yarn colours, or even extend the activity further by dyeing your own.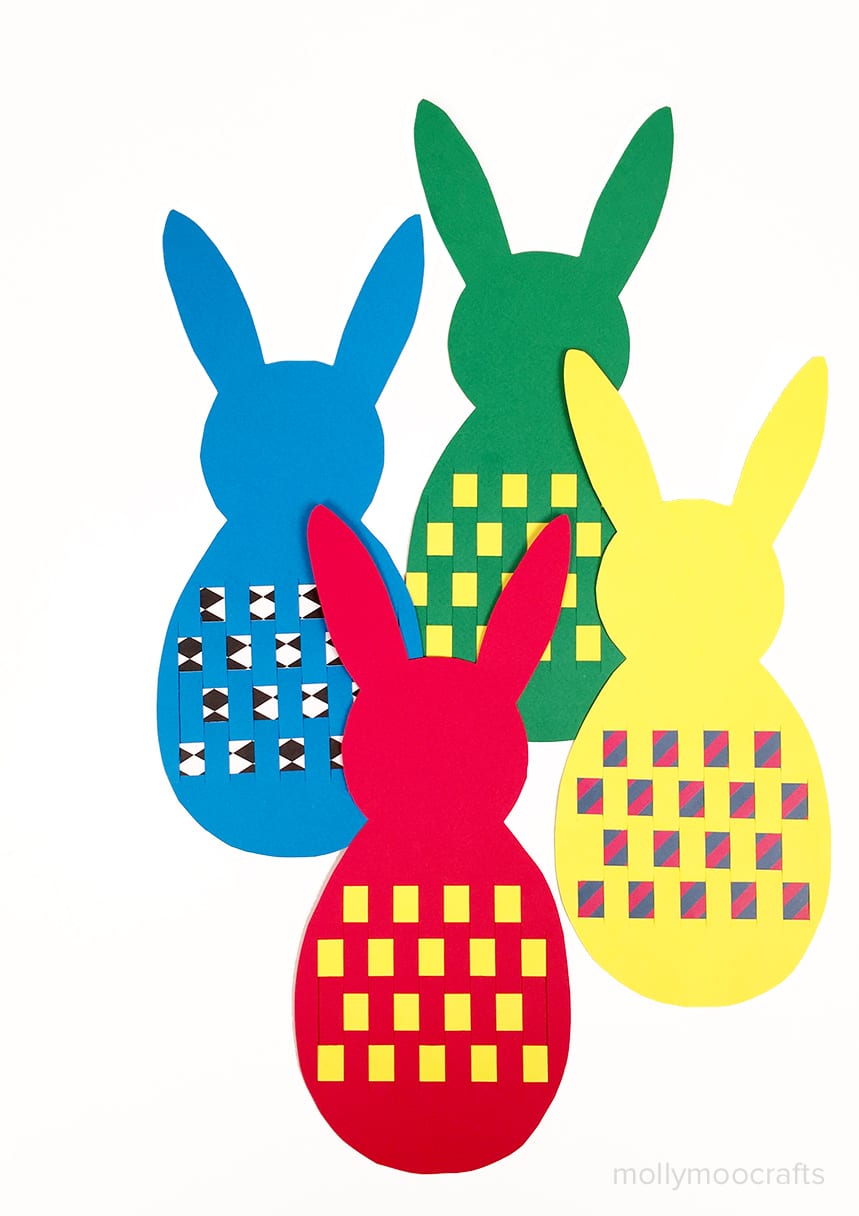 Weaving is a great Easter craft activity for young and older children. Bring some seasonal fun to it with these Easter bunny themed templates from Molly Moo Crafts. Why not combine it with some of the other bunny crafts in this list for an Easter bunny themed afternoon?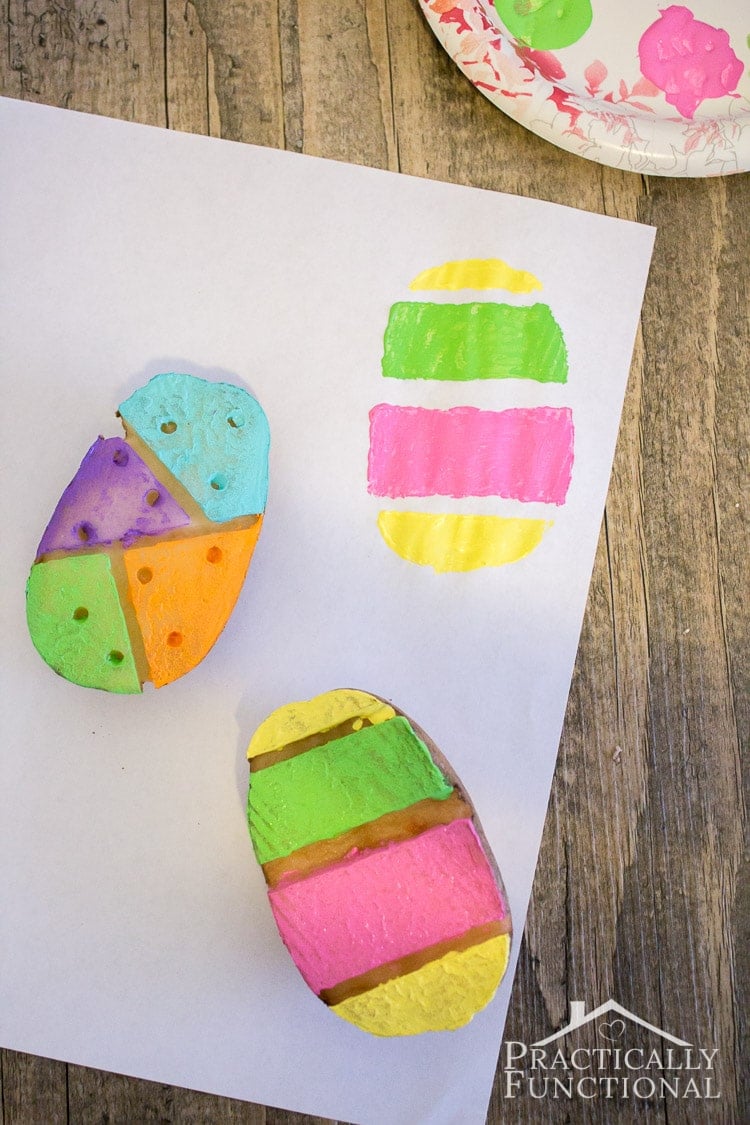 Potato stamping is a much-loved craft activity and this fun idea from Practically Functional makes it perfect for Easter. Bring out the paints, have the kids choose their own designs and get stamping some pictures, patterns or even Easter cards for family and friends.
Here's another Easter bunny craft for you - this time it's this lovely paper bag puppet. Once you've made your Easter bunny you could have a go at creating some chicks too, and create your own Easter-themed puppet play.
7. Pom Pom Chicks by Practically Functional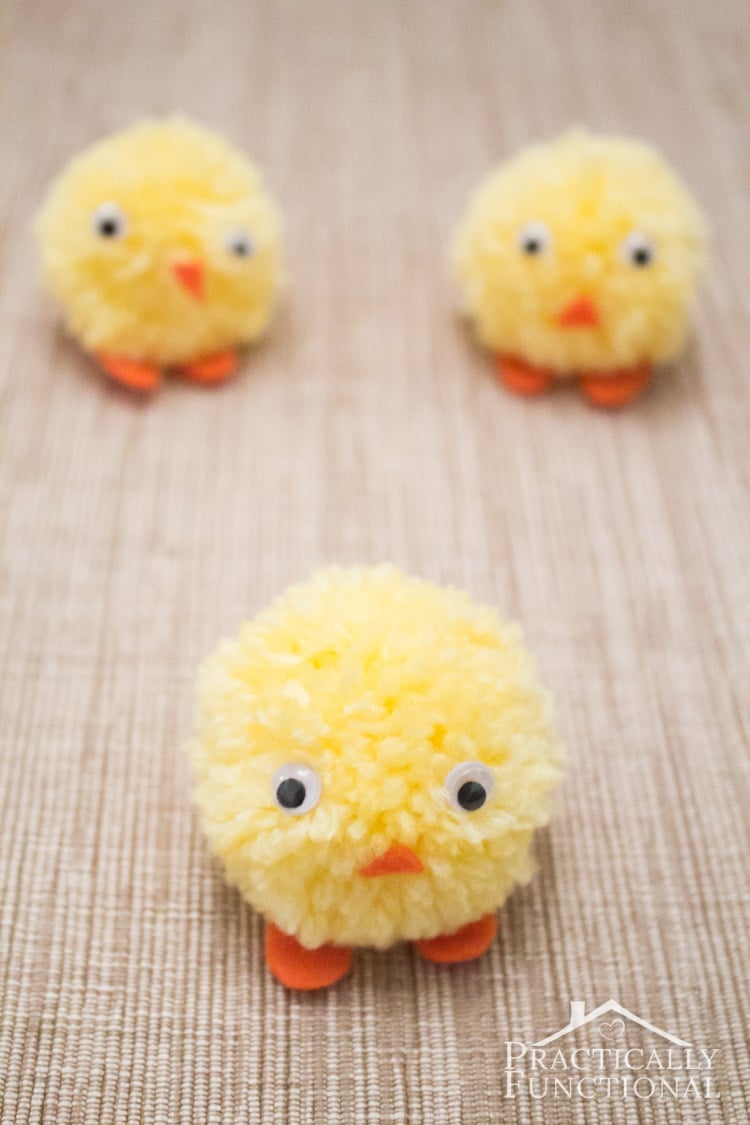 How many times have you bought pom pom chicks from the shop? Now you can make your own at home with this easy tutorial. Create a handful of adorable yellow chicks or go wild and add in pink, green and blue too. Why not try making some Easter bunny pom poms too?
If your child or children love aliens or all things sci-fi this is a great way to encourage them to take part in craft. These creative alien easter eggs are bright, colourful and a wonderful way for children to express their imagination.
These foam cup bunnies make a great table decoration for Easter celebrations and are really easy to make too. Make the craft your own by picking out paint colours and patterns that match, or by going wild and letting the kids loose with the craft box. These would look really fun sitting on a table alongside plant pots of treats at your Easter party or as a decoration for your windowsill.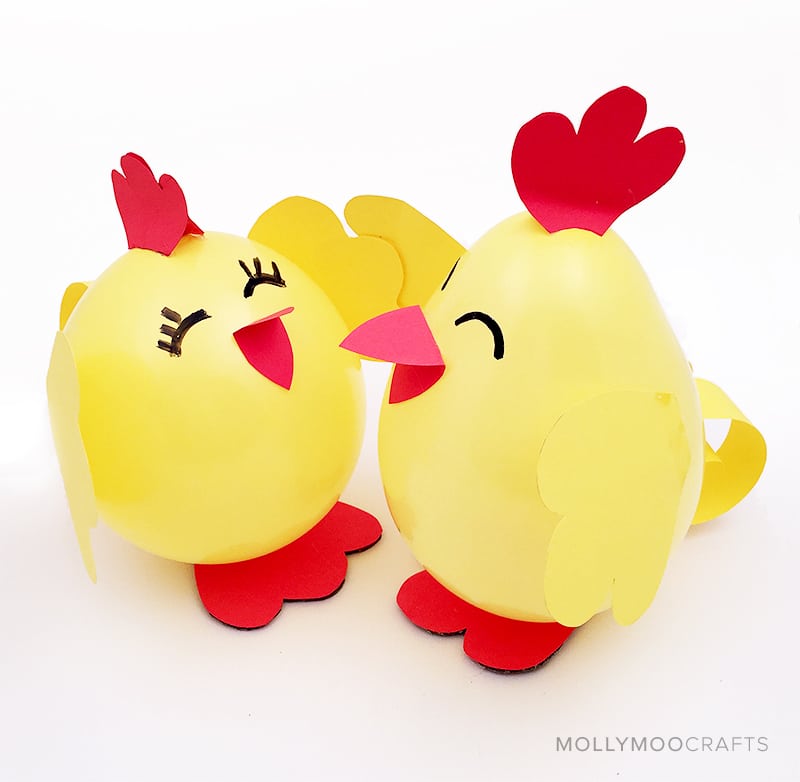 These chicks put a smile on anyone's face! Follow this step by step guide to create your own Easter balloon chicks - a lovely table decoration and crafting activity for children.
11. Pom Pom Easter Bunny by Kids Stuff World
This pom pom bunny Easter craft goes perfectly with the chick one from earlier in the post. Just look at those feet! Have fun creating a scene around your pom pom bunnies, bringing the Easter magic to life.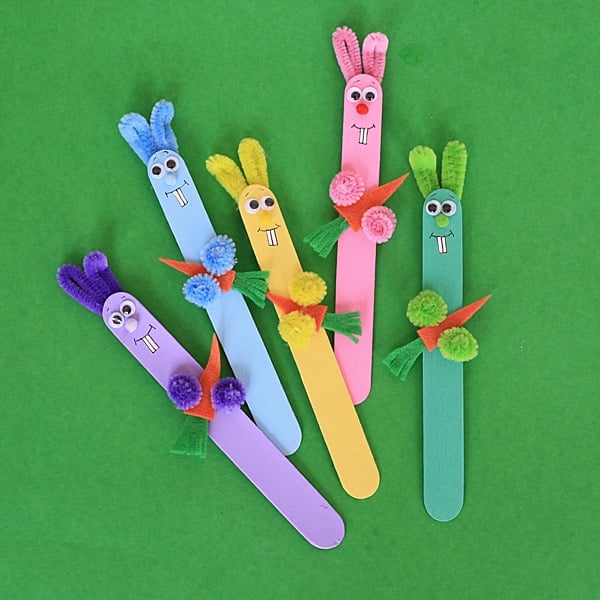 Lollipop sticks are a staple of the craft box or drawer, and this crafting activity makes perfect use of them. These adorable Easter bunnies are easy to make and encourage children to use their creativity in painting, making choices and putting it all together.
Shaving foam crafts are lots of fun and a great alternative to traditional painting. Create your own marbled masterpieces with this fun Easter craft idea from A Night Owl.
This Easter craft is a really creative way to celebrate the season. Children can create a treasured masterpiece for your wall in this craft that really makes the most of texture and colour.
This craft is perfect if you're planning an Easter party or get-together. Create bright, colourful placeholders for your table with the kids in this easy DIY tutorial. Whether you paint the colours of the rainbow or match your placeholders to your colour scheme, this is a fun activity for the family to do together.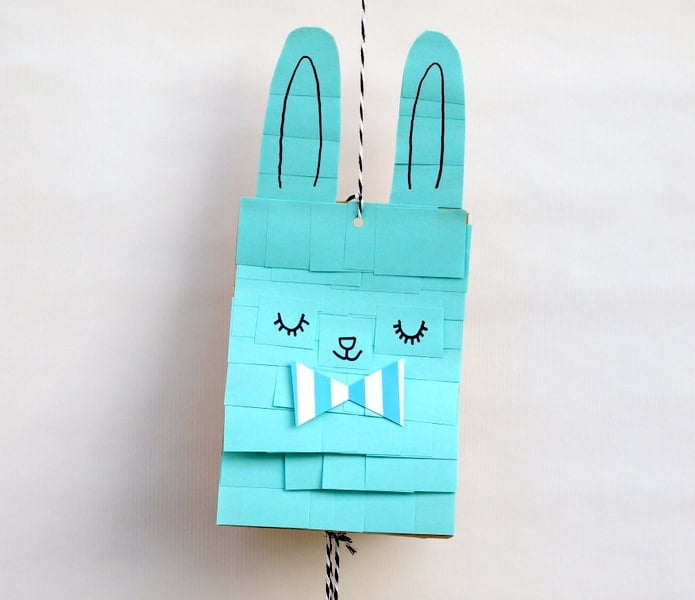 This adorable paper bag pinata is another craft that's perfect if you're hosting an Easter party. A fun alternative to a shop-bought pinata, this tutorial shows you how to create your very own Easter party piece.
This fun crafting activity is great for families to have a go at together. Create a collection of Easter eggs, Easter bunnies and chicks and then choose colours and patterns to paint. These would make lovely gifts for friends and family over the Easter period.
This last craft is another great way of using up those craft sticks! These fun and quirky Easter bunnies are great fun to make. Encourage creativity by having everyone choose their own colours and accessories to decorate their bunny.
Has this inspired your Easter crafting?
I hope you're feeling inspired to get the craft box out and get stuck in with the kids. Which of these Easter crafts are you most looking forward to trying?
Happy Easter!
All images used with the creators' permission. If you loved this post, why not take a look at my list of 23 Easter recipes?