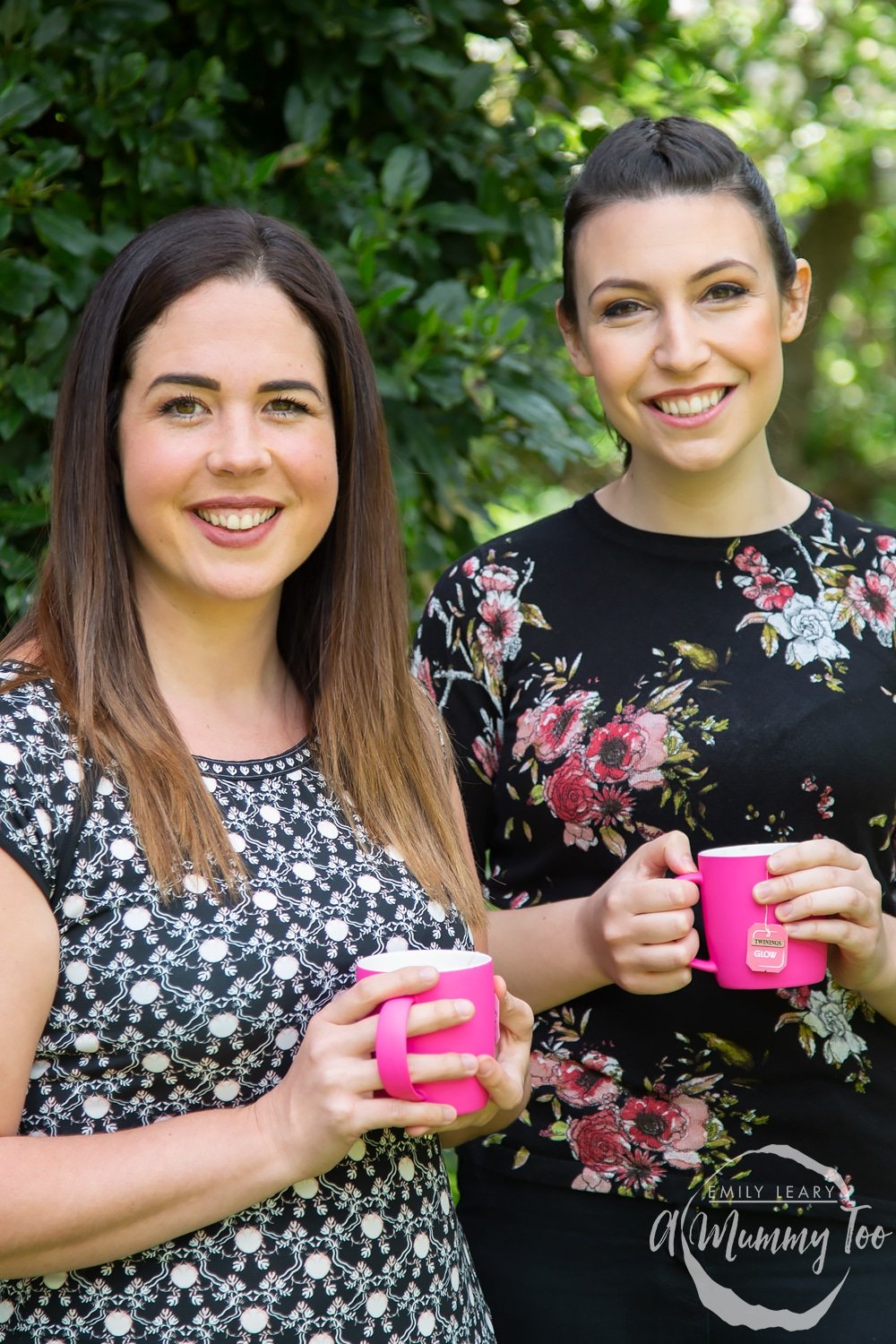 I've been loving my series of chats with some of the most important people in my life to celebrate the launch of Twinings' new range of Superblends, a range which has been specially created to make you feel your best with an expert blend of botanicals, natural fruit flavours and added vitamins and minerals. They also taste really lovely!
After my inspiring chat with Becky and energising chat with Claire, for my final "Here For You" chat, I chose to interview Lucy Wray, a friend, fellow blogger, and talented interior designer who is a really positive influence on my life and my surroundings!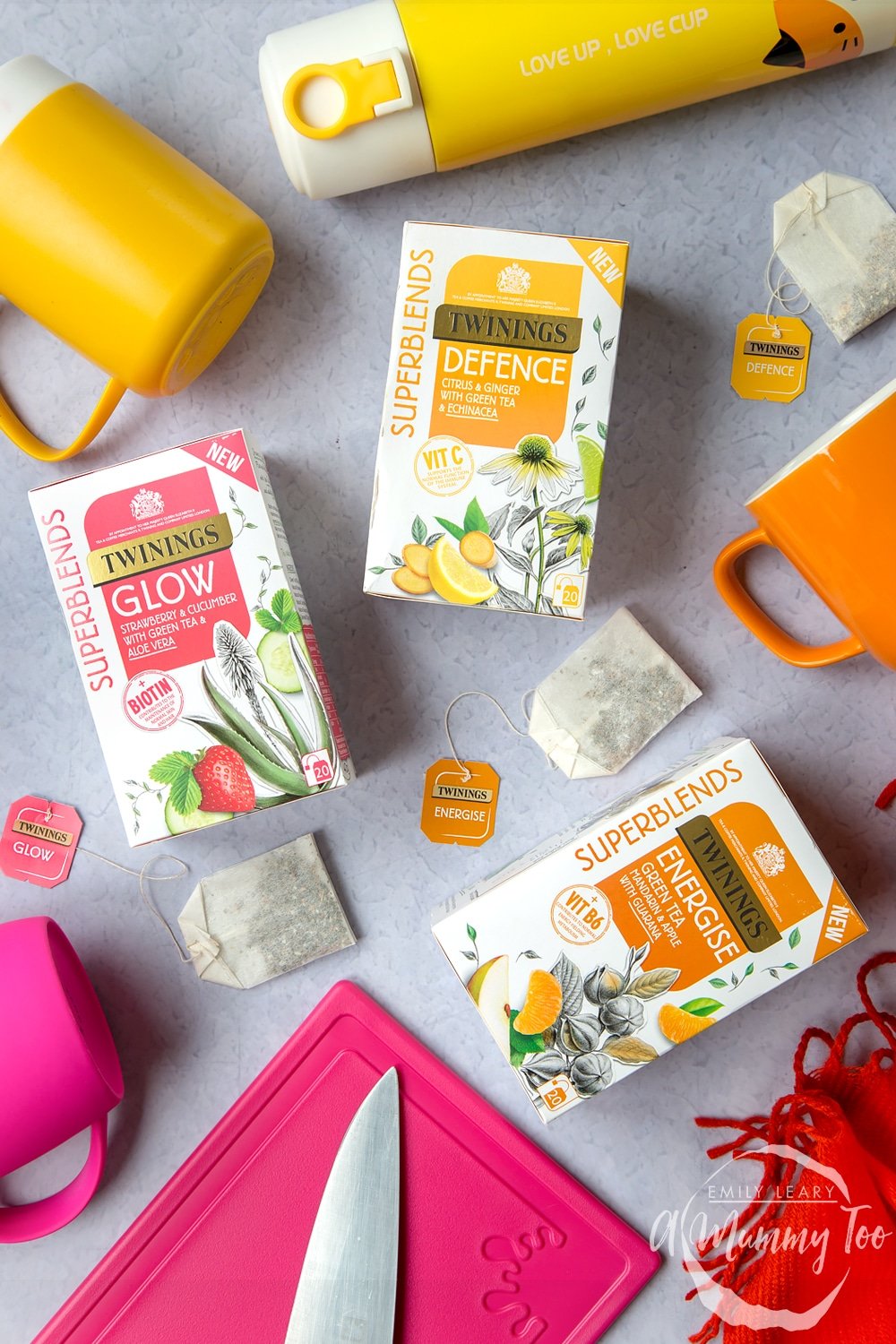 So, armed with a cuppa and plenty of salad for lunch, Lucy and I headed into my garden to talk about how to get your glow on! Since Lucy is an interior designer with a real passion for how it makes you feel too, I couldn't think of anyone better to talk tips and techniques for how to feel great inside and out. Here's the video!
Read on for a round up of our chat and for lots of great tips.
I'm here today with my lovely, inspiring friend Lucy.
Hi, I'm Lucy! I'm 36 years old. I have two small children, two girls, and I run my own interior design business. I'm very busy working with all my customers and clients and I'm getting married this summer, so lots and lots of projects on!
I think of you as a really positive person. How do you stay positive and glowing?
I think positivity is really in the mind. I am naturally quite a positive person, but there are techniques that you can do to help boost your positivity.
So an obvious one is eating healthily. When I haven't eaten healthily, I know about it because I actually feel quite rubbish, so I think that's really important.
Exercising, too! I really notice the difference. My little one's two years old now but when she was a newborn, taking that time out to just go for a swim or something like that made me feel so energised for the rest of the day and so much better and more positive.
There are little things that you can do, too. For example, you can write a gratitude diary. That's something that's been really good for me. I'd write: I'm really happy with my children and my family and I feel really blessed that we have a little house and all those things. It just puts you in that positive mindset.
So if you get used to thinking of the negative things in your life, then that becomes what you jump to?
Yes, it's about giving it space – if you give that kind of negativity space to run it will run wild in your head.
And when you stock up with positive tools to stay in a good mindset then they're ready for you when you hit a hard time?
That is absolutely right. For example, right now I don't necessarily use those techniques on a daily basis but when I need to, I know that they're there and I can turn to them.
How do you help others to feel nice and glowy? And how do others help you when you're feeling down?
One of the first things that I do actually is reach out to someone because I think sometimes when you're feeling miserable you just want to wallow in your own self-pity and actually just be on your own and just be miserable. But the one thing that will lift you out of that is reaching out to somebody. So, I pick up the phone to my sister or a friend and even if it's just moaning for an hour, it does lighten the load and you do feel better.
Yes, it very much puts it in perspective when you say it out loud! Now, I know that obviously you're brilliant at interior design, and I know that for you there's a philosophy about feeling good in your environment. Can you tell us a bit about that?
So I'm a real visual person, obviously very into aesthetics, and it's really important to me – I'm really sensitive to my surroundings. So the colours that are surrounding me, and any mess or clutter can get to me. I find that really stressful and that gives me a bit of a panicky feeling so I feel like I need calm and order around me.
Colours, for example – people are really sensitive to different colours. My bedroom is really calm with white and pale greys and that makes me feel really tranquil – like a little bit of heaven. I find it really, really relaxing in there.
How you want to feel in a room is really important. For my customers I ask, "How do you want to use the space?" but also, "How do you want to feel in this particular room?". And I think that's really important.
I think when it comes to interior design we can be just trying to adhere to what is correct according to Pinterest, but actually how" do you want to feel?" is a much longer-term question.
We've got all grey in our living room and then we've got a bright yellow rug and bright yellow cushions and my thought was that if I decide I didn't like it it's only a rug and cushions, but actually we love it and it's made me realise that yellow makes me feel good.
Exactly! It's those colours that make you happy, absolutely. Everyone's different as well, so you know what works for one person doesn't necessarily work for another person.
You're also renovating a house which is a long-term project. How do you stage positive and keep your glow when the end is so far away?
Yes, it is quite far away, I have to say! It started off really well, as probably most people do with long-term renovations. And we're actually living in the house – a lot of people renovate while they're not in the property but we're actually in it.
The first thing we did was make one positive space to retreat to – we chose our bedroom. When there's chaos going on everywhere else we can just retreat to there and it's all perfectly done and it feels like this is what it could be like everywhere eventually.
Sometimes it's also just about taking yourself out and focusing on other things, because you can get quite absorbed in what you're doing. I've got two small children so it's a case of just thinking, "No, we're not doing anything today. It's a family day. We're going outside in the fresh air and doing something as a family." Taking time out of the project that you're working on is really important to be able to refocus yourself.
How do you find travel contributes to a feel-good glow both in terms of while you're travelling and long term?
I absolutely love travelling. I think for me it's also because I'm a very visual person so it's getting that inspiration. For example, Marrakech is just a dream come true for me, I always wanted to visit and I was really excited to go there.
Being surrounded by so many interesting textures, the culture, the people, the different tiles and things like that. I found that really inspiring and invigorating.
When I travel not only do I appreciate how good it makes me feel to be somewhere new but I also come back and I really appreciate my home and the familiarity of it.

I think it's a bit of a fresh breath of life. I suppose it just re-energises you when go somewhere like that. It fills you with energy, reminds you what there is in the rest of the world that inspires you, and I think you do come home with a new sense of like, 'Oh yeah, I'm gonna…!".
And I've learned over the years not to set expectations about what travel is going to be like.
Yes! With travel – and just with everyday life as well – I think we put way too much expectation on ourselves, like "It must be like this!"'
I think it comes from social media as well, seeing people on Facebook doing all these fun things with their kids and you feel like actually I'm not doing any of these things, but sometimes just appreciating the moment for what it is. Actually, some of my best weekends are spent in the garden with my kids.
Or days where you don't get dressed until lunchtime in the winter and you're just all under the duvets watching TV or something is actually really lovely, and not very Instagramable. You're never going to see an article about it on Pinterest.
Yeah that's why I'm so rubbish on Instagram!
Because we're all snuggled up!
Yeah, exactly!
---
A huge thanks to Lucy for sharing how she keeps glowing and positive.
Is there anyone who has been #HereForYou recently? Let me know in the comments section who the person in your life is always gives you a bit of a glow when you need it.
And do please make sure to try out Twinings Superblends – there are some really tasty flavours.
This is a commissioned post for Twinings.