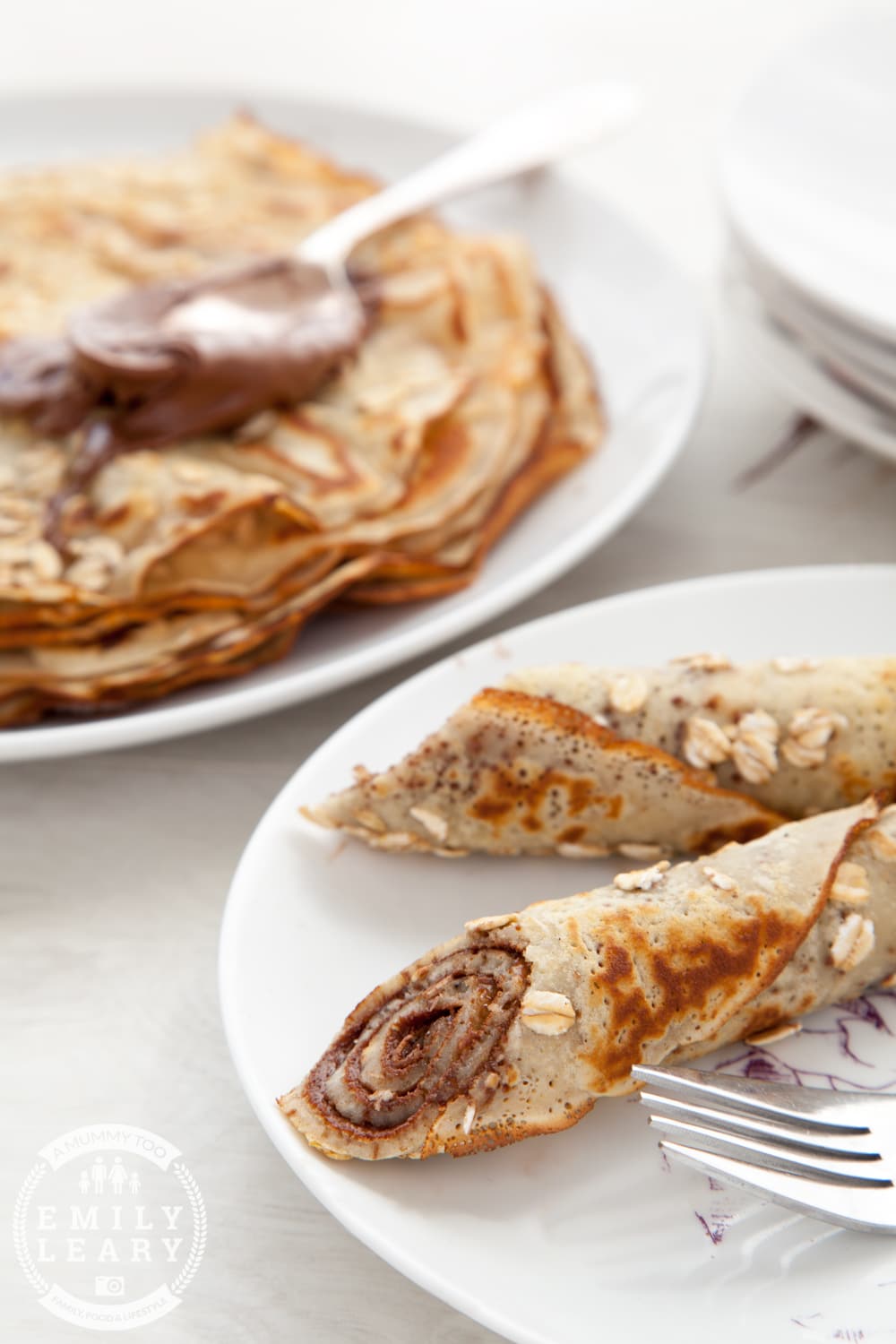 These gluten-free crêpes are light, flavourful and delicious. If you were at the BBC Good Festival at Hampton Court Palace this weekend, you might have tried these crepes for yourself, where I was cooking up a storm. Now you can make them at home!
Print
Gluten-free oaty crêpes with homemade chocolate hazelnut spread
Yield 8 -10
Delicious crêpes with an oaty topping, spread with homemade chocolate hazelnut spread. Perfect for breakfast!
Ingredients
For the chocolate spread:
300g blanched hazelnuts
1 tbsp groundnut oil
pinch of salt
2 tsp cocoa powder (or more if preferred)
2 tsp vanilla essence
2 tbsp dark soft brown sugar
For the pancakes:
200g gluten-free plain flour
pinch salt
30g icing sugar
2 eggs
500ml whole milk
25g goat's butter, melted (plus more to fry)
1 tsp bicarbonate of soda
75g gluten-free rolled oats
Instructions
To make the sauce:
Preheat the oven to 140C fan.
Spread the hazelnuts on a tray in a single layer and roast for 10 mins, then tip into a blender with a tsp of the oil and blitz until the oils release and you have a nut butter. It will take several minutes, stopping regularly to scrape down the sides.
Add the remaining oil and blitz through, then add the remaining ingredients and blitz briefly until just combined. Taste.
If you like, you can add more cocoa at this stage to make it a deeper chocolatey brown. Just pulse briefly to avoid over working it.
Transfer to a clean, lidded jar and store in the fridge for up to a month.
To make the pancakes:
Sift the flour, salt and icing sugar into a bowl and make a well.
Whisk the eggs and milk together, then pour into the flour and whisk until fully combined.
Next, whisk in the melted butter followed by the bicarbonate of soda.
Warm a pancake pan over a medium heat with a dot of butter, then ladle in enough batter to just cover the pan in a thin layer, swirling to distribute.
Quickly sprinkle with a tablespoon of oats before the batter has time to set.
Flip the crêpe and cook on the other side until golden. Tip on to a plate.
Repeat with the rest of the batter, placing a square of greaseproof between each one.
To serve, spread the crêpes with the chocolate hazelnut spread as generously as you like, then roll up and serve.
Courses Breakfast