This honey cake recipe by Masterchef Professionals 2013 Winner Steven Edwards uses goat's butter and goat's yoghurt in place of the usual dairy choices, so if have an allergy or intolerance to cow's milk, this could be just the ticket.
The recipe was developed for Vital Footprint, a service which helps food vendors such as delis, restaurants, coffee shops and street food vendors to label their wares accurately so that allergens are clearly identified. As part of this, Vital Footprint has launched the Eat Joy app, which provides a service whereby vendors can index their dishes using full ingredients details. For consumers, that's fantastic because it means you can search by allergy-friendly categories and seek out meals that are safe for your particular needs.
To help launch the app, Steven Edwards has created exclusive recipes for gluten intolerance, dairy intolerances and vegans!
Here's how to make this cow's milk free recipe.

Goat's Butter Honey cake with goat's yoghurt & granola
Sticky, delicious honey and almond cake made with got's butter and topped with homemade granola and goat's yoghurt.
Recipe type:
Cookies, cakes and bakes
Ingredients
For the sponge


280g Icing Sugar
100g Ground Almonds
100g Plain Flour
8 Egg Whites
140g Browned Goats' Butter
25g Honey
15g Baking Powder
150g Honey (For Drizzle)
For the granola


10g Vegetable Oil
50g Maple Syrup
15g Honey
120g Rolled Oats
20g Sunflower Seeds
10g Sesame Seeds
20g Pumpkin Seeds
40g Flaked Almonds
80g Pecans (Crushed)
Instructions
To make the sponge


Mix all ingredients together using a whisk
Transfer to a 15inch cake tin
Bake at 170c for 30-40 minutes
Turn out on to a wire cooling rack
Spike all over with a small paring knife
Drizzle with lashings of honey and leave to soak in for 5 minutes
To make the granola


In a bowl, mix all ingredients thoroughly with hands
Lay a thin layer of the mix out on a baking tray
Cook at 150c for 20-30 minutes
Stir and check every 10 minutes
To serve


Slice a good portion of cake
Place some granola over the top
Serve with fresh thick natural' goats yoghurt and honey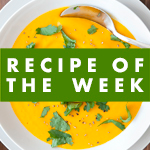 The recipe featured is reproduced with permission. This is a commissioned post for Vital Footprint.