Recently, Waitrose invited me and a band of my fellow bloggers to their 'Cook and Share' Spring themed dinner party at the Waitrose Finchley Rd Cookery School, London.
However, unlike most dinner parties, we weren't just there to enjoy delicious food, we were there to cook it too, with guidance from the school's expert chefs.
Over the course of the evening we cooked and shared some amazing food, full of spring flavour, along with a very inventive and utterly delicious take on the classic creme egg.
After being handed beautiful cocktails of rhubarb gin topped up with Prosecco (which definitely put us in the springtime mood), it was time to get cooking.
The starter
For our starter, we learned how to prepare smoked mackerel by cutting the fish into slim fillets, which we then baked on low until just warmed through before using a blow torch on the skin side to crisp them up perfectly.
We plated up onto slate, starting with two quenelles of horseradish-infused buttermilk, which had been strained overnight through a muslin cloth to made it extra thick and flavoursome.
We followed this with a scattering of sliced grapes. These had been pickled with mustard seeds in equal parts water, sugar and vinegar, and they were stunningly delicious. I loved the tanginess of the vinegar combined with the sweetness of the grapes and couldn't help pop a few directly in my mouth during prep.
Finally, we arranged a few lightly salted cucumber ribbons across the plate, followed by the mackerel and a few sprigs of dill to finish.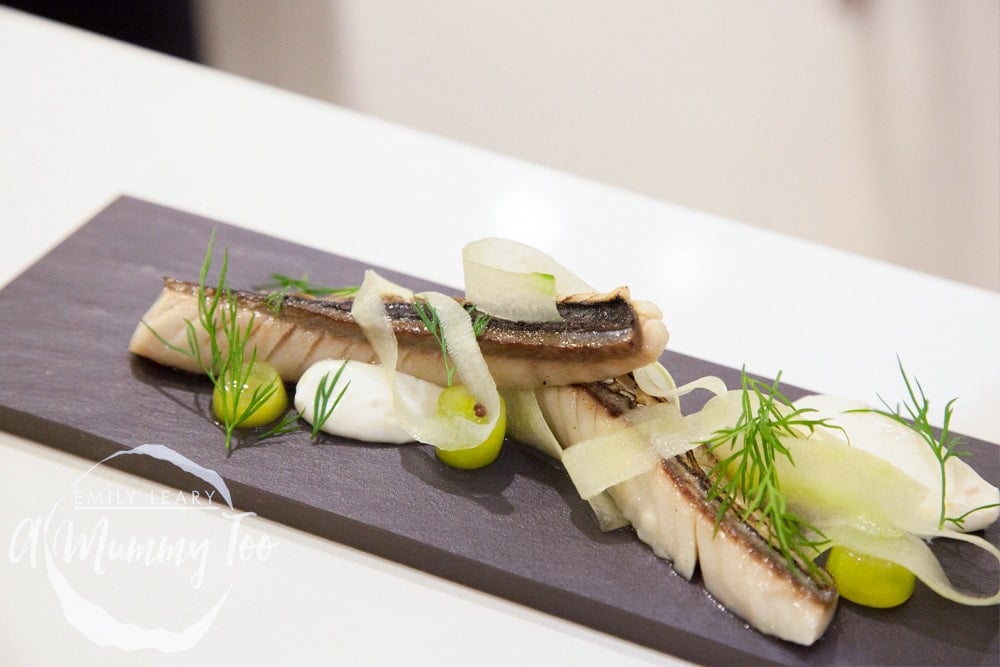 I opted for a vegetarian starter, so in place of the mackerel I enjoyed caramelised leak, salted before baking to bring out the natural sugars. Here's my final prepared plate.
As you can see, to complement the leeks, I finished with an additional sprinkling of dried onion flakes. Sublime.
The main course
For the main, we had a break from cooking and enjoyed a sumptuous, vegetable rich feast.
While others tucked into salmon or slow roasted leg of lamb, I enjoyed half a roasted butternut squash, stuffed with roasted vegetables and and sprinkled with finely grated hard cheese. Stunningly tasty.
The main side was a huge bowl of fresh gnocchi, garnished generously with hard cheese – simple and delicious.
We also enjoyed caramelised onion halves, charred to flavourful perfection, as well as Tenderstem broccoli tossed with chilli jam and sunflower seeds. The broccoli was lightly cooked so it had a lovely crunch and the heat and sweetness from the jam worked perfectly.
A favourite for me was the rarebit with cauliflower, which was a bit like cauliflower cheese but crisp and firm rather than gooey. As such, this take on cauliflower cheese was packed full of flavour and dangerous moreish.
Dessert
For dessert we headed back into the kitchen to prepare a modern twist on an Eton mess.
The first step was to make the meringue, which our chef demonstrated.
We started by whisking egg whites until just frothy, then gradually added icing and caster sugar until glossy and firm, but not overly stiff.
Next, we used a palette knife to spread the meringue before sprinkling with freeze dried raspberries.
We baked the meringue at a very low temperature (about 100C), which our chef explained was crucial so that the meringue would set without browning.
Once the meringue was cooked and cooled, we had the fun job of breaking it into shards with our hands.
To plate up, white chocolate bowls had already been prepared for us, sitting neatly on our plates, so we got straight to work putting everything together.
First, we dripped a little raspberry coulis into some whipped cream and mixed just ever so slightly, so that it was marbled rather than mixed through.
Next, we spooned the cream into the white chocolate bowl up to about half away, and topped with some chopped fresh strawberries and raspberries, followed by more cream and fruit.
Next came those dramatic shards of meringue, which looked so pretty and elevated the dish beyond that of a standard Eton Mess.
To finish, we added a fine grating of white chocolate for sweetness and lemon zest to balance the flavour, crumbled a touch of meringue around the bowl, and followed with a a drizzle of coulis. Here's my effort.
And the taste? So good!
It was everything an Eton mess should be  – light, refreshing, gooey, crunchy and with distinct flavours. I thought the chocolate and lemon zest would be drowned out, but the lemon balanced out the flavour with the berries and the cream perfectly. I will absolutely be making this one again.
The creme egg cocktail
To round off a thoroughly stunning evening, our mixologist brought us over to the bar to make an extra special 'creme egg' cocktail.
He explained that in developing the cocktail, he was conscious that the obvious route was to produce something rich and sickly, and as such not necessarily something you'd really want to drink while out for cocktails. His solution is a cocktail that is true to its namesake, but yet light, fresh and endlessly drinkable.
To make the creme egg cocktail,  first a cocktail glass is dipped into milk chocolate. This is just a hint around the rim, but it's enough that you can nibble on it as you drink your cocktail.
Next, we mixed Malibu, white rum and coconut milk together and shook over ice in a cocktail shaker.
It's important that you build up a little froth here, as you'll need it for the final finishing touch.
After a good shake, we double strained the mixture into our glasses.
And finally, we were provided with frozen hemispheres of mango puree, which we very carefully lowered into the glass, flat side up. Because of the slight thickening of the cocktail after shaking, it manages to hold up the mango on its surface, and voila! The finished cocktail is suddenly amazingly similar to a creme egg!
What a fun treat for an Easter get together! And definitely deserving of it's name.
Now it's your turn to Cook and Share
If you love to cook, then Waitrose wants to see what you're making.
Whether it's a delicious Easter roast or an indulgent bake, take a photo of your dish and tell Waitrose who you'd share yours with using #CookAndShare and @Waitrose on Twitter and Instagram.
By sharing your cooking triumphs, you could win a special prize, such as a gorgeous Emma Bridgwater bouquet, a luxury Waitrose hamper, or a delicious bottle of Leckford English wine.
Good luck!
This is a commissioned post for Waitrose.