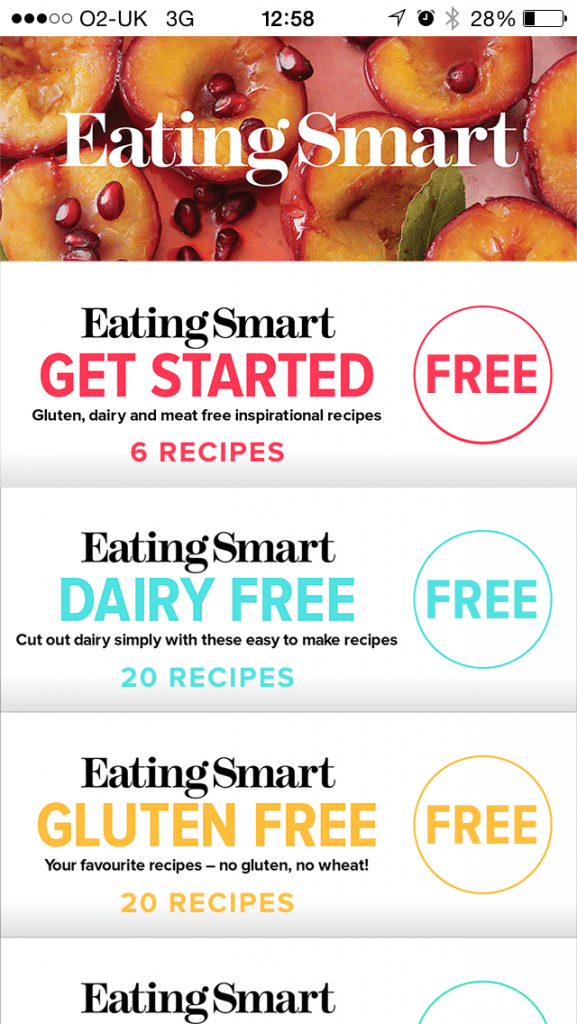 As a nation, it's seems we're becoming ever more aware how our bodies react to different food types – its allergies, intolerances and digestive idiosyncrasies. And as food choices have become common topics of conversation – in the media and at the dinner table – so too has discussion of ethical, ecological and health concerns that might leads us to consider a vegetarian or vegan diet.
For those wishing or needing to cut out or cut down on dairy, eggs, meat and/or gluten, starting out can seem daunting. Your new diet can seem limited and uninspiring, and you might find yourself staring in disappointment at the supermarket "free from" aisle, wondering how on earth you're going to keep this up.
And that, of course, is where technology comes in. The internet is packed with brilliant "free from" recipe ideas, but now you have a new challenge – where to start? And which recipes can you trust?
The new Eating Smart app from woman&home is designed to solve just that conundrum, bringing you a collection of tasty, healthy and triple tested recipes to fit your diet, all at the click of a button.
The app is designed especially for people who follow a dairy, meat or gluten free diet and contains lots of delicious and easy to make "free from" recipes.
woman&home has always had a strong focus on food, so this Eating Smart seems a logical addition to the many recipes already offered in their magazine, and their separate stand alone magazine 'Feel Good Food'.
The app is laid out very simply which is great because that makes it easy to navigate.  There are four main sections: a 'Hello' section which covers the basics, gives details which specify measurements and gives general guidance on recommended daily levels of calories and saturated fats; then three recipe sections for 'Gluten Free', 'Dairy Free' and 'Vegan'.
Each sub-section is then divided by Entertaining, Midweek, Baking and Desserts.
The design and colour scheme of the app is minimal but probably all the more effective for it – there aren't any flourishes or flares to distract the eye.
Once you dig into a section, there's bright photography to scroll through to help you choose what to cook.
The recipes are laid out neatly with 'Ingredients' and 'Method' sections. You can tick off each ingredient within the app, like a shopping list, which is great if you're using it to plan meals when you're at the shops.
Each recipe also comes with a 'tip', which might be a suggestion for an accompanying dish, or an idea for how you could tweak the dish to suit other dietary requirements. These tips seem well considered, rather than an after thought, and can sometimes act as inspiration for more ideas.
The basic app is free, and comes with six recipes, including delicious vegan green lentil moussaka and a dairy free coconut panna cotta.  Additional recipes in each section can be purchased at a very reasonable price of 99p for 20 recipes.
This is a simple app full of healthy and tasty recipes – the ideas don't feel like a compromise, they're just attractive, easy to cook dishes. You might not use Eating Smart everyday, but with it on hand, you could kickstart a new dietary regime, or have an easy solution when cooking for friends with their own dietary needs.
This is a commissioned post for woman&home. Images are screen grabs of the app, taken with permission. Opinions, as ever, are all my own.