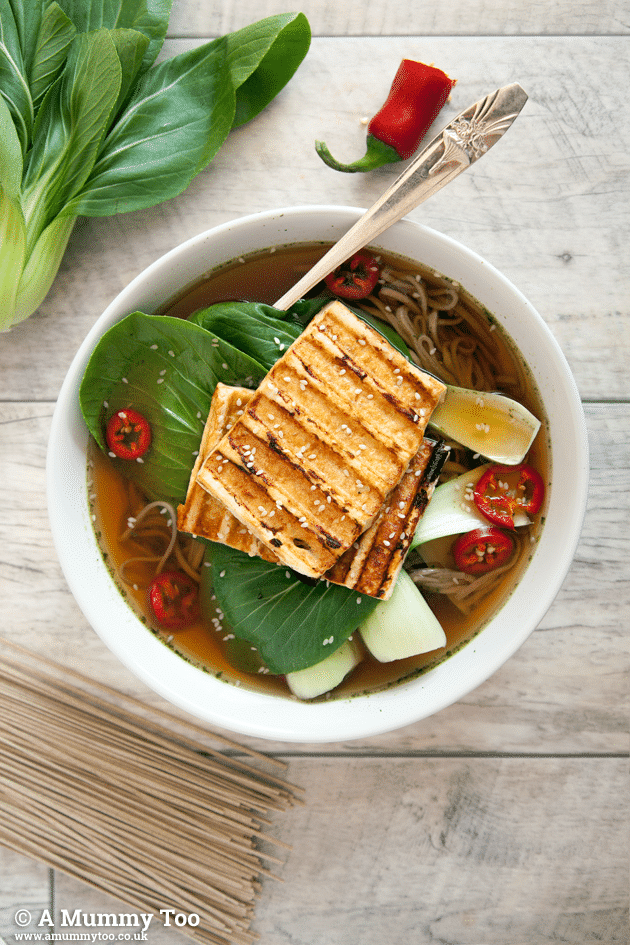 That was SO satisfying – me
I adore noodle soup and this week I hada real hankering for lunch at Wagamamma. Sadly, I was pretty much chained to my desk working, so I escaped to the kitchen at lunch and made up this beautiful, simple and low fat soup. It's free from meat and dairy and is a great protein boost if you're in need of one.
Here's what to do…
Ingredients
1/2 pack of tofu
2 tbsp dark soy sauce (note: not all soy sauces are vegan, some contain lactic acid from animal sources. If you're unsure, you can substitute with Liquid Aminos, which is available from health food stores and should be labelled vegan-friendly)
1 wrap of soba noodles
1/2 head of bok choy
1/2 red chill
1 vegetable stock cube (Oxo and Kallo are suitable for vegans – check the box)
1/2 tsp sesame seeds
Instructions
Slice the tofu into three layers as if you're making layers of a cake, creating three thinner pieces
Place on a plate and cover with half the soy sauce, flipping a couple of times to ensure even coverage, then griddle until just beginning to blacken. For this, I used my (review) Tefal Optigrill which works brilliantly because it presses out the excess moisture and you finish up with a great texture.
Put the soba noodles on to boil in plenty of water – they only take a few minutes
In the last minute or two of cooking, chuck the bok choy leaves in with the noodles just to soften them a little, then lift back out
Drain the noodles and place in the bottom of your bowl, top with the bok choy leaves, then sprinkle over the sliced chilli
Make up 400ml of stock and add the remaining soy sauce, then pour into the bowl while it's still piping hot
Top with the tofu, sprinkle with the sesame seeds and serve
Note: raw or lightly cooked bok choy can be quite bitter. I like it, but if you'd prefer it a fully cooked, chuck it in with the noodles for the full cooking time so that the leaves wilt and darken.
Like noodle soups? Why not check out this Vietnamese Noodle Salad or this Squash, Carrot & Noodle Soup