Have you ever been on a cruise? Would you consider it? Perhaps you have already have in mind what it would be like. Perhaps you worry about whether there would be enough for kids to do on board. Harmony of the Seas is a great example of what happens when a ship is designed to cater to those concerns.
You may have spotted our exploits on social media during our time onboard, when Mark, the kids and I spent a fantastically fun couple of days on Harmony of the Seas, Royal Caribbean International's newest cruise ship.
It was a really great opportunity to check out the ship with lots of other press before it took it's inaugural voyage with it's first customers the following week.
Harmony of the Seas it's actually the largest cruise ship in the world. And that isn't just because there are lots of cabins, it's also because it's packed with an amazing range of activities, entertainment and dining on board.
I've been on small ships before where a day at sea can feel a little boring or claustrophobic as you will the hours to pass faster until you reach port, but not so on Harmony of the Seas.
Being on board really is like being in a holiday resort – it's carefully designed to suit families and couples alike and there's so much to do, it's kind of impossible to get bored unless you were really determined to.
Suites onboard face either the sea, interior (ie no view), or into the central atrium. Ours was a sea-facing Superior Balcony Cabin and it was gorgeous.
We particularly loved seeing the children's awestruck faces as they sat on the balcony and watched as left port and sailed until we could only see ocean all the way up to the horizon. They were really excited.
Our clean, modern suite was reasonable spacious, with a large bed for Mark and I and sofa that was convertible into two single beds for the kids.
As a family of four with two children aged eight and four, we found plenty to do. Throughout the day, popular Dreamworks characters from Shrek, Madagascar and Kung Fu Panda wander around, and they're always happy to have a cuddle or pose for a photo. You'll find the appearance times in the daily updates that arrive in your room each morning, so there's no risk of tears if your child has a particular character they're desperate to see.
The 3D theatre and small swimming pools dotted around the are great for some family downtime, while Splashaway Bay is an amazing waterscape, with crazy slides, water cannons and a multi-platform jungle gym.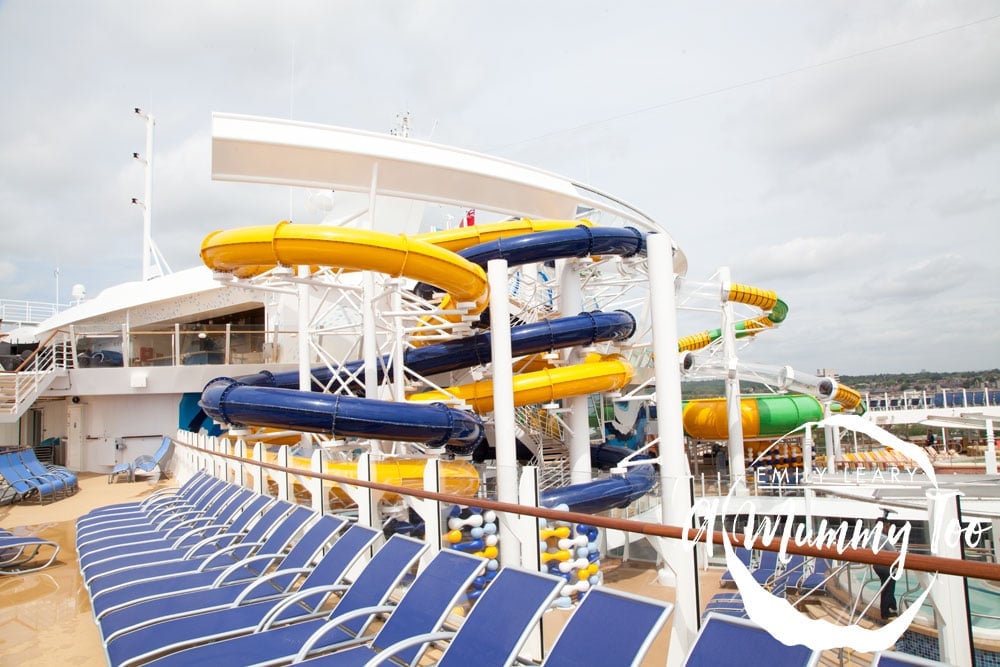 None of us were brave enough to tackle the surf simulator and sadly the zip slide and climbing wall were closed for final tests when we were on board, but they looked like amazing fun and definitely things we'll try should we find ourselves on board again.
There's also a full-sized sports court which is perfect for letting off steam.
Now if you were watching on social media during my time on board, you'll already know that I (rather bravely/recklessly) took a ride on the Ultimate Abyss, a mad 100 foot plunge down 212ft of slide piping, lit on the inside with coloured LEDS. It's over in seconds and gives you a serious adrenaline rush – so much so, I went down twice!
The list of activities available on board goes on and on. There's an ice rink, gaming arcade, mini golf, and even a full-size carousel.
If you're looking for a more leisurely form of entertainment, you're spoilt for choice in that respect too. There are two musicals (Grease and Royal Caribbean's fun show Columbus, The Musical), a jaw-dropping acrobatic show, multimedia ice shows, DJ parties, an adventure puzzle against the clock, and even a pop-up piano player.
It's the same story when it comes to dining, with a wide range of options – eight restaurants in total – catering for all ages. A couple of venues offer classic dishes, and there's also an American diner (Johnny Rockets), a pizzeria, and a traditional Mexican eatery.
If you're feeling adventurous you can sample Mediterranean-Californian fusion, and even an avant garde menu designed around the elements. Some of the restaurants are definitely more suitable for adults only, but if you do feel like enjoying some grown-up time childcare is available for children aged six months to fourteen years.
There are also plenty of cafes offering snacks, sandwiches and lighter meals.
When it comes to relaxing with a drink, the Bionic Bar is something else; robot barmen mix your cocktails.
With all these fantastic experiences within easy reach, I can definitely see why Harmony of the Seas is already proving such a popular holiday choice. I'd hop on board again in a heart beat.
We joined Harmony of the Seas' pre-inaugral voyage as part of a press trip.