Mult, pease - Miss J, 1 (asking for milk)
Our kitchen, lovely as it is, is long and thin. This means it's great for scooting up and down waving pots and pans, not so great when it comes to finding space for white goods. For too long, our separate fridge and freezer have stood side by side, almost jutting past the back door in a poor attempt to fit in to the only remaining space (unless we were willing to put the freezer in front of the radiator, and that's just weird).
But finally, after lots of review reading, fact checking, spec comparing, umming and ahhhing, we have our new fridge freezer - a Hotpoint NRFAA50P Freestanding White Fridge Freezer, to be precise (search for NRFAA50P on ao.com to find it).
So, where do I start? Well, the delivery men from ao.com brought it as far as the kitchen, but since I was nowhere near ready to make space for it, it stayed put in the middle of the kitchen overnight. Next morning, once it'd had time to settle, I discovered that it's actually not very heavy - believe it or not, I lifted it off its polystyrene base and put it in position myself after moving the old fridge and freezer out into the garden *flexes muscles, falls over*
It's got a reasonably small footprint - half that of separate appliances, which sounds pretty obvious really, but I wasn't sure if it would stick out further or wider than a single appliance - it doesn't. It's not too noisy, although I suppose you would hear it, intermittently, if you had an open plan kitchen/lounge, and it has a reasonably good A+ energy rating. If that means nothing to you, Which? have quite a good guide to energy efficiency ratings but bottom line, apparently this fridge freezer will only cost about £2 a month to run
Inside, the fridge has a net capacity of 150 litres - probably a little small for a grown up family of four, but fine for us and our tinies. As a bit of a bonus, the whole thing has a layer of antibacterial protection to fight off mould as well as that horrible, unidentifiable 'fridge smell'.
If you're wondering why on earth I have so much butter in the fridge, it's because we were about to embark on making a golden sponge cake. It went well *pats belly*
There are two adjustable shelves up top, a bottom shelf and two vegetable crisper drawers.
In the door there are three more shelves. With all this lovely clean space, maybe I'll finally learn how to keep my fridge organised (no chance).
The freezer a net capacity of 67 litres, which is smaller, of course, than our stand alone freezer. The capacity will be fine for us, day to day, but we're planning to keep the spare freezer in the garage for times when we need extra freezer space.
The top two compartments have hinged doors, while the bottom compartment is a drawer.
This fridge freezer also comes with a 5 year parts guarantee, which makes it a pretty safe investment, I reckon.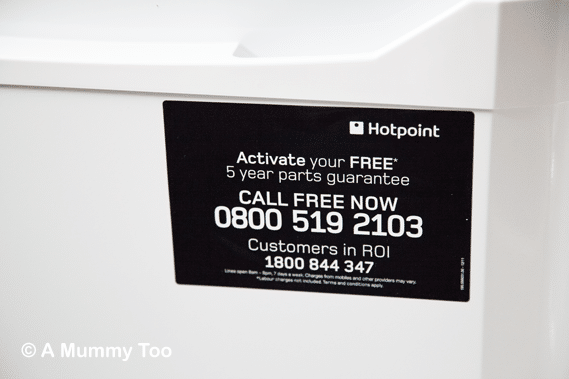 Here's me talking through all of the above points (albeit rather clumsily)...
Overall, I think the Hotpoint NRFAA50P Freestanding Fridge Freezer looks good, is functional and is great value at just £249.
Disclosure: I was sent the Hotpoint NRFAA50P Freestanding White Fridge Freezer for review. No payment was received for this post. All posts are 100% honest.