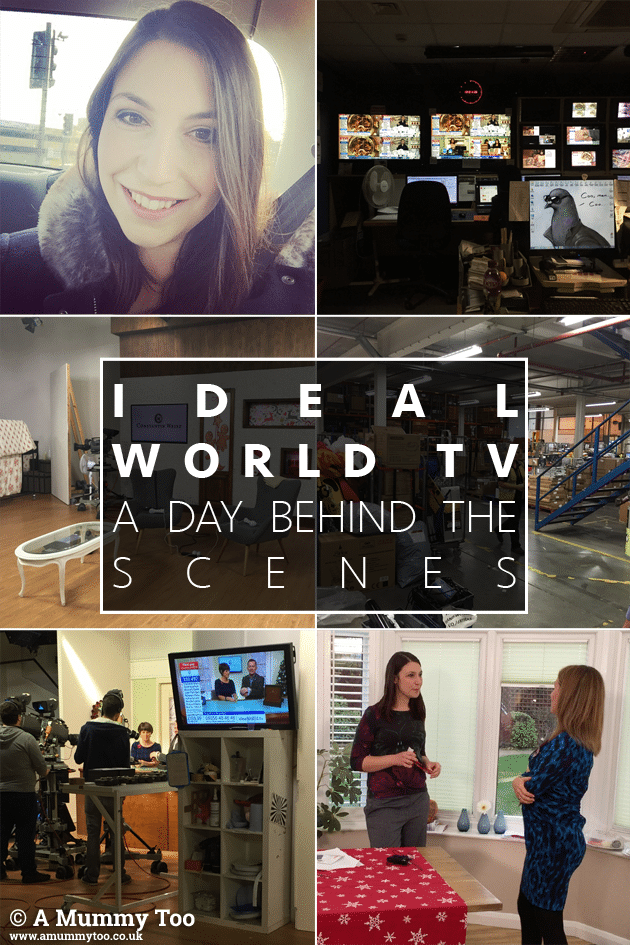 Last month, I was invited to find out what happens behind the scenes at busy shopping channel, Ideal World TV.
So, with my bag packed, I hopped on a train, then a taxi to the studios in Peterborough.
Meeting up with Helen, Jac and Sarah at reception, we were taken through the offices which make up a huge portion of the building. Rows upon rows of staff researching at every stage of the process. It turns out the Ideal World TV team don't just take on any product a brand wants to market, they quality test it rigorously, before going through another round of testing to make sure it's suitable for a TV demo.
We took a look through the main studios used to film. With the exception of the conservatory and garden, most of the filming spaces are connected in a large warehouse space.
Here you can see a live show being filmed – quite a snug set up!
We also got to peek through the gallery windows and see the complex operation that runs continuously during broadcast hours. A fast-moving job for all those involved, requiring laser concentration, hence the dimmed lights.
The entire Ideal World TV operation takes place on the Peterborough site, so as well as the offices and studios, all the warehousing happens there too, and products sold on screen go straight on to lorries from the adjoining warehouse.
Heading back to the conservatory, we were taken through some of the products currently on offer.
And then we had a go at presenting on camera (but off broadcast) for ourselves, before getting some feedback from the experts.
All in all, we had a lovely day and it was an eye-opening trip that showed us there's a lot more that goes on behind the scenes than you might think.
Win a Tower Bread Maker, worth £119.99
How would you like to get your hands on the very swish Tower Breadmaker I tested on set?
It's a very nice machine, with a brushed silver, anti-fingerprint body and a flat top with a viewing window so you can see how your bakes are getting on.
There's a removable seed and nut dispenser, 17 programs and a recipe book to help you get to grips with each of the functions.
As well as all the other usual functions like variable loaf sizes and crust darkness functions, a big plus with this machine is that cakes can be made right in the pan – no need to line or pre-mix. Miss J and I made this lemon drizzle cake with ease and it was delicious, although we left out the salt from the basic cake recipe provided, which I'd recommend.
Other plusses for this machine include the non-stick coating inside the bread pan, which works very well, and the 15 minute memory, which means you can unplug and move the machine without losing your place in a given program.
A quick loaf, ready in about an hour, isn't as nice as a hand-kneaded, slow proved, oven baked loaf, and you will get a small hole in the bottom of your bakes, but they are minor criticisms. Over all, I really like this machine!

Enter to win

To enter to win a Tower Bread Maker worth £119.99, simply follow @amummytoo & @idealworldtv and retweet this tweet.
https://twitter.com/AMummyToo/status/541906874933993472
Good luck!
Ideal World TV hosted us at the back-stage tour day. We were sent the Tower Bread Maker for review and Ideal World TV are providing another for giveaway. Giveaway terms: UK entrants only. 18+. 1 entry per person. 1 prize. 1 winner receiving 1 Tower Bread Maker. Giveaway not associated with Twitter. No cash alternative. You must follow @amummytoo, @idealworldtv and RT this giveaway tweet to enter. Giveaway closes 8pm 10/12/2014. Winner chosen at random using random.org from valid entries. Winner will be informed by DM. If prize isn't claimed within 1 week a new winner may be chosen. A Mummy Too's decision is final.