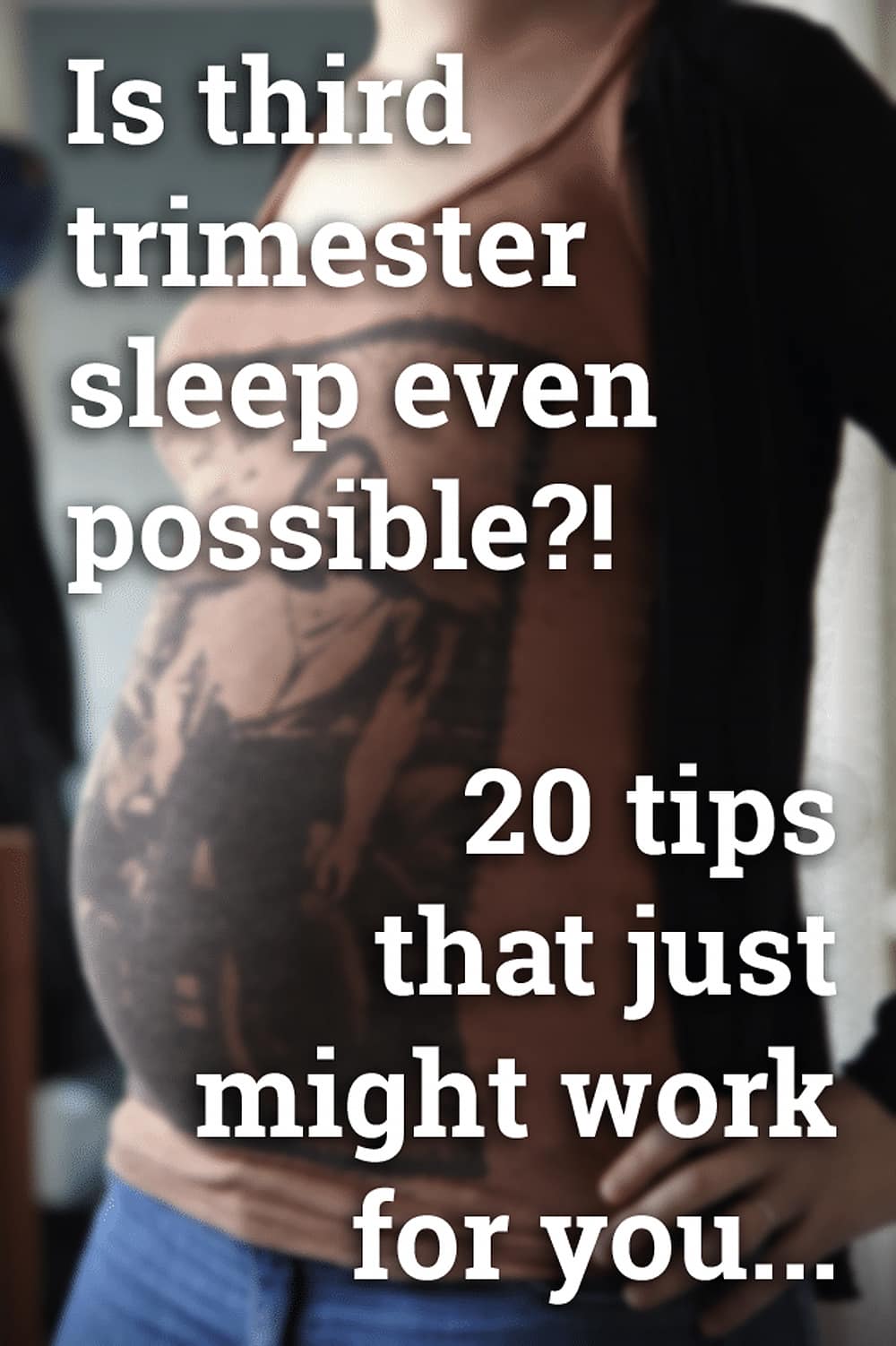 As I write this, I'm 33.5 weeks pregnant, third trimester, and I cannot sleep!
When you're heavily pregnant, you can't sleep because the baby is moving, because of cramps, because you're too hot, because of the sheer weight of the bump!
Why I'd forgotten about this delightful stage, I don't know, but I set out determined to find a solution to that age-old question: what helps pregnant woman sleep?
I searched a million resources high and low, online and offline and yes, often when I should have been sleeping.
These are the top 20 most recommended ways to get some sleep in late pregnancy.
How to sleep during pregnancy video
20 tips for third-trimester sleep
1. Support one leg with a pillow
I've had the Sleep Body Pillow since the beginning of the second trimester in a (successful) bid to reduce the symptoms of my SPD (softening of the pelvis, also known as PGP or pelvic girdle pain) this time around.
Yes, supporting one leg with a pillow when lying on your side does help, but less so the bigger the bump gets.
2. Get a memory foam mattress
A memory foam mattress is another investment we made in the second trimester.
It's helped loads with the SPD and general joint pressure, but I can't say it's really taking the pressure off the bump.
If you can't afford to invest in a brand new mattress, you could get a memory foam mattress topper, which is a lot cheaper and still offers plenty of relief for heavy joints.
3. Put a pillow behind your back
Putting a pillow behind your back while lying on your side could make you more comfortable if you tend to find you roll backwards while sleeping on your side. Sadly this one doesn't work for me.
I find myself propped at an odd angle that causes instant backache.
If you do try it, I'd recommend quite a plump but soft pillow, so that you can lean against it without it rolling away.
4. Put a pillow or wedge under your bump
For some, putting support under the bump while lying on your side can take weight off the bump and/or stop it moving too far to one side, which causes that horrid pulling feeling.
It does work for some, definitely, but I'm not keen. For me, it causes a slow pressure inside that gradually turns into an unbearable ache.
I also tried a Wedge Support Pillow but it's really firm and so for me personally, only makes the problem worse.
5. Sleep propped up on pillows
If you have reflux, feel breathless or feel like the baby is sitting on your spine, using pillows to allow you to sit up slightly to sleep could help.
I found it makes my heart beat much harder and I feel dizzy so the next tip is better for me...
6. Sleep on your left-hand side
Blood flow is the key here.
Lying on your left-hand side apparently puts the minimum pressure on the vena cava that carries deoxygenated blood back from the lower body to the heart.
I stick to this rule pretty religiously.
7. Cut back on fluids in the evening
Cutting back on fluids before bed is a totally logical way to stop every kick to the bladder sending you rushing for the loo.
It's particularly good advice for me as our bedroom is upstairs and our bathroom at the other end of the house downstairs.
8. Lean forward when you pee
They say that leaning forward when you pee helps fully empty the bladder.
I can't say I've noticed a difference, but every little helps!
9. Cut out the caffeine
Reducing your intake of coffee, tea and other caffeinated drinks is another obvious one, really.
I pretty much gave up caffeine as soon as I found out I was pregnant as it made me feel horribly sick. I switched to decaf tea and it suited me just fine.
I now only drink caffeine if I'm out and about, and never more than a cup, as I'm anaemic and it supposedly inhibits iron uptake.
10. Eat small portions, and chew slowly
I've been ravenous ever since the sickness subsided, so I can comfortably wolf down an XL pizza in 20 minutes, but I soon regret it.
To avoid heartburn at night, eat slowly and sensibly during the day.
Oh, and I always have plenty of Gaviscon Heartburn Relief to hand as it definitely helps and it's suitable for use in pregnancy (always read the label).
11. Avoid acidic, carbonated, fatty or spicy foods
Your favourite soda, a spicy curry, a slice of pizza...these are all evil causes of heartburn apparently, which plagues me like a fire at night.
Eating sensibly is easier said than done, of course. I'm in the camp that says moderation is important, but sometimes cravings must be obeyed.
12. Avoid clothes that put pressure on the bump
Opt for low fitting underwear, a loose-fitting sleep bra (if you need nighttime support), and nothing with a tight waistband.
Personally, I can't stand the pressure on my bump at this stage, even during the day, so all my clothing choices are based on this rule.
13. Try a warm bath before bed
A warm - not hot - bath is thought to relax you and your muscles, increasing the likelihood of sleep and reducing the likelihood of cramp.
I'm more of a shower person, but that seems to help too.
14. Avoid perfumed products
This being my second pregnancy, the bump is a lot less itchy than it was last time around, but with sensitive skin at the best of times, I'm avoiding smelly soaps and sprays like the plague.
It's helping to reduce nighttime all over itch that can kick when the temperature rises.
15. Talk to your partner (if you have one)
I do find I sleep better if I talk through a few baby worries with Mark (my husband).
We ideally do this before bed as getting our minds racing with worries before trying to sleep wouldn't help either of us, but if I'm really fretting, I will wake him up for a chat.
16. Don't exercise too close to bedtime
Apparently, it's a bad idea to get yourself all revved up before trying to sleep.
Frankly, with the bump as it is, I'm rather proud if I successfully climb the stairs at a regular speed, so you won't see me at the gym anyway, but I do try to wind down towards evening.
17. Run a humidifier in the bedroom
Pregnancy can cause swollen nasal passages, which can in turn cause snoring and then waking up with a horribly dry mouth, and you don't want to have to drink through the night - see point 6!
A humidifier helps to reduce that discomfort by introducing some much-needed moisture to the air. And for immediate relief, I use a saline nasal spray, which is frankly a miracle product.
18. Turn off the TV, laptop, iPhone, iPad etc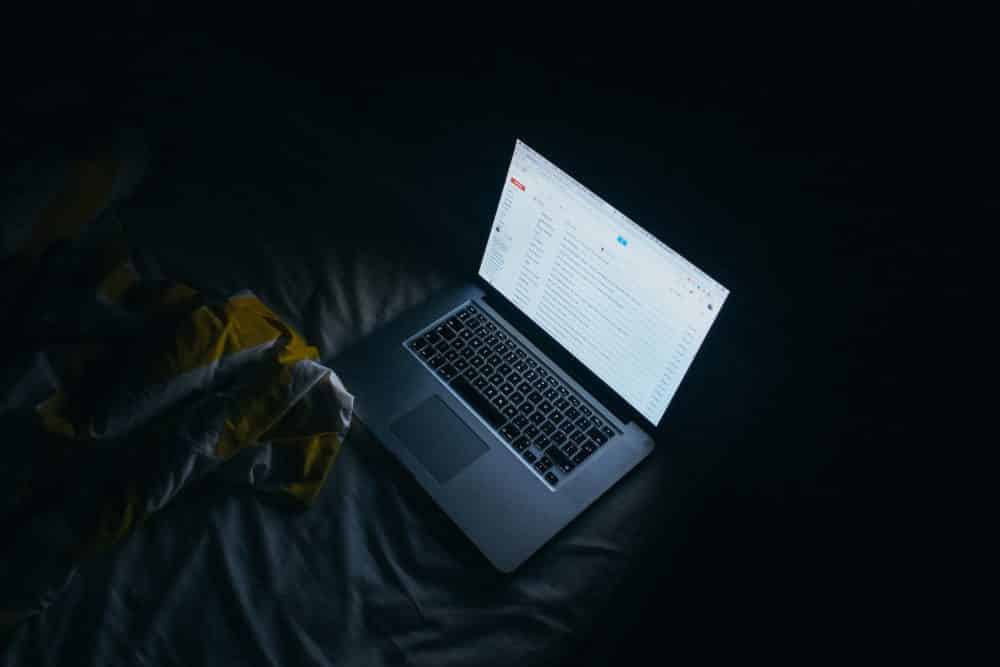 The blue light from phones, laptops and other devices actually tells your brain to wake up. D'oh!
I don't always stick to this one, even though I know I should.
Hard as I try, when it's 3am and my brain is still whirring, I'm going to need a distraction.
As a compromise, I turn on 'nighttime mode' that makes the screen less blue, and try to avoid 'work' after midnight - that'll do, right?
If you don't want to faff with special settings on your devices, you could invest in blue light blocking filter glasses that you can pop on in the evening watching TV, or if you wake up in the night and fancy a brown through Twitter.
19. Have a third trimester walk about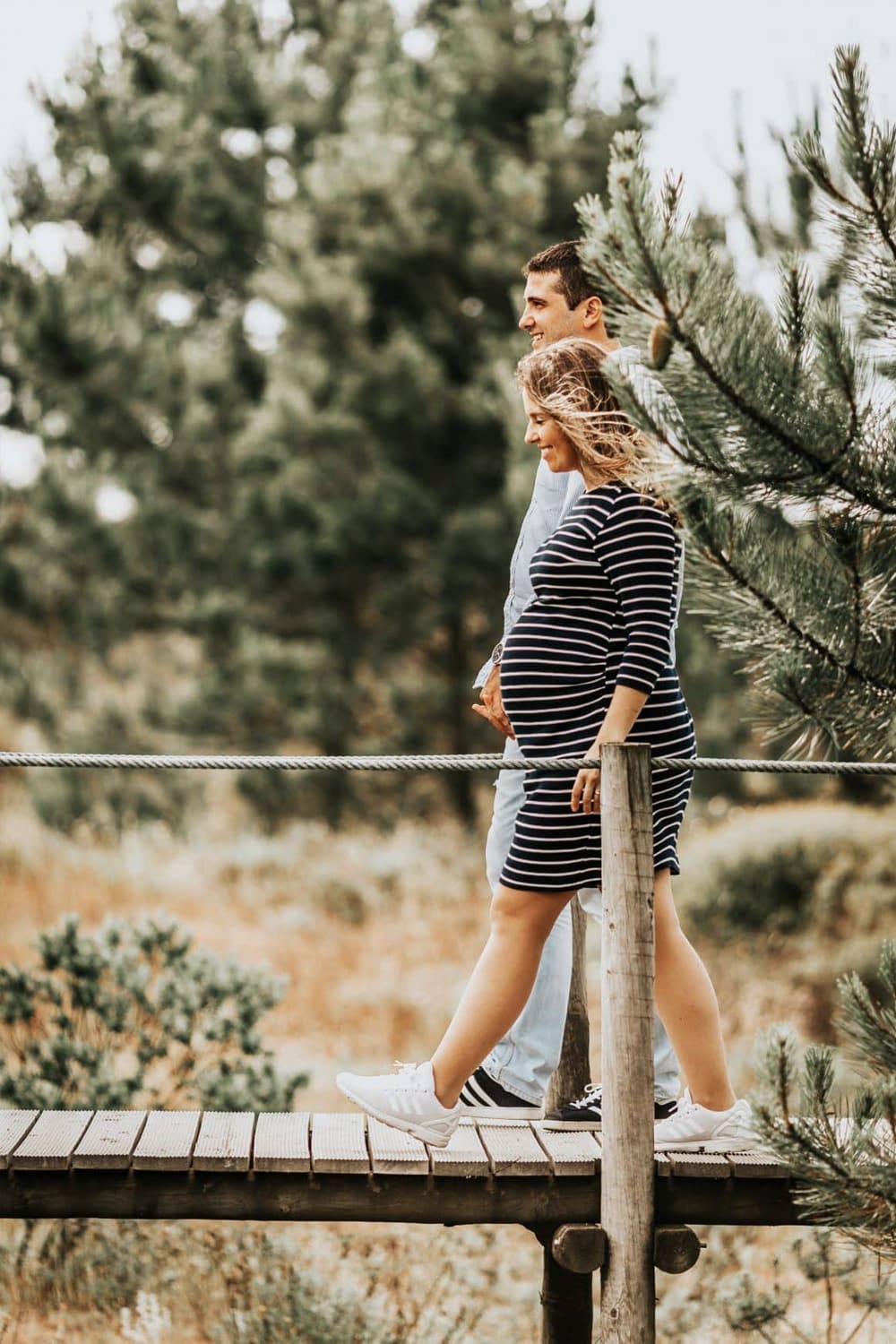 Apparently, while tossing and turning will keep you awake, if you really can't sleep, it's a good idea to get up, have a little walk about, maybe a light read and then go back to bed.
Personally, if I'm up and about, the laptop will go on, but I'm going to put the Kindle by the bed from tonight.
20. Accept it as a normal part of pregnancy
Your baby won't suffer if you're a little sleep-deprived, so stop clock watching and just close your eyes.
If you sleep, you sleep, if you don't, you don't.
This is actually my favourite piece of advice as it stopped me worrying as much, which actually let me get more sleep!
Your ideas on how to sleep during third trimester
Admittedly, I'm still not getting much shut-eye as I'm still really uncomfortable, but some of these have helped a bit.
I'd love your tips. Have I missed any?
Pin these tips for later