Do you have a favourite family recipe, or a dish that always reminds you of a special memory or magical place? Is there a meal that takes you right back to your childhood, or a trip you've never forgotten?
Popular Australian wine brand Jacob's Creek has teamed up with global tennis champion and world number 1 Novak Djokovic to celebrate perfect pairings of food and wine and the special memories that food can evoke.
Novak has already started cooking and the foodie memory he describes here is beautiful:
Since Jacob's Creek got in touch, I've been giving careful thought to which recipes conjure up really special memories for me, and I found it really tough! Not because I couldn't think of anything, but rather because I find food so very evocative, it was hard to whittle the choices down.
But choose I must, so here's my selection of a starter, main and dessert, all delicious and all flavoured with the stories of the people, passions and places that make these dishes so special to me.
Starter: Bright pink roasted beetroot soup
In my 20s, I shared a house with a group of friends and we used to take it in turns to cook dinner. One housemate's speciality was classic borscht, a tart beetroot soup popular in Eastern Europe. Now, every time I eat it I'm transported back to those days in a slightly damp house in Yorkshire, surrounded by books and friendly laughs. Great times, when the worries of real adult life were yet to reach us.
However, the soup I've chosen as my started is not borscht, it's a much creamier, earthier beetroot soup. Why? Because fast forward a decade, and I've found that traditional red borscht is too tart for my husband and children's tastes, so I came up with this alternative, a stunningly vibrant beetroot and cauliflower soup in shocking pink that always creates a stir when it's served to the table. It's deliciously earthy and delicate in flavour, and wonderful to get the tastebuds going before the main comes through.
With 160 years of winemaking expertise, Jacob's Creek recommend you pair this dish with Jacob's Creek Classic Sauvignon Blanc, a fresh, slightly tart flavour to compliment the soups earthy tones. Lovely!
Main: 30-minute zingy spring pasta with chickpeas and capers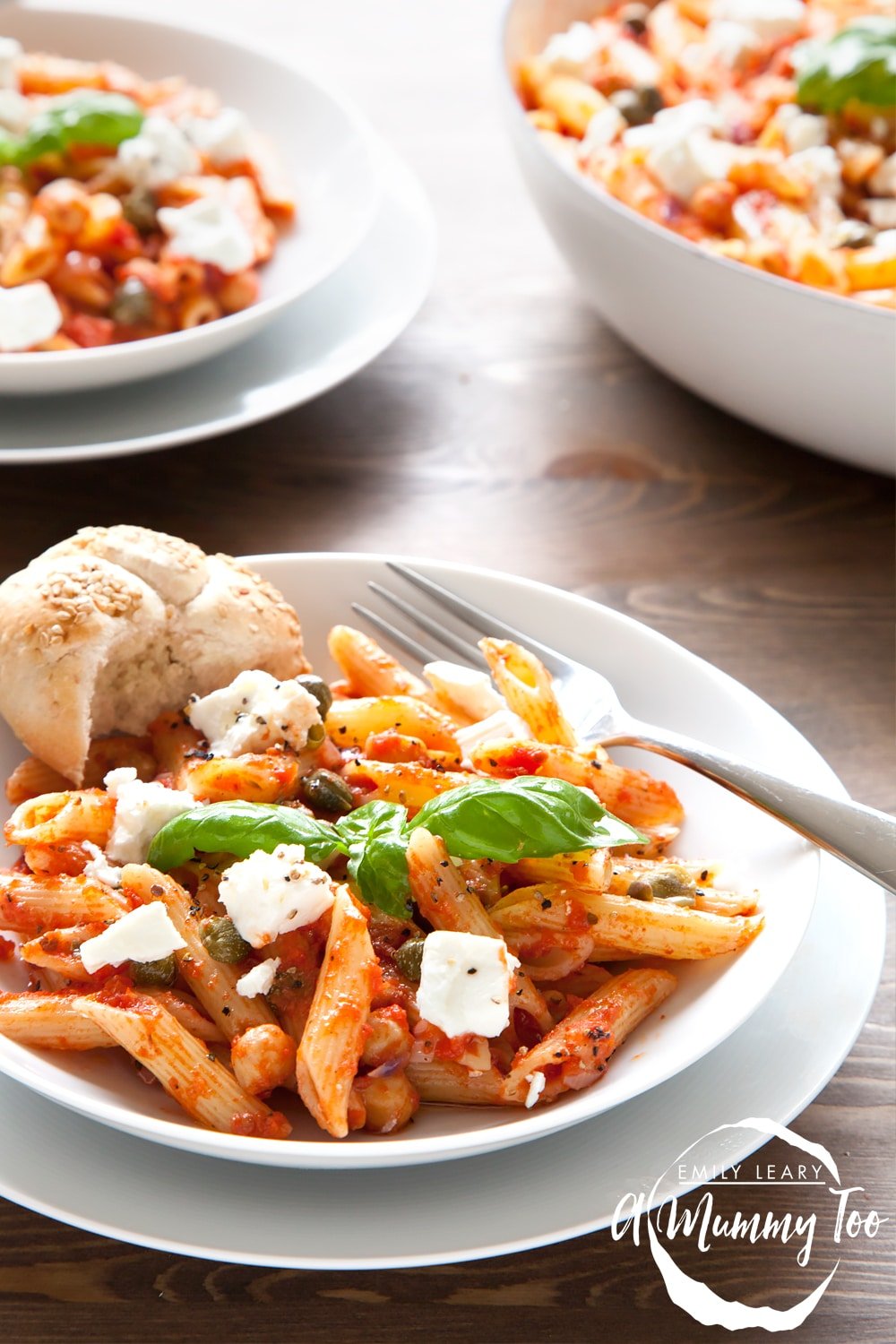 When I was in my early teens, my mum took on a part-time call centre job that involved unusual shift patterns, meaning she'd sometimes leave the house at 3pm and not be home until late. I already enjoyed cooking, so was happy to pitch in with my older brother and sister and help make the dinners.
After a few months of serving up the same old staples such as sausage, mash and veg or spaghetti bolognese, we dug recipes books off the shelves and started to experiment.
The pretty yet rustic pasta dish you see above came about as a result of one such experimental cooking session with my siblings, and features fresh-tasting tomatoes, protein-rich chickpeas and joyous little bursts of sharp capers, topped with creamy, salty feta. It's delicious – a real triumph we made time and time again.
20 years later, I make this dish for my own family year round, with the occasional variation, and it always takes me back to my childhood kitchen, and the camaraderie myself and my siblings were able to show each other (when we weren't screaming or chasing each other up the stairs with water pistols, of course!)
If you're trying this at home, you can continue pouring the Jacob's Creek Classic Sauvignon Blanc with this dish. The refreshing tones of passionfruit and grapefruit should pair beautifully.
Dessert: No-bake lemon curd and white chocolate cheesecake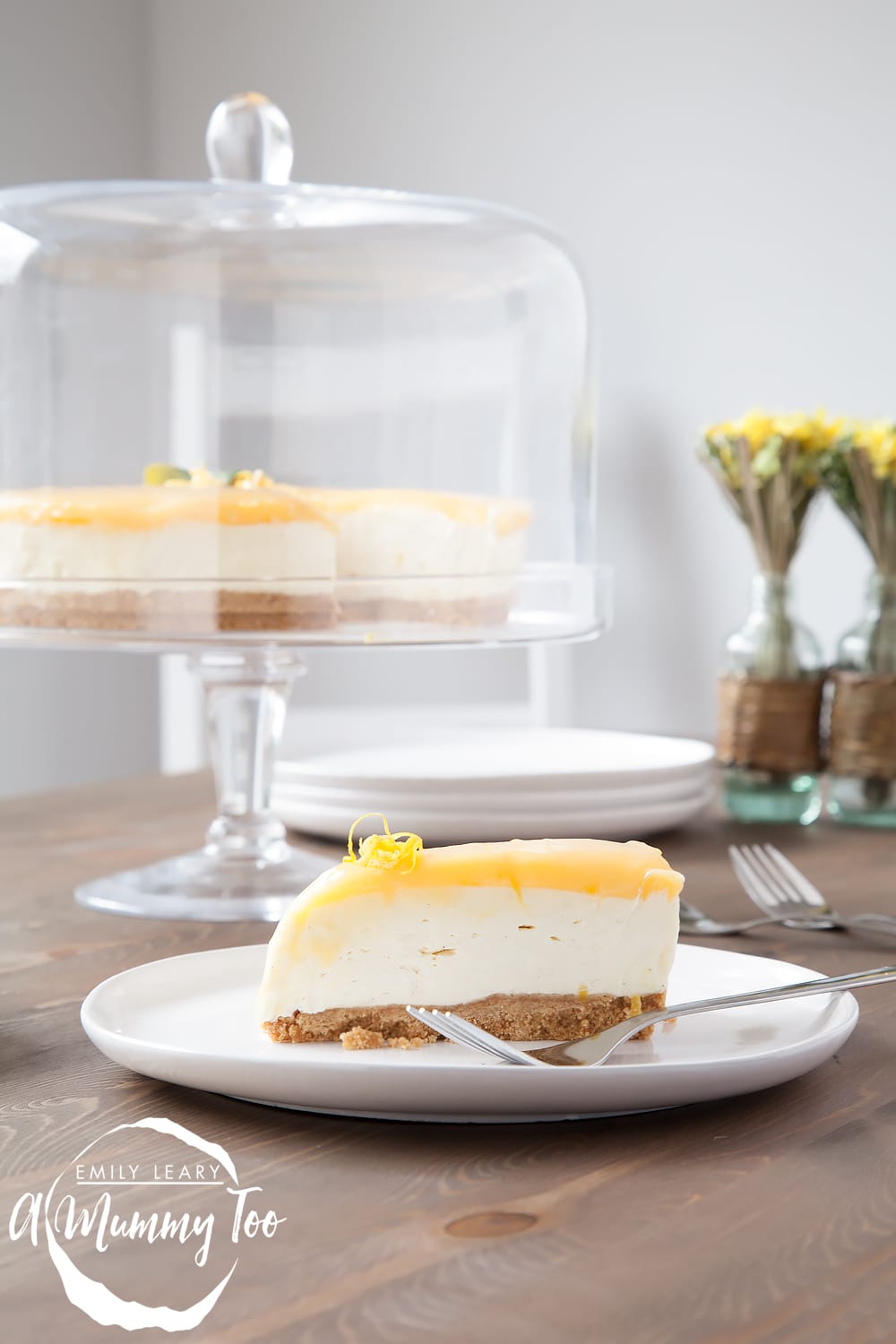 As a kid, my sister used to whip up awesome cheesecakes using cottage cheese and I think that's probably when my love of cheesecake began, but this particular cheesecake – a sweet, crunchy base of biscuit supports a generous layer of smooth, cool white chocolate cheesecake filling, topped with a thick glaze of tart, homemade lemon curd – is inspired by my first date with my husband. I know, I know, it's about to get soppy.
You see, we'd actually met for the very first meeting for an informal business meeting at our local coffee house. I'd walked in expecting to talk about marketing and design and quickly found myself blushing over my coffee cup because this man was about the most perfect person I'd ever met (and still is). So, that didn't really count as a date!
But over the next few days, we continued to chat, and he invited me out for dinner which I accepted while attempting to sound aloof. On the night, he ordered a dish featuring jalapeños (they give me hives) and I ordered a salad with stacks of mushrooms (he's allergic to them) – disaster!
But when it came to dessert, we were both torn between the lemon tart and the vanilla cheesecake. We ended up sharing half of each, the tart lemon and the creamy cheesecake pairing perfectly and that, you might say, is when love blossomed. Ok, maybe not quite, but we still bond over our love of lemon cheesecake to this day!
To enjoy this dessert with wine, try Jacob's Creek Sparkling Chardonnay Pinot Noir, which is nutty, fresh and suitably lemony. Delicious.
So that's my memory inspired menu, but the fun doesn't end there.
Jacob's Creek is organising an exclusive wine tasting and dinner event, hosted by Novak (winner of an incredible 12 grand slams, including last year's Wimbledon Championships) and celebrity chef Lisa Faulkner, at the All England Lawn Tennis Club on Thursday 23rd June, ahead of the Wimbledon Championships.
Expert chefs will be recreating my dishes, along with the memory-filled dishes of the other attendees, which will of course be perfectly paired with Jacob's Creek wines.
It promises to be a wonderful night. Follow the hashtag #JacobsCreek on the evening to follow all the action live.
This is a commissioned post for Jacob's Creek