I really do love tea – it's my go to drink come rain or shine. Whether I'm sitting at my desk or thousands of miles away from home, I'm hapiest with a mug of tea in my hand and, ideally, a great friend to share it with.
Twinings having just launched Superblends, a new range of teas that are not just super tasty but have been specially created to help you feel great. They're green teas and infusions that have been been expertly blended with botanicals, natural fruit flavours and added vitamins and minerals – they're fab.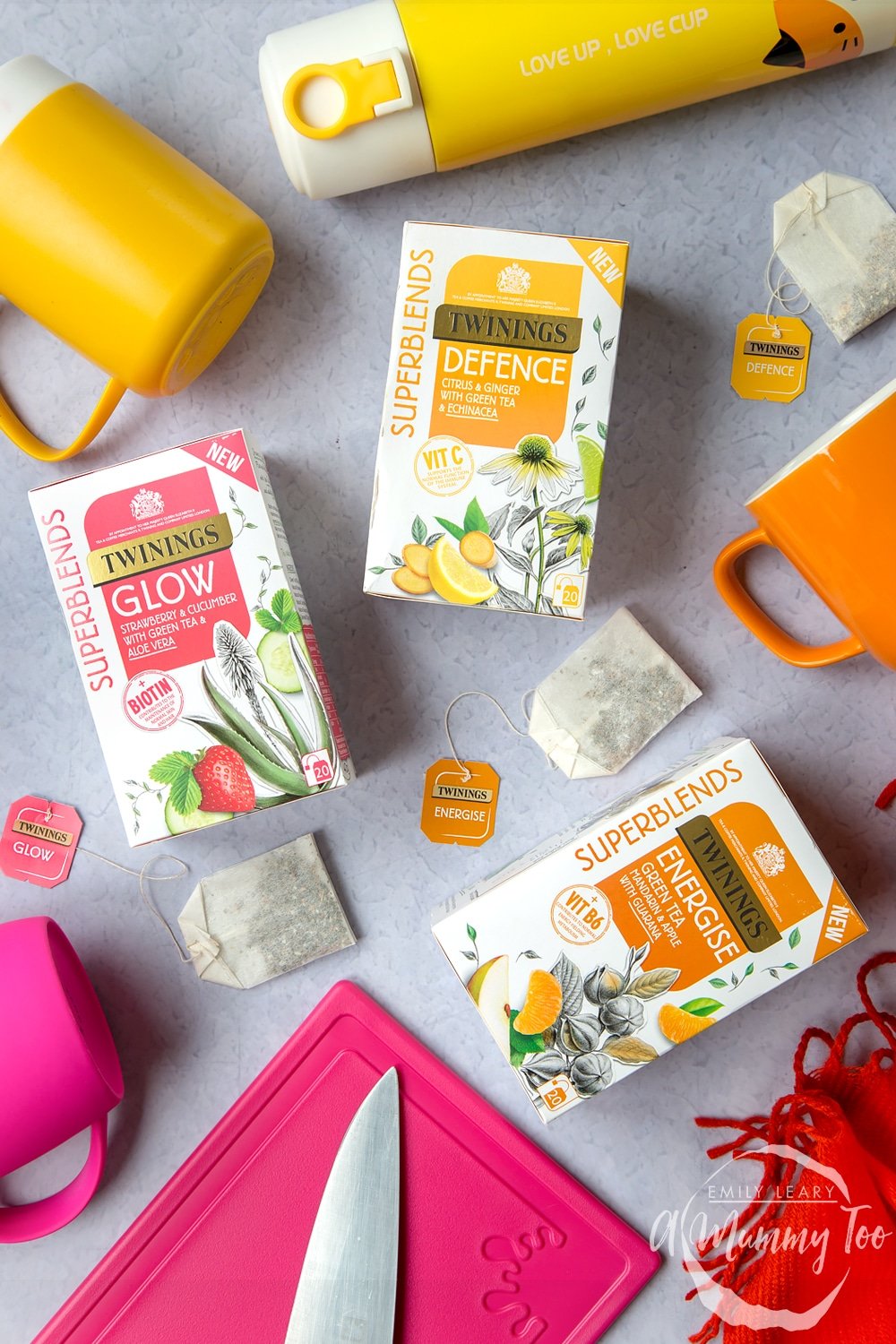 To celebrate the launch, Twinings asked me which three friends really spring to mind when I hear the phrase "Here For You", and then challenged me to get out and celebrate them in a series of interviews.
So, over the next few weeks, I'll be interviewing three different people in my life who continue to be here for me in different ways. They're wise, kind, affirming, inspiring friends who make up an important part of my life and who I'm so thankful for.
The Defence Superblend seemed the perfect accompaniment for my first chat with Becky, a close friend and professional life coach who always has my back and is always on hand to offer amazing advice. Here's the video!
Read on for the full interview and for lots of great tips.
I'm here today with my amazing friend Becky to talk about what a great friend she is. Becky always senses if I'm going through a tough time and has my back with positive words. So we're here today to talk about trolls, negativity, positivity and how kindness and fairness is always the best defence.
So Becky tell everybody a little bit about yourself.
I live near you, Emily, which is just fantastic, here in Nottingham. And I'm a blogger, I've got two young children who I absolutely adore so I get lots of time at home with them, and spend the rest of my time writing.
And you have a background in helping people who are going through a tough time.
I do. I worked as a social worker for a number of years for children with learning difficulties. And then I retrained as a psychotherapist, I worked as a bereavement counsellor for a little while and had my own private practice. And last year I retrained as a life coach, so lots of experience helping people.
And I think it just comes naturally to you, doesn't it? I think the first time we met I think we were maybe in a bar with other friends from the area. We were all sitting down and I think I ended up telling you my life story!
People do that on the bus too. They do!
When I was a little girl my grandma needed a lot of support. She lived in her own home but she was totally paralysed, so right from being very little or nursing home but she has turned it right from being very little our days were spent caring for other people so it became just part of what we did really.
And you always seem to know that the best thing to say when a friend is feeling a bit down. So what would you say, if you have a friend and they seem to be a bit down or are going through a tough time, what's a good way to help them?
I think firstly, is to really listen to them. Let them tell their story and listen to their feelings and let them know you've heard them. Because people want to be heard I think more than anything – that can be the most helpful thing if someone's interested and listening to your story.
And then help them work out what they want to do about it, or can or want to do anything about it. But definitely the first bit is listening.
I know we're both big defenders of fairness and when we stop people being unkind or a bit unfair then we tend to step it. So what I your strategies for defending people in a way that's positive and that's going to turn the situation around.
Well I think it's really important that you keep in mind that rather than attacking the person that's being unkind, you want to educate them. And I think that if you go from that perspective, then it's important to be polite to the person that perhaps you're challenging and that it's important to be respectful to them because you want the conversation to go that way.
You want them to come out of it feeling that you weren't attacking them but you were perhaps teaching them something and that they respect you too. So, yeah, I think channel respect towards that person.
But also I think it's very important that even if you know that you're not going to be very popular making this challenge that you do it anyway because if it's the right thing to do, it's the right thing to do.
If you think, "you know that's really out of order and you're hurting someone here", you've just got to be brave and step up and do it. But try and do it with politeness and respect so that you're modelling how you want them to behave back to you.
Yeah, I think absolutely! And if it's an issue that's been discussed, say, online that's quite general. So it's about how a certain group people do things, how mums do things, for every noisy voice like ours or the person with the differing opinions, there'll be lots of people just reading silently and maybe feeling attacked. So this sort of speaking for them as well, aren't you?
So, as bloggers, we've put ourselves out there for the world to judge a little bit. Have you experienced troll behaviour a little bit?
A little bit. Not a great deal, because I don't tend to blog about things that are very personal. I think when people blog about stuff that's personal they get more of that.
But occasionally. I've had a recipe criticised. And I blogged about some shoes and somebody wrote a very long comment about the factory the shoes were made in. And actually, although it was quite direct and I felt quite attacked, it was actually quite educational and in a way I was quite glad that they made that comment.
The rest not so much, but I did retry the recipe and they were right it didn't quite work, I'd written some of the amounts wrong! So it's not always justified, but it's the way it's done, isn' t it?
I did once however share a post on a new credit card – I write about budgeting – and I got absolutely slammed on Twitter by someone writing about credit card. Whereas actually I thought it a very ethical, good credit card. So we got into a bit of a debate. I didn't really enjoy that. It felt uncomfortable.
Yeah. I think it can be hard to defend yourself in a calm manner when people continue to be quite aggressive. How do you draw the line and think, okay the conversation isn't going in a way where I feel like I can turn it around so I'm going to calmly step away?
Yes, in the end I said, "I've really enjoy discussing this with you and I hope I've made my point. But I do have to go, I've got an appointment!" Which wasn't completely true but I felt I wasn't getting any further, and actually I had nothing left to say. So actually it was a good way out rather than, "aaaagh!", which is what I wanted to say. I kept my dignity!
Yeah! You make your point and you stand up for fairness and reason but ultimately it's not about winning.
No. Or going on and on and on because something you can't convince the other person that you're right. But it's just important they've heard you, perhaps, and you've heard them, I think. So yeah, I told a little fib!
And if someone is facing bullying, maybe at school or at work or online and they're not sure what to do about it, what would be the best steps they can take to defend themselves?
Well the first step would absolutely be to find someone they trust and tell them.
They believe that 80% of all bullying that's reported actually stops.
Incredible!
Yeah, incredible – a huge amount. But often people don't say about bullying because they don't want to get somebody else in trouble, they're a bit embarrassed that it's happened to them, they feel self-conscious and they don't want to cause a scene. However, if they don't tell, there's an 80% it won't stop, so the odds are really in your favor that this unpleasant behaviour will stop. So that would be my first step.
And then my second step would be, is that person cannot and does not help you, you tell someone else. You get their help, because you're important and you're worth it and if you saw a friend in that position, you'd want to help, right?
So you need to treat yourself like you would a good friend and be there for yourself, would be there yourself. That's really important.
When people are having difficult conversations, I tend to notice that they sort of mix up defending their points with defending themselves and that seems to be when personal insults and things can come in.
So what's a good way to pull the conversation back to the issues rather than allowing it to get personal?
That's a big question, isn't it! You see it happen all the time – people get really hurt and upset and feel that they're being attacked personally.
I think if you're the person doing the challenging, perhaps don't use that person's name, speak in general terms. Talk about how it makes other people feel – rather than saying, "You did this.." say, "This can make people feel such and such". So be more general thing you did there you know make people feel such that be more generally your speech too so that they don't individualize it.
If it's you defending your point, I think it's really important to focus on the issue in hand and realise you're not being attacked, your point is being attacked, or your article, or what you presented is what people are challenging.
And be open minded and be prepared to perhaps change your own views because we aren't always right. I think people really struggle with that. We like to think we are always right and we're not so sometimes it can be really educational to listen to other people. So I think, keep an open mind.
Yeah absolutely. And I find another good defence is time. So if you're particularly upset by a comment, the wonderful thing about social media is that you can take your time to reply. There's no real clock ticking. So, I like to step away and think, well that wasn't the kindest choice of words, but I shall take a moment and make myself a cup of tea and come back with a kind, measured response instead of, "HOW DARE YOU?"
I think that's an excellent point. I also think if you write something, perhaps read it over before you send it. Not just for your typos, but to check the emotion level that's in what you've written.
Because in most communication is body language and tone – of course you don't have that on line, so your words are absolutely critical, aren't they?
So rereading what you've written I think can really help.
Yeah and I think when you're trying to communicate and you're passionate about something, it can be quite tempting to put a lot of emotive language in but that can distract from what you're trying to communicate.
So, for example, when writing to the school for my son, I cut out all the emotional language and just try to focus on the facts, and what we were concerned about. And I think it makes a big difference because then you get heard rather than being hidden by emotions.
Absolutely. And if you can also suggest a way forward, people then feel that you do want to work with them, you're not just attacking them. So if you say, "perhaps we could meet and discuss this", or "can you think of a way we could move forward?" or make a suggestion with that, that can also help, I think – being positive and proactive rather than totally negative.
Yeah and I love that because when you hear defence, you might think of shields and fighting and negativity but actually it's a really positive thing. Defence is about turning things around and making them better. Absolutely, I think love's the best defence, Emily
Cheers!
---
A huge thanks to Becky for her words of wisdom, and do check out the full Superblends range for more fantastic flavours.
Is there anyone who has been #HereForYou recently? Let me know in the comments section who you appreciate.
This is a commissioned post for Twinings.