This is our bedroom. It's our dream space, a monochrome haven and our first interiors project of 2015.
We began planning last year, and settled on a theme of black, white and grey.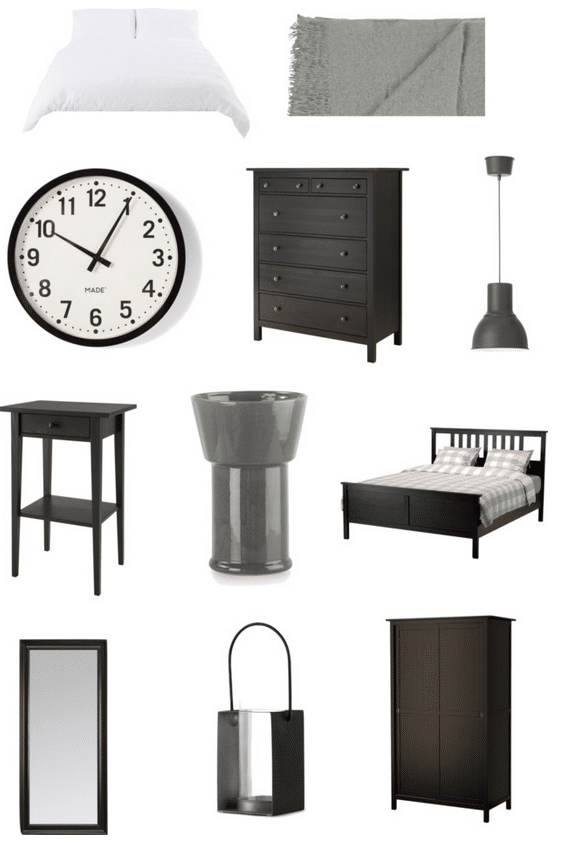 We strayed little from that concept in our finished master bedroom.
The walls are brilliant white and the main pieces of furniture (wardrobe, chest of drawers, bed and side tables) are from IKEA's HEMNES range. They are made from solid wood with a silky feel and are stained almost black, with a rich brown grain that comes through in bright light.
The IKEA Stave Mirror reflects light back into the room, and makes the relatively small space feel more open.
The Happiness Wall Art from The Range, propped up against the chimney wall is a reminder to love our home and love each other, everyday.
The Mabelle King 100% Cotton Quilt and Pillow Cases are from MADE.com. They have textured seersucker stripes on one side and are blank underneath. Crisp and clean, smooth and fresh.
Inside, the quilt, pillows and mattress protector are part of an All Seasons Set from the Wool Room, made from 100% British wool. The quilt consists of two duvets ( one 200gsm and 300gsm) connected together with poppers, so once the weather begins to improve, we can remove one layer for the Summer.
We've noticed that the temperature control on this set is amazing - according to the manufacturers, the wool fibres absorb perspiration at night and release it naturally during the day, so you feel warm but not clammy and the bedding stays fresh. It's also Allergy UK Seal of Approval stamped and so far, we're both sleeping better than ever before.
For the finishing touches, we chose light blocking IKEA Merete Curtains in Grey, while a busily detailed London Map Canvas from Dunelm breaks up the block shades. The 1960s look of the Goodman's Oxford radio in White works perfectly in this room.
The Heart of House Henley Touch Table Lamps in Matte Greyfrom Argos were a real find, blending into the style of the room effortlessly, while the Wicker Heart from The Range brings a touch of femininity to my side of the bed.
IKEA Rotera Tea Light Lanterns in Black and an Ivory Rose Garland from The Range lend warmth while staying true to the monochrome theme.
A set of Nouveau Collection French Script Hat Boxes from Dunelm offer a little extra storage.
The Bardot Faux Mohair Throw in Elephant Grey and Tubby Rectangular Scatter Cushion in Soft Grey are from MADE.com and add elegance and comfort to the room.
This is my favourite home interiors project yet. I adore it. What do you think?
The Dunelm and Wool Room items shown were provided for review, the rest are personal purchases.