Recently, we made our way into Nottingham city centre as a family and had lunch at Nandos in the Cornerhouse just off the main High Street.
I have to confess, prior to visiting, I had a notion of what Nandos was and that imagined Nandos wasn't entirely positive. I was expecting very low quality food, unhealthy, probably quite dry and under spiced food, with an oppressive atmosphere and a small, perhaps non-existent number of vegetarian choices. I was completely wrong.

What we actually discovered is that Nandos is pretty darn good. The restaurant we visited had a lovely atmosphere, the staff were friendly, the choice of vegetarian dishes was very good, the calorie and nutrition information was easily accessible online, and the kids are very well catered for.
It was a lovely day, so we ate outside - the only downside being the pigeons!
So let's get down to the detail...
The kids chose a plain chickenburger each, which was succulent, came with a generous portion of salad and came in a fresh, tasty bread bun - both kids seemed to enjoy it.
It's worth noting that you can't order totally un-spiced mains at Nandos, so if you or your kids really hate spice, it's not the place to go. If they have slightly more adventurous tastebuds, though, they'll probably still want to start with the least spicy option: plain-ish, which is pretty mild.
Both kids opted for chips and garlic bread as part of the kids meal deal (£5.50).
The children were particularly keen on the garlic bread, which was well grilled and lightly salted. They also got a frozen yoghurt tub each included in the meal deal price, drinks were an extra £1.50 each.
I opted for a Plain-ish Veggie Pitta and mixed salad (£7.05), with a juicy slice of pineapple (55p) and a 'bottomless' Diet Coke (£2.45). My meal came in at under 450kcals, which is pretty impressive for a fast food meal.
My burger was a lovely blend of soya protein, vegetables and spice which went down really really well and needed no additional sauce.
Mark opted for the Double Chicken Breast Fillet Burger with Extra Hot sauce (there was LOADS of it) and chips (£10.60) and a 'bottomless' Coke (£2.45). The adult chip portions are really generous.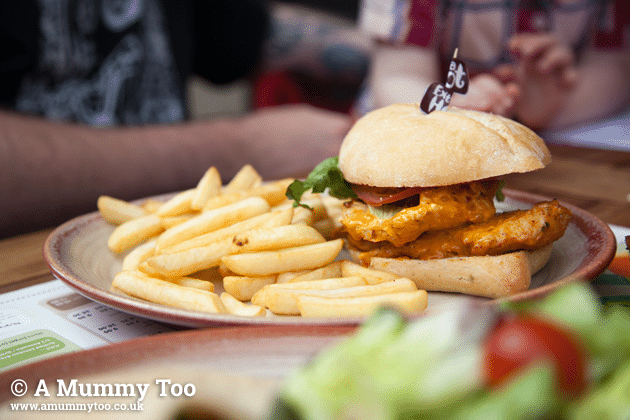 The whole meal came in at under £40 and was thoroughly enjoyed by the whole family. We'd definitely go back again.
We were given meal vouchers for review