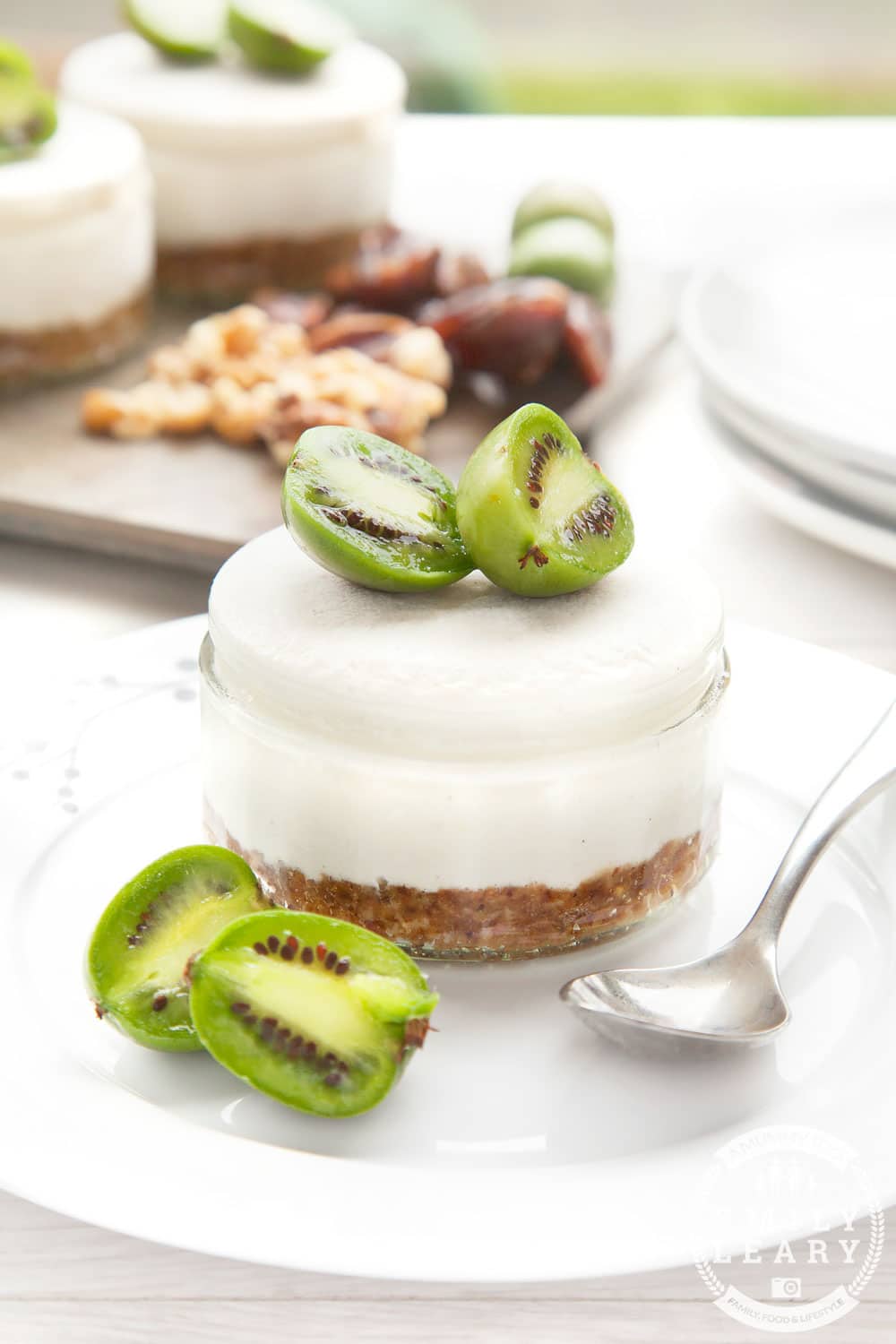 This is the most delicious cheesecake I've had in sometime. It's creamy, light, sweet and more-ish, and completely free from dairy, gluten and refined sugar. Amazing, eh?
The base is a decadent mix of dates and walnuts, the filling is a creamy blend of cashews and coconut cream sweetened with vanilla and maple syrup, and each cheesecake is topped with a gorgeous little kiwi berries.
Kiwi berries (also colloquially known as "baby kiwis" because of their appearance) are in fact a type of berry fruit cultivated in France, Portugal, Italy and the Netherlands. They're naturally rich in Vitamin C and E and have a naturally sweet taste with a slightly acidic tang, which makes them the perfect topping for this delicate cheesecake.
They can be eaten straight away, no peeling required, so they're also great to pop in lunch boxes, or even carry in your handbag to eat on the go.
Fancy making this deliciously creamy, indulgent cheesecake? Here's how…
Print
Kiwiberry cheesecakes (raw, vegan, dairy-free, gluten-free, refined sugar-free, paleo)
Yield 4
Creamy, light, sweet and more-ish cheesecake made with coconut cream, cashews, dates, walnuts and kiwi berries.
Ingredients
For the base:
85g (3 oz) pitted dates
85g (3 oz) walnuts
For the filling:
320ml (11 fl oz) coconut cream
200g (7 oz) cashews, soaked overnight and drained
2-3 tablespoons maple syrup
Seeds of a vanilla pod (or 1tsp vanilla paste)
For the topping:
Instructions
Make the bases:
Blitz the walnuts and dates together in a food processor until you have a coarse crumb.
Divide the mix evenly between four ramekins and press down with the back of a spoon to create flat bases.
Make the filing:
Rinse and dry your food processor bowl, then add the cashews and blitz until as smooth as possible.
Add the other filling ingredients and blitz again.
Transfer the filling to a bowl and beat with an electric whisk for a few minutes to make the mixture nice and light.
Pour the mix into your four ramekins, right to the top.
Place in the fridge until firm - you can leave them overnight if you like, just take them out 30 minutes before you serve.
To finish:
Slice the kiwi berries in half and place on top of each cheesecake. Serving with an extra berry on the side.
Let me know if you try it.