After last week's #recipeoftheweek roundup this week is dedicated to quick, simple meals that strike a great balance between veg and other tasty ingredients. From lo mein to chilli and everything in between it's all about celebrating the amazing flavours that can had from the humblest of veg.
This is THE place to link up your recipe posts for lots of tweet, comment and Pinterest love. At the bottom of this post is the latest #recipeoftheweek 'linky' – use it to add any recipe posts you would like to share.
Remember, to enter #recipeoftheweek, your posts don't have to follow a particular theme – absolutely all recipes are welcome every single week :)
But first, here are my selections from last week's entries.
Gluten-Free Vegetable Lo Mein
Strength and Sunshine's simple and fast lo mein can be packed with as much veg as you want to give it.
Tuna melt paella
Blogger by the Sea's paella has sweetcorn, tomatoes, mushrooms and more combined with silky smooth paella.
Gnocchi Breakfast Scramble
Gnocchi for breakfast? Absolutely! Fresh Menu Planner's yam gnocchi comes with a fantastic combination of veg including mushrooms, kale, and zucchini.
Bean, Mushroom & Cheese Cakes
Everyday Healthy Recipes' bean and mushroom cakes are seasoned fantasticly, cooked beautifully and taste yummy.
Stir Fry with Mustard and Red Chillies
Curry and Vanilla's asparagus stir fry is healthy, tasty and with a great mustard and red chilli kick.
Shepherd's Pie with Roasted Garlic Mashed Potatoes
If you've never had garlic mash before then treat yourself to Jo's Kitchen Larder's shepherd's pie, which comes with plenty of carrots, celery, onion and broccoli too.
Chicken and Butternut Squash Chili
There's plenty of tender butternut squash and pinto beans in Put On Your Cake Pants' perfectly spiced chilli.
Chicken Tortilla Soup
Making a House a Home's soup is a mix of fresh flavours and in a tasty tomato sauce.
Now, on to #recipeoftheweek…
Got a recipe to share? Join in with #recipeoftheweek!
RECIPE OF THE WEEK IS FOR EVERYONE – there is no theme, just join in.
You can add any of your recent recipe posts to #recipeoftheweek. Here's all the info you'll need:
Link up any of your recipe posts using the linky below – click the blue button that says 'Add your link'. All recipes are welcome, old or new. There is no theme, just please don't re-add posts you've added before
Add the "Recipe of the Week" badge to your post so that readers can find other great recipes (the code is at the bottom of this post)
Join me in taking time to read, comment, Stumble and/or Pin some of the other entries, if you like them. I read, tweet & pin everyone's and discover amazing new recipes along the way
Come back next Monday and we'll do it all over again
I also pick my favourite entries to showcase the following week.
Enjoy!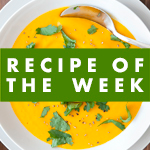 [html]
<div align="center"><a href="https://www.amummytoo.co.uk/packed-with-veg-recipeoftheweek-2-8-apr"><img class="alignnone" src="https://www.amummytoo.co.uk/wp-content/uploads/2013/01/recipe-of-the-week.png" alt="Link up your recipe of the week" width="150" height="150" /></a></div>
[/html]