This is a truly yummy recipe for Ploughman's pasties. It's light enough to enjoy on hot summer days but filling enough to have as a main meal.
Ploughman's pasties - veggie or meat recipe
This is a truly yummy recipe for Ploughman's pasties. It's light enough to enjoy on hot summer days but filling enough to have as a main meal.
Ingredients
250

g

9 oz silverskin pickled onions

1/4

tsp

cumin powder

15

g

butter

1

tbsp

olive oil

200

g

7 oz mature cheddar cheese

(vegetarian if required)

100

g

3.5 oz onion chutney

150

g

5.5 oz ham or veggie ham, sliced

10

g

fresh parsley

2

Shortcrust ready rolled sheets

1

large free range egg

1

tsp

cracked black pepper

400

g

14 oz frozen potato wedges

Salt and pepper
Instructions
Cook the wedges according to the pack instructions.

When cool, cut into thirds and set aside.

Chop the onions in half - or quarters if large.

Warm the oil and butter in a pan and gently fry the onions with the cumin until soft and browning.

In a clean bowl, grate the cheese and stir in the chutney, parsley, onions, cooled wedges and a little salt and pepper.

Unroll the pastry and using an upturned cereal bowl, cut out eight circles.

Put a generous spoonful of mixture in the center of each of the circles then pinch together at the top to form pasties.

Place on a large baking tray, brush with egg and sprinkle with the cracked black pepper.

Cook in the oven at 220C/430F (200C/390F fan) for 30 minutes until golden.

Serve with more wedges, salad or whatever takes your fancy.
* Note: nutritional information is estimated, based on publicly available data. Nutrient values may vary from those published. Information on this website should not be taken as medical advice. Cuisines identify the primary region of inspiration for a dish.
Tried this recipe?
Snap a pic and tag @amummytoo on Instagram, Twitter or Facebook. I can't wait to see your posts!
Recipe adapted from one provided by McCain
More perfect pies and pastries recipes to try
Cheesy leek and potato pie
This is a gorgeous potato, leek and cheese pie with a flaky pastry top. It's quick to make, ultra comforting, and the cheese sauce is extra tasty and simple thanks to melty, tasty Primula Cheese.
Get the recipe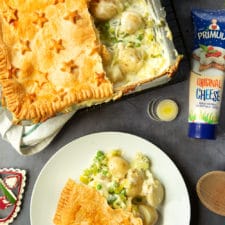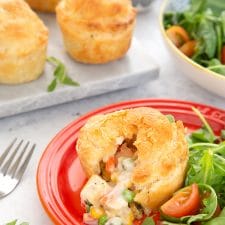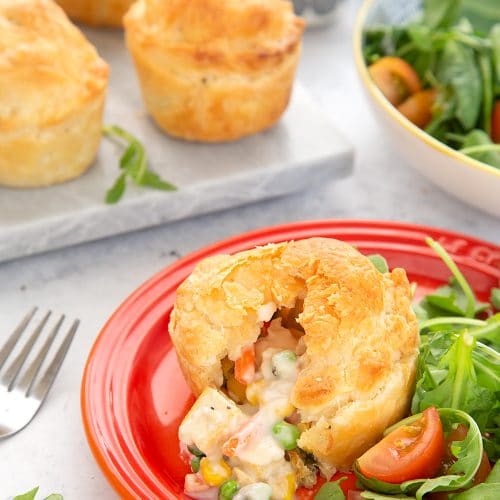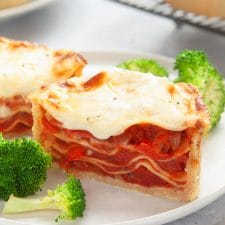 Spinach and mushroom pot pie
The mushrooms are bathing in a garlic, thyme and white wine sauce topped with puff pastry, and there's a layer of spinach just beneath the crust. This is one flavour-packed pie and it looks great when served at the table.
Get the recipe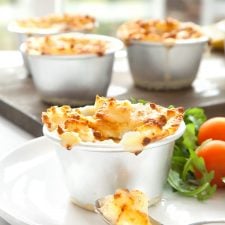 Get Your Kids to Eat Anything
My debut cookbook, Get Your Kids To Eat Anything is available now from all good bookshops!
It's so much more than a cookbook, it's a 5-Phase programme designed to take you through a meaningful, simple and sustainable journey to end fussy eating.


Since its release in March 2019, Get Your Kids To Eat Anything has been changing mealtimes in households across the country and has become an Amazon #1 best-seller.