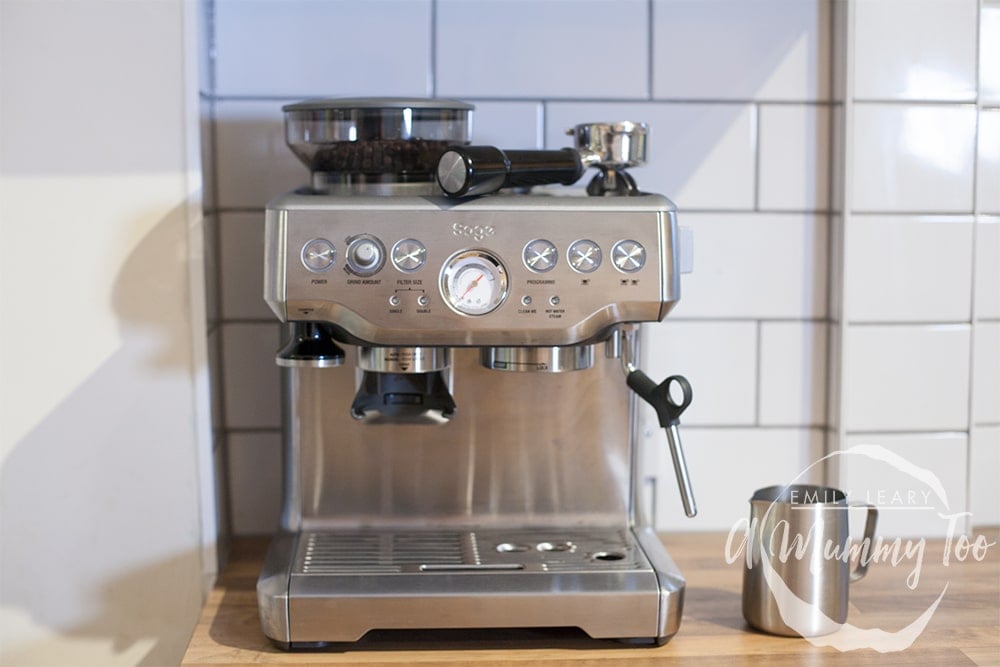 Thinking of buying a Sage coffee machine?
Mark, my husband, adores coffee. While he'll happily make a cup of filter coffee at home, his real love is lattes, a decadent mixture of espresso and steamed milk.
Mark is such a fan, in fact, that it's not unusual to see him dash out from our home office at lunch to the local café to buy one.
But not anymore, because at Christmas I presented him with the Sage by Heston Blumenthal Barista Express Coffee Machine and Grinder, bringing café quality lattes into our home any time we want.
While a latte is only two ingredients, its preparation methods are specific. To get that crucially velvety milk isn't just a case of heating, you need to texture the milk with pressurised steam. And for the perfect espresso, you need freshly ground beans, and a machine that pushes water through the coffee grinds at exactly the right temperature and pressure. And that's what the Barista Express promises to do.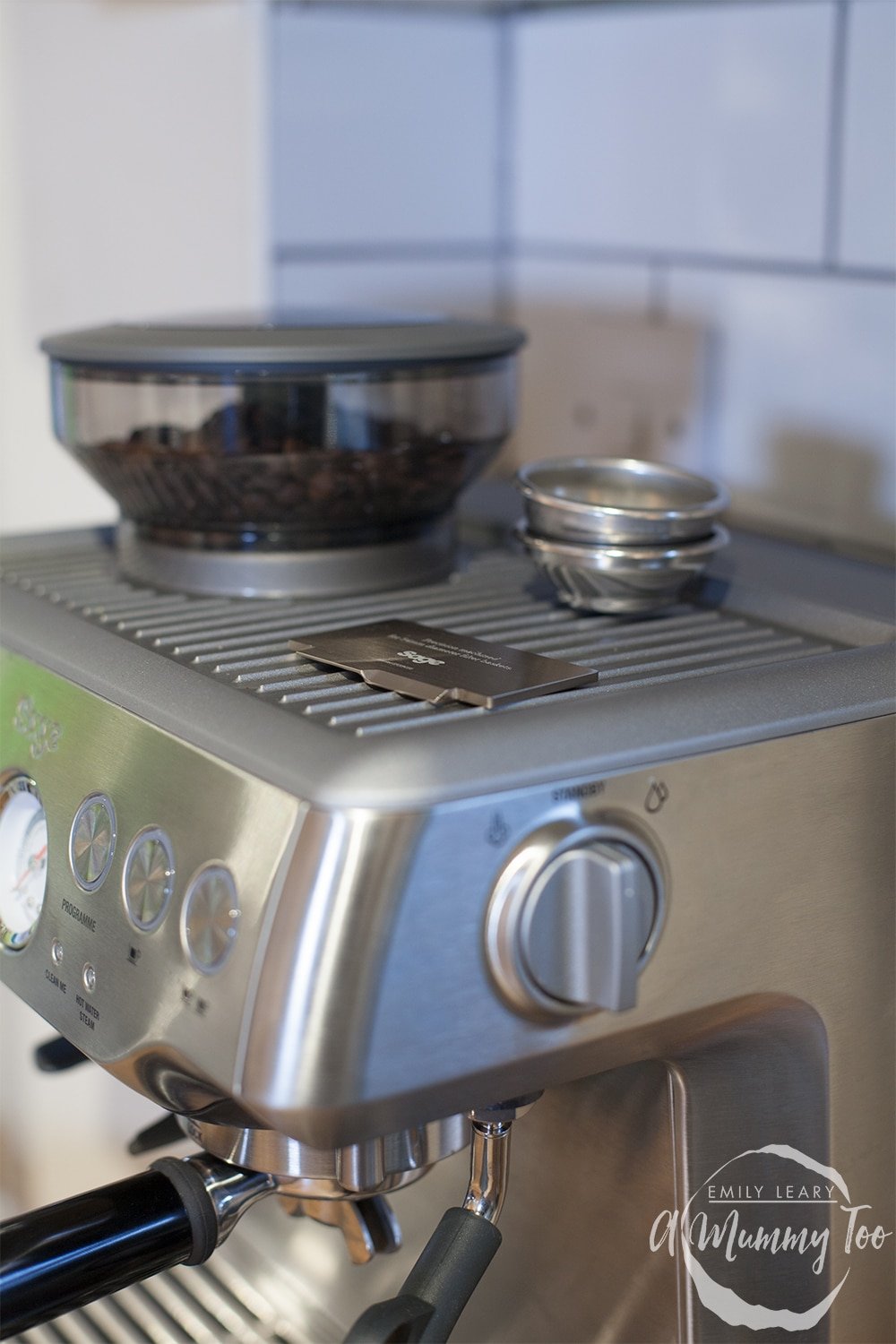 The Barista Express is a beautifully constructed, heavy machine with an almost entirely metal construction that wouldn't look at all out of place in a professional restaurant.
I've tested Sage products in the past and the quality has always been impeccable. Would the Barista Express live up to such high expectations?
The coffee beans
Whatever kind of coffee you like, it's best to buy the beans in small amounts as the oils in the beans breaks down quickly once the bag in opened. Sunlight, heat and moisture are all enemies of roasted coffee beans, so find somewhere cool, dry and dark to store them and try to use them up within two weeks.
Once you fill the grinder with the beans, you replace the sealed lid. This is a good feature as the machine only grinds what you need as you need it, while the beans that are not yet ground are kept fresher than they would be if left exposed to the air.
The perfect espresso shot
It doesn't matter if you prefer a latte, cappuccino or Americano, there's always a shot of espresso (or two) at the heart of it.
On using the Barista Express for the first time, the next job was to fill the water tank. It fills under the tap and slots easily into place at the back of the machine. It's a good capacity so we've found it only needs refilling once a day.
Next, it was time to grind. There are 18 grind settings, so we started at the recommended number five for our first grind. Adjusting the grind size will change how quickly the water can flow through the coffee, which will affect the taste.
We pushed the filter into place and pressed the button for a single shot. A few noisy seconds later, ground coffee was neatly deposited into the filter, which we then tamped down with the supplied tool. You can either press up against the tamper to compress, or remove the tamper from it's magnetised slot and use it to press down on the coffee, which is the method I prefer.
Next, we locked the filter into the group head (the bit where the water comes out) and place a pre-warmed cup under the spout. This all looks and feels pretty much exactly like you see in the coffee shops so it's seriously good fun.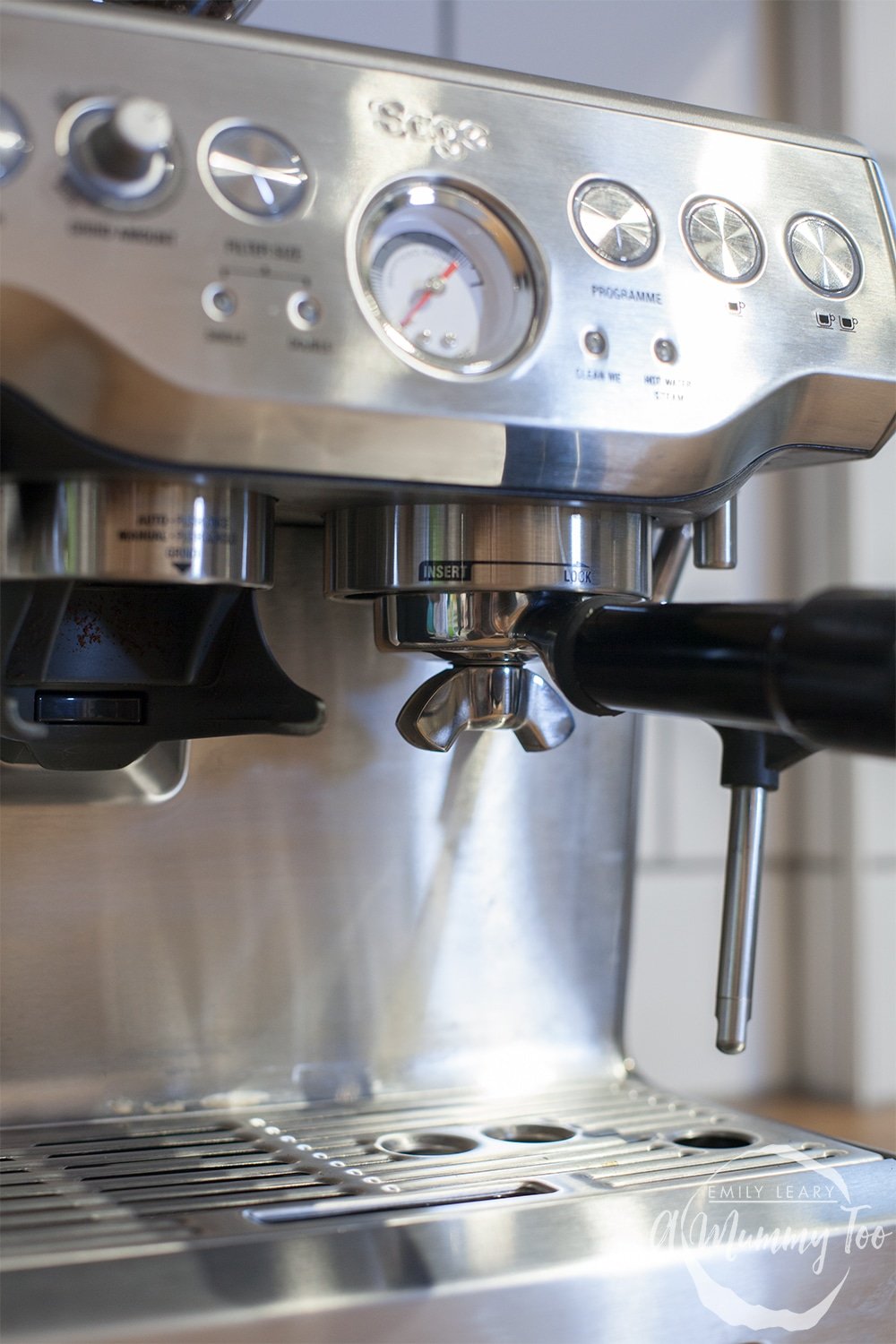 Our first attempt came out a bit too watery and without much crema (the creamy, dark brown foam you get on top of espressos). We weren't disheartened, though. As any barista will tell you, creating the perfect shot of espresso isn't easy, and we expected it would take a few tries to get it right.
Thankfully the manual that comes with the machine is very in-depth and covers every eventuality and its solution. Reading through the manual, we discovered we weren't tamping down the coffee with enough pressure, so the second cup got a much firmer press, and the espresso came out much better.
After a handful of entirely drinkable but not quite perfect trial runs with different grind settings and tamping pressure, we got our first truly excellent espresso.
We repeated everything on the same settings and the next espresso was exactly the same as the last. We'd nailed it!
The automatic dosing means you get the same volume of consistently ground coffee into your filter with one-touch, so once you find the perfect formula for how you like your coffee, you'll get the exact same result every time.
Now that we had the espresso down, it was time to tackle the next stage...getting that velvety steamed milk.
The art of steaming milk
Having tried making foamed milk with electric whisks in the past with generally disappointing results, we had high hopes for the steam wand.
I won't go into the finer details of steaming milk, but suffice to say in the five minutes we spent reading and rereading the manual I certainly added to my vocabulary (microfoam, texturing, stretching...)
I was a little daunting the first time we used it, what with a the last of scalding hot steam, but the wand is actually brilliantly designed so that it swivels around, meaning you never have to point it anywhere dangerous. It's also quick to turn on and off.
The only downside is the noise - if you've watched a Barista steam milk in a café, you already know the sound. It's not ear splitting, but you'll want to close the kitchen door if you have little ones asleep upstairs.
Tentatively steaming whole milk in the supplied metal jug, I'm pleased to say our first attempt came out almost perfectly, and after 10 minutes practice think we can steam milk with the best of them. Our preferred method is to keep the wand high in the milk to create foam, then plunge it deeper into the milk to heat it through while distributing the air bubbles to give gorgeously velvety milk with a perfect foam on top.
While we practicing, the kids benefited from plenty of babyccinos with a dusting of hot chocolate. They were thrilled and have been asking for them daily ever since - a perfect way to use up any spare steamed milk if we make a little too much.
Creating a luxurious latte
All in all it took about an hour of set up, reading and experimenting to get to the stage where were happy with both the espresso and the milk so it was time to put them together.
I don't know why, but I was convinced I would be an instant master at creating coffee art, so Mark stood back as I carefully poured the milk on top of the espresso shot and created...a blob. It turns out I'm not a natural born coffee artist. Mark was marginally better at it than me straight off, and quickly improved, starting to create pretty patterns within a few days - show off.
But what of the resulting latte? It's all in the drinking, after all!
Our lattes were and are exactly as good as we'd hoped for, every time. They're every bit as good as our local café, which to my mind is no easy feat.
As it was around the Christmas period I also had plenty of family over who were more than willing to test the Barista Express, and everything from double espressos to Americanos came back with rave reviews. My mum was practically ready to move in!
Final verdict
The Barista Express is a solid machine that really does make a café quality coffee. While at around £550 it may sound too pricey to consider, it really depends on how much you love your coffee and how much you drink.
Our local café charges £2.70 per latte. Now if we buy just one a day, that's £985 a year. So really, you could easily end up saving money in well under a year with the Barista Express, even with milk/coffee bean costs taken into account.
It's hard to fault the machine once you work out how to make what you like, and with a two year guarantee I think it it would be a welcome addition in any coffee aficionado's home or small office.
We were sent the Barista Express for review. All opinions are my own.
Get Your Kids to Eat Anything
My debut cookbook, Get Your Kids To Eat Anything is available now from all good bookshops!