Can you tell what's different? – me
Whoop! It's time for #recipeoftheweek once again. This is THE place to link up your recipe posts for lots of tweet, comment and Pinterest love.
At the bottom of this post is the latest #recipeoftheweek 'linky' – use it to add any recipe posts you would like to share. They don't have to follow a particular theme – absolutely all recipes are welcome :)
But before we get to the linky…I am a vegetarian, as most of you know, and I often eat vegan meals. The kids and Mark are omnivores, but we enjoy a lot of meat-free meals together, so my picks this week show how beautiful vegan food can be.
First up, Sweet Potato and Chickpea Curry with Lemongrass by In The Playroom. Anna has used oat milk in this beautiful, dairy- and meat-free dish.
Next, this Grilled Vegan Margherita Pizza by Strength and Sunshine is made with cashew nut 'cheese' on a brown tortilla base. Looks heavenly.
And finally, this Mole Bowl from Plants and Pages is vegan and gluten free.
Got a recipe to share? Link up with #recipeoftheweek!
Link up any of your recipe posts using the linky below. All recipes are welcome, old or new, no theme, just please don't re-add posts you've added before
Add the "Recipe of the Week" badge to your post so that readers can find other great recipes
Join me in taking time to read, comment, Stumble and/or Pin some of the other entries, if you like them. I read, tweet & pin everyone's and discover amazing new recipes along the way
Come back next Saturday and we'll do it all over again
I also pick my favourite entries to showcase the following week in the same way as you can see above.
Enjoy!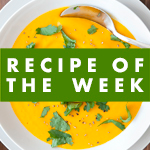 [html]<div align="center"><a href="https://www.amummytoo.co.uk/2014/08/recipeoftheweek-16-22-august" target="_blank"><img src="https://www.amummytoo.co.uk/wp-content/uploads/2013/01/recipe-of-the-week.png" alt="Link up your recipe of the week" width="150" height="150" /></a></div>[/html]