If we eat in the garden, the ants might get us! – Miss J, 2
Whoop! It's time for #recipeoftheweek once again. This is THE place to link up your recipe posts for lots of tweet, comment and Pinterest love.
At the bottom of this post is the latest #recipeoftheweek 'linky' – use it to add any recipe posts you would like to share. They don't have to follow a particular theme – absolutely all recipes are welcome :)
But first, I've been scouring through the 51 fantastic recipe posts submitted last week and here are my top three, chosen this time because they're all perfect for the incredible summer we're about to have in the UK. All sun, cool breezes and no grey skies. Right? Riiight?
First up, Fennel Salad by The Good Life Mum. With pomegranate, sumac and lemon, this side dish just screams sunshine and freshness.
Next, Mixed Berry and Spinach Ice Lollies by Mum in the Madhouse. I've been making a lot of hidden greens smoothies for myself and the kids lately, so I'm sure these lollies will be a winner with my brood.
And finally, Sour Cherry Soup by Bark Time. Apparently, it's commonly served chilled in the summer heat in Hungary. I'd love to try it on a day like this.
Got a recipe to share? Link up with #recipeoftheweek!
Link up any of your recipe posts using the linky below. All recipes are welcome, old or new, no theme, just please don't re-add posts you've added before
Add the "Recipe of the Week" badge to your post so that readers can find other great recipes
Join me in taking time to read, comment, Stumble and/or Pin some of the other entries, if you like them. I read, tweet & pin everyone's and discover amazing new recipes along the way
Come back next Saturday and we'll do it all over again
I also pick my favourite entries to showcase the following week in the same way as you can see above.
Enjoy!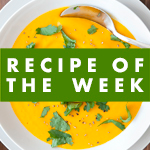 [html]<div align="center"><a href="https://www.amummytoo.co.uk/2014/07/recipeoftheweek-19-25-july-2" target="_blank"><img src="https://www.amummytoo.co.uk/wp-content/uploads/2013/01/recipe-of-the-week.png" alt="Link up your recipe of the week" width="150" height="150" /></a></div>
[/html]