Do I smell of garlic? – me
Whoop! It's time for #recipeoftheweek once again. This is THE place to link up your recipe posts for lots of tweet, comment and Pinterest love.
At the bottom of this post is the latest #recipeoftheweek 'linky' – use it to add any recipe posts you would like to share. They don't have to follow a particular theme – absolutely all recipes are welcome :)
But first, I've been researching aphrodisiac ingredients recently, for reasons I can't yet share *giggles* No, not that! Anyway, garlic is thought to be an aphrodisiac because it improves blood circulation – I'll leave the logic behind that to you.
So, with garlic on my mind (and my breath) I've been scouring through the fantastic recipe posts submitted last week and here are my top three…
First up, Spaghetti alla Vongole by Flavour for Baby. Clams, white wine, garlic, parseley, olive oil and good quality pasta make up this stunning dish.
Next, Speltberry Salad with Apricot Chili Dressing by Let's Get Living. Spelberries, bell peppers, pointed cabbage, cherry tomatoes, chickpeas, garlic, ginger and coconut milk are the key ingredients in this mouth watering salad.
And finally, Garlic Roasted Vegetables with Smoked Mackerel by Jane's World. Green lentils, olive oil, smoked mackerel, courgettes, cherry tomatoes, mushrooms and peppers lend a gorgeous array of colour to this meal.
Got a recipe to share? Link up with #recipeoftheweek!
Link up any of your recipe posts using the linky below. All recipes are welcome, old or new, no theme, just please don't re-add posts you've added before
Add the "Recipe of the Week" badge to your post so that readers can find other great recipes
Join me in taking time to read, comment, Stumble and/or Pin some of the other entries, if you like them. I read, tweet & pin everyone's and discover amazing new recipes along the way
Come back next Saturday and we'll do it all over again
I also pick my favourite entries to showcase the following week in the same way as you can see above.
Enjoy!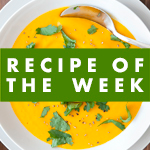 [html]<div align="center"><a href="https://www.amummytoo.co.uk/2014/08/recipeoftheweek-aug-2-8/" target="_blank"><img src="https://www.amummytoo.co.uk/wp-content/uploads/2013/01/recipe-of-the-week.png" alt="Link up your recipe of the week" width="150" height="150" /></a></div>[/html]