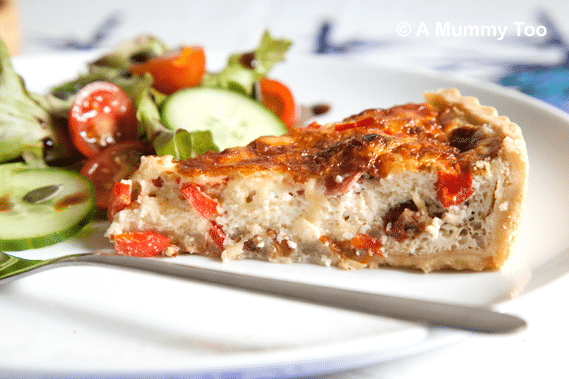 It's a pie…with no top? – JD, 5
Phew, what a weekend. Poor Miss J spiked a fever of 104. She's battling on, but it's been tough, so when she's sleeping and in between dealing with my own health issues, I've been comfort cooking – it's what I do!
Here's a recipe that's fun to make and – so says my husband, Mark – delicious to eat. He says the tomatoes and salami really come through in this dish and that it's 'bursting with flavour'. Success, then!
Here's what to do:
Ingredients
200g plain flour
100g butter
2-3 tbsp water
1 large red pepper
30g salami slices
50g sun-dried tomatoes (the herby, dried type, not the drowned in oil type)
4 medium free range eggs
300ml of whole milk
1/4 tsp dijon mustard
Salt and pepper to taste
45g mature cheese, grated
9 inch, loose bottomed quiche tin
Instructions
Put the flour and butter into the food processor.
Add the water and pulse until it comes together in a dough
Roll into a ball, wrap in cling film and chill in the fridge for 15 minutes
Preheat the oven to 200C (180C fan assisted)
Roll out the pastry and line the quiche tin. Here's a how to guide here with the perfect method for getting pastry into the tin.
De-seed the pepper, dice in 1cm pieces and add to the pastry case
Chop the tomatoes and salami into 1cm pieces and add to the case
Whisk the eggs, milk, dijon and cheese together, then pour into the case (if it's really full, just pour in 3/4 of the liquid and take the tin to the oven, then pour in the remaining mix when it's on the shelf)
Cook in oven for 30-40 min
Fancy giving it a go? Let me know if you do.
Add your #recipeoftheweek
Do you have a recipe to share? Here's the place you can do it! Pick one from the past week, or any time at all. Meaty, vegan, fatty, low-calorie – all recipes are welcome, just as long as you haven't linked them up to #recipeoftheweek before.
You share the goods, then I generally go round reading, commenting, Stumbling, Pinning and drooling over everyone's entries. It's that simple. So just link up below and let's share the love.
Link up your post using the Linky tool below
Add the "Recipe of the Week" badge to your post so that readers can find other great recipes.
Take a little time to read and comment on each other's recipes.
Come back next Saturday and we'll do it all over again.
Enjoy!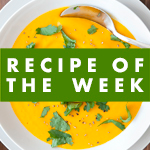 <div align="center"><a href="https://www.amummytoo.co.uk/2013/06/red-pepper-sun-dried-tomato-salami-quiche" target="_blank" rel="nofollow"><img alt="Link up your recipe of the week" src="https://www.amummytoo.co.uk/wp-content/uploads/2013/01/recipe-of-the-week.png" /></a></div>