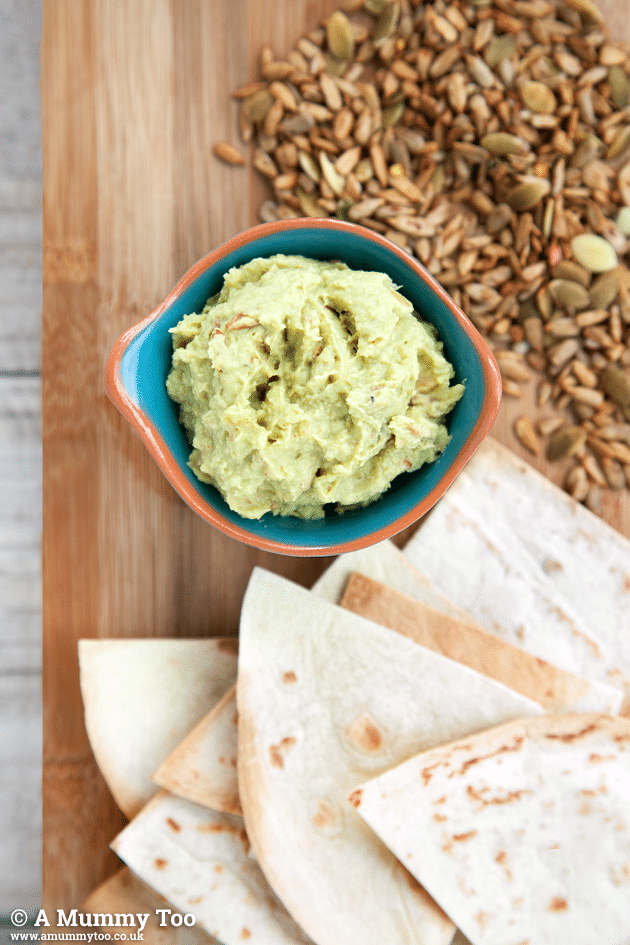 I think I'm going to have to eat the whole pot – me
Here's a really simple, flavour packed dip recipe that isn't exactly low in fat, but is definitely packed with good stuff. The avocado lends a creaminess that contrasts with the chunky chickpeas and crunchy seeds and it's all rounded off with a chilli kick.
Here's what to do.
Ingredients
100ml olive oil
1 clove of fresh crushed garlic (or you can use a tsp of puree, which typically  has a softer flavour)
1/2 – 1 red chilli (or you can use chilli powder to taste)
1 400g tin chickpeas drained and rinsed
1 large ripe avocado
Juice of 1/2 a lemon
2 tbsp mixed seeds
salt and pepper to taste
Instructions
Whiz the oil, garlic and chilli together in the blender until smooth
Add the chickpeas, avocado and lemon juice and pulse until you have a dip with some chunkier bits
Throw in the seeds and pulse just a couple of times to combine but not chop them up entirely
Serve with toasted tortillas and vegetable crudities
I made mine in my Froothie Optimum 9400 (affiliate link), a super powerful blender that makes short work of all of the ingredients in seconds.
Enjoy! And if you'd like more flavour-packed dip ideas, check out Helen's Rocket and goat's cheese houmous, Nazima's Yoghurt, tahini and za'atar dip, Sarah's Sweet potato and lime houmous, Jeanne's Garlicky roasted aubergine dip, Michelle's Tzatziki, and Jac's Roasted Carrot houmous