Do you have a Paypal account?
Actually, I'd be surprised if you don't. It's such a convenient way to shop and these days I use it wherever a retailer includes it as a payment option, which is becoming increasingly common. From major supermarkets, to clothes retailers to toy shops – loads have that fab 'Pay using Paypal' button. Check out Paypal's 'Where to shop' directory to see for yourself.
Why am I a fan? It's simply a matter of convenience. With Paypal, even if I'm shopping with an online retailer for the very first time, all I have to so is enter my Paypal password and that's it. No convoluted card details to type out. Job done.
This year, Paypal challenged me to do some of my Christmas shopping online, pay with Paypal, and document how I got on.
Well, that's easy, so here we go…
Grocery shopping
Do we want to battle our way round the supermarket and fight over the last packet of frozen Yorkshires? No, clearly we don't. It's online shopping all the way.
A quick jaunt over to Ocado shows me that the Christmas delivery slots are available to book, so book I do.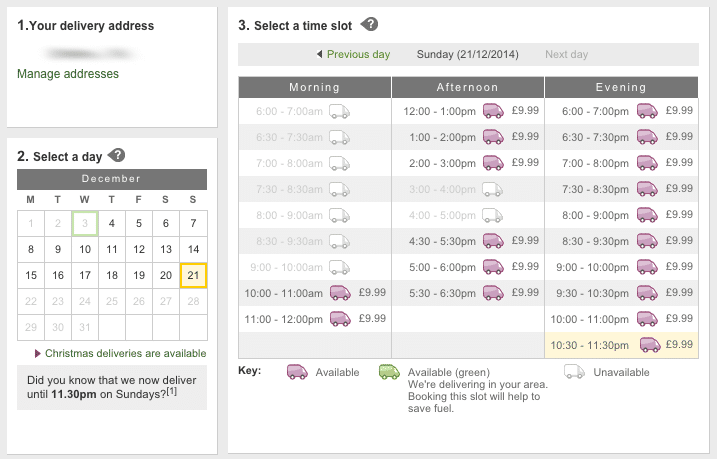 Now, here's a sneaky tip. If it's too soon to know what you're going to want in your festive delivery, just pop in the minimum order's worth (£90 in the case of Ocado at Christmas) and check out. You can update your order nearer the time with the items you want to swap, add or remove.
Now to check out and there's that trusty Paypal button.
So that's it. Shopping ordered, I've got until 1.10am on the day of delivery to change my mind, and my Christmas grocery shopping is sorted. Boom.
Best of all, I am not going to have to waste valuable time in the aisles over the holidays. Win.
Kid's presents from House of Fraser
Ok, next up, I already have the kids main present each, but I have budget of £30 each for little extras in the form of a review gift card.
I pop over to House of Fraser knowing that I'll be typing two keywords: Octonauts and Minecraft.
Success in but a matter of moments, I have a selection of gifts in my trolley.
Time to check out, but I've gone over my budget. No sweat, there's that Paypal button at the checkout. A few clicks and I'm done.
Baking bits from Lakeland
Final stop (for now), I have big baking ambitions this Christmas, so I hop over to my favourite baking store, Lakeland.
I love shopping with Lakeland and inevitably put far more in my basket than I can afford before having to whittle it back down again.
I settle on a few clever festive bits, managing to land a great two for one deal and just meeting the minimum order value to qualify for free delivery.
Checkout time, and there's the Paypal button. This is almost too easy.
Next week, I'll be telling you about the things we've managed to get up to in the time we've saved by shopping online with Paypal. Now, fancy winning an iPad Mini?
Win with Paypal
Paypal is running a 'Win Christmas with PayPal' competition where, if you choose to shop with PayPal, you could win what you spent on your Christmas shopping back, up to £1,000!
All you need to do is visit www.paypal.co.uk/winchristmas to register yourself in a click, and then every transaction with PayPal is an entry in to the draw. Happy Christmas shopping!
Paypal is also running a series of amazing giveaways on its Facebook page. This week's Magical Christmas Moments prize draw is for an iPad mini! Just visit Paypal on Facebook and upload your best Christmas Moments to enter. Good luck!
This is a commissioned post for Paypal.