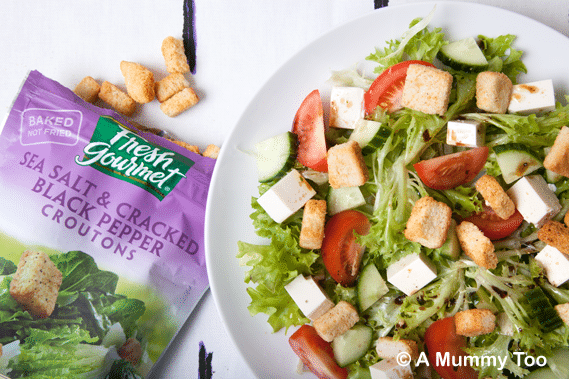 Crunchy – Miss J, 1
It's no secret that I love a challenge, especially a food challenge, so today is a good day. This morning, a package of tasty treats from Fresh Gourmet arrived at my door along with a challenge to make a salad using some of the ingredients.
The resulting salad is a solid favourite of mine – crunchy lettuce and cucumber, silky tofu, sweet tomatoes, zingy dressing. It's a good little salad – but adding the yummy Sea Salt & Cracked Black Pepper Croutons makes it even better.
Here's what to do.
Ingredients
1 small green lettuce
1 salad tomato
2 inches of cucumber
1/2 pack of silken tofu
1 tsp balsamic glaze
1 tbsp olive oil
1 handful of Fresh Gourmet Sea Salt & Cracked Black Pepper Croutons
Salt and pepper to taste
Instructions
Spread the lettuce leave on a large plate
Cut the tomato into eights and sprinkle onto the plate
Slice the cucumber thickly, then cut into quarters and add to the plate
Drain the tofu and pat dry, then slice into 2-3 cm cubes and add to the plate
Whisk the balsamic glaze, olive oil and seasoning together, then drizzle over the plate
Finally, sprinkle on the croutons and serve.
This is such a simple, yummy salad. Of course, you could use any croutons in this recipe, but I do think the Fresh Gourmet ones are worth buying if you get a chance. Unlike most shop-bought croutons that would be more at home in a cuppa-soup, these croutons are large, light and deliciously fresh-tasting. The Black Pepper variety featured above is mild enough to suit any palate, and the Basil Pesto variety is amazing atop fresh tomato soup.
Pleasingly, the whole range of croutons is baked not fried, so they contain a bearable 13-17% fat.
The Lightly Salted Crispy Onions are also well worth a try, although you may struggle to ration yourself to just a sprinkling – I seem to have snacked through most of the pack.
Disclosure: we were sent a selection of Fresh Gourmet products for the purposes of this challenge. No payment was received. All posts are 100% honest.